Lilly Santiago, 5, left, cools off with her mother, Lupita, 56, after playing basketball at Lanark Park on Thursday. (Mel Melcon / Los Angeles Times)
In almost 150 years of record keeping, it has never been as hot in San Francisco as it was on Friday...
Amid a brutal heat wave that has broiled California for a week while intermittently knocking out power to thousands and fueling more than a dozen wildfires, downtown San Francisco hit 106 degrees.
"San Francisco continues to climb. Latest high temperature for downtown is an incredible 106 degrees!" the National Weather Service's Bay Area station tweeted Friday.
The previous record was 103 degrees, set in 2000. San Franciscans got creative on social media to document their pain.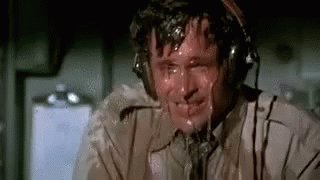 The Bay Area is on Fire today! Lord it's hot!
The San Francisco Bay Area now. Yes, it's hot. No, we don't have air conditioning.
But that was not even the worst of it for Northern California. By 3 p.m., the East Bay valley cities of Livermore and Pleasanton were at 110 degrees. Livermore was expected to flirt with its all-time record of 115 degrees Saturday — but came up short Friday, reaching 109 degrees.
"When we're approaching all-time record highs, that's very unusual," said Steve Anderson, a meteorologist with the National Weather Service.
The temperature reached 108 degrees in San Jose, breaking the city's record for Sept. 1 of 101 degrees, set in 1950.
The heat wave marks the finale for what has ended up being the state's hottest summer on record, UCLA climate scientist Daniel Swain said.
In a tweet, Swain said June through August temperatures were above average everywhere in California except the north coast.
Previous all-time record high in Downtown #SanFrancisco was 103 set on June 14, 2000. High so far today: 106! #CAwx #CAheatwave
The heat wave is part of a high-pressure system that's gripped the West Coast. Virtually no one is being spared.
According to the National Weather Service, 36.5 million residents, or 98% of Californians, were under a heat advisory Friday as a high-pressure system roasted the state from Oregon to the U.S.-Mexico border.
On Friday afternoon, an extremely fast-moving brush fire broke out in the Verdugo Mountains near Sun Valley. Fueled by light grasses, extremely high temperatures and a light breeze, the flames jumped the 210 Freeway and threatened homes, triggering evacuations.
In Northern California, school districts in Los Gatos, Novato and Orinda announced that students would be let out early Friday to dodge the worst of the heat. Outdoor festivals and youth sports leagues also canceled events through the weekend. Concord, Santa Rosa and Antioch, among other cities, have opened cooling centers for the weekend.
View image on Twitter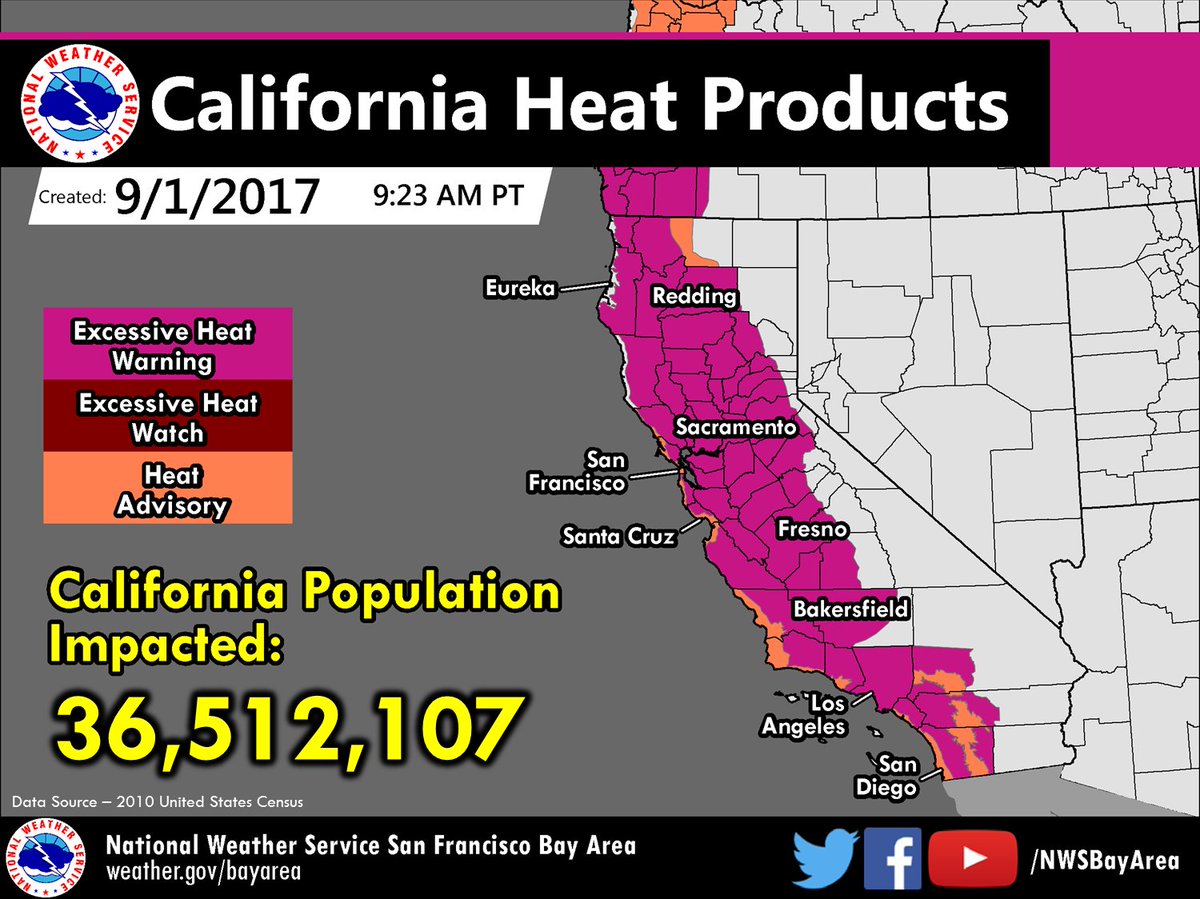 36.5 million Californians are under a Heat Advisory/Warning this weekend - or about 98% of the state's population. #CAheat #cawx #heatwave
In Los Angeles, the Department of Water and Power braced itself for what the utility expected to become its biggest day ever for power demands as residents sought relief from triple-digit temperatures in the valleys, foothills and high desert.
Demand was high but not enough to break a record set just the day before, officials said.
On Thursday, the DWP announced that its customers used more electricity than ever in the agency's history. Customers hit a peak demand of 6,502 megawatts at 4:15 p.m., shattering the previous record of 6,396 megawatts on Sept. 16, 2014.
The statewide demand led the California Independent System Operator to issue its fourth flex alert of the year, calling for voluntary electricity conservation.
DWP officials advised residents to set their thermostats at 78 degrees or higher and to use major appliances before or after peak hours. They also said that turning off unnecessary lights would go a long way toward reducing the strain on the utility's electrical equipment and overall power system demand.
Woodland Hills reached 111 degrees Friday, tying its daily heat record set in 2007. It was 102 degrees in downtown L.A., but that failed to eclipse the record, set in 1950, of 110 degrees.
In Riverside, the mercury peaked at 112 degrees, breaking the city's record of 111 degrees, set in 2007. Ramona was not far behind at 109 degrees, breaking its record, set in 2002, of 107.
Similar temperatures were reported across the San Joaquin and Sacramento valleys.
"Even the typical cool coastal areas will be subjected to much warmer than normal temperatures as the usual onshore flow saving grace becomes nonexistent," the National Weather Service wrote in a Friday morning forecast.
The heat wave is expected to break in Southern California on Saturday and in Northern California on Sunday, but more warm weather is expected next week, forecasters said.
The high-pressure system driving the heat wave is also at least partially responsible for the behavior of the storm Harvey in Texas, said Bill Patzert, a climatologist with NASA's Jet Propulsion Laboratory. The system acted as a barrier that blocked Harvey's path inland. The storm was stopped in its tracks right over Houston, where it continued sucking up moisture from the Gulf of Mexico and raining it down on the flooded landscape below.
"Until the large-scale pattern changes, it will continue to soak Texas," Patzert said.
Sept 1st, 2017
source: http://www.latimes.com/
original story HERE
Sign Up for Our Free Global Warming Blog RSS feed by clicking here. About once a week you will automatically get all the best blog stories of the week. (The blog now has thousands of articles.)
Share This Blog Post: If you would like to share this blog post, go to the original shorter version of this post and look to lower right for the large green Share button. Ask them to sign up too for the Global Warming Blog.
Click here for information on the groundbreaking and disruptive new Climageddon book. It is about the global warming emergency and what you can do to help end it!
To View Our: current positions, opinions, agreement or disagreement with this blog article or its facts, click here.
Sign up for the Global Warming Blog for free by clicking here. In your email you will receive critical news, research and the warning signs for the next global warming disaster.
Click here to learn how global warming has become irreversible and what you can do to protect your family and assets.
To share this blog post: Go to the original shorter version of this post. Look to lower right for the large green Share button.
To view our current agreement or disagreement with this blog article, click here.
---