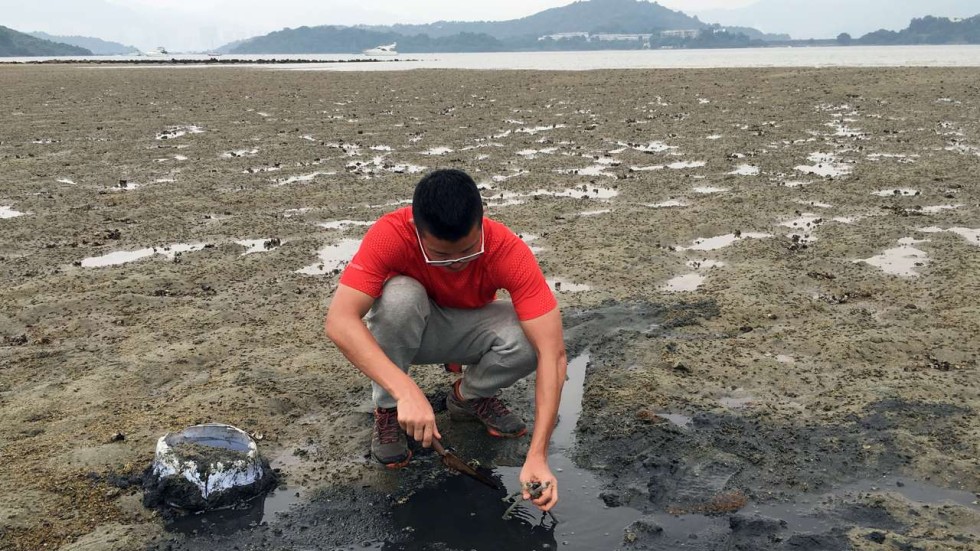 University of Hong Kong postgraduate researcher Liu Yi examines a testing point for groundwater in Ting Kok, Tai Po. Photo: SCMP Pictures
A wave of harmful red tides killed off 220 tonnes of fish across mariculture zones, mostly in the Tolo Harbour area this year...
Hydrologist Jimmy Jiao and his team are perhaps the few scientists in Hong Kong who can make the claim to have carried out field work in the presence of a deity.
A 76-metre tall statue of Kwun Yum, the Buddhist goddess of mercy, towers over their research site – a mosquito-infested corner of Ting Kok village in Plover Cove – casting a watchful eye over Tolo Harbour.
Traversing thick mangroves and mudflats, Jiao's research team have been on a quest to find an often neglected source of pollution which they believe may be driving outbreaks of algal bloom, also known as red tides, to counter a government narrative that they are a completely "natural" phenomenon.
Related: 'We've primed the system': Why disgusting toxic blue-green algae blooms seem increasingly common...
Jiao, a professor at the University of Hong Kong's earth sciences department, and his colleague Luo Xin of the Shenzhen Research Institute, have put forth a straightforward hypothesis – groundwater discharges under sea level are loading nutrient pollution into the harbour, feeding algal blooms and causing them to proliferate.
Battle pollution whether it comes from the seas or the roads
"If you want to fix the problem [of red tides], then you can't ignore this," Jiao said. "We don't have a single information source or monitoring point for groundwater and this is very strange for a developed society."
The semi-enclosed bay was once one of the city's most polluted bodies of water as a result of uncontrolled domestic, industrial and agricultural waste discharges from around the area. Red tide formations were notorious in the 1980s up until the government implemented a discharge control action plan and upgraded a waste treatment works. Red tide occurrences have since fallen, but the harbour still remains a hotbed for blooms.
[University of Hong Kong postgraduate researcher Liu Yi (left) and Professor Jimmy Jiao conduct their own tests on groundwater. Photo: SCMP Pictures]
Earlier this year, a wave of harmful red tides killed off 220 tonnes of fish across mariculture zones, mostly in the Tolo area. Even less toxic algae species can potentially kill marine life by depleting oxygen levels as they die and sink to the ocean floor.
Jiao's latest paper, published last month in the academic journal Water Research, links clusters of red tide sites in Tolo Harbour in 2011 and 2014 to areas with high groundwater discharge, namely Plover Cove off Ting Kok, Tide Cove at the mouth of Shing Mun River and Three Fathoms Cove near Sai Kung.
Jiao and his colleagues were able to calculate – in the absence of any official data available – that some 32.5 million cubic metres of groundwater, equivalent to the capacity of two Shing Mun Reservoirs – are released into the harbour every year, compared to 45 million cubic metres of input from rivers.
Jiao's chemical analysis of these groundwater samples also revealed nutrient levels of nitrite, nitrate and phosphate concentrations exponentially higher than that of river water samples measured by the Environmental Protection Department.
A key defining nature of a red tide is the oversupply of such nutrients, which causes rapid algal growth.
"Ultimately, it is the government that should be taking on the role of monitoring groundwater and tackling the pollution at its source, not us" Jiao said.
The professor's next mission, if funding is approved, will be to dig deeper: bore wells 20 to 30 metres down into the harbour's bedrock to sample the groundwater.
Norwegian-made electric ferries 'could reduce pollution in Hong Kong's Victoria Harbour'
Red tides could be man-made, Jiao said, pointing out possible sources around Tolo Harbour for those nutrients included farms and villages, and even an underground spring deep at the bottom of the harbour.
He said the next step for scientists will be to find out how groundwater is polluted as they flow over and through the ground.
Dr Cheng Luk-ki, who heads scientific research and conservation at environmental group Green Power, said groundwater could be polluted by several sources, such as dirty water seeping extremely deep into the ground.
Most of this pollution was likely to come from humans.
"When rain hits the ground, it is already polluted. Hill water flowing downstream could pass through polluted sources like villages or septic tanks, and seep into the soil," Cheng said. "It could be waste dumped over an abandoned farmland that is just slowly absorbed into the ground [through flowing water]."
Cheng said the study made sense theoretically and agreed that the government should be monitoring groundwater. But he added it was hard to pinpoint the determining factor of red tides in Tolo Harbour as nutrients were only one part of the equation.
While it did not track groundwater, the Environmental Protection Department said its current monitoring programme is able to capture nutrient loadings from sources such as groundwater. The department noted that although groundwater infiltration had been cited as a significant source of pollution, it did not represent the "full picture" on Tolo Harbour's nutrient budget.
The Agriculture, Fisheries and Conservation Department reiterated that red tides were a natural phenomenon initiated by a combination of natural factors including light intensity, salinity, nutrients, trace elements, water current and type of algae.
PUBLISHED : Saturday, 30 July, 2016, 9:01am
This article appeared in the South China Morning Post print edition as:
seeing red over algal blooms.
To see our most current positions, opinions, comments, agreement or disagreement with this article, and/or possible criticisms related to the subjects or facts raised in the above article, 
click here.
Then look for those subjects in the navigation links at the top the page.
To learn about more about global warming, climate change or greenhouse gases as well as the causes, consequences, solutions, definitions, facts and tipping points related to these subjects, 
click
 here
. 
To automatically be emailed a summary of the latest news on global warming, sign up for our Global Warming Blog by 
clicking here
. (Put your email address in the Global Warming Blog Subscribe box at the bottom right of the page.) 
To sign a critical petition for declaring a national and international global warming State of Emergency, click  
here
!
To help do something about the climate change and global warming emergency, click here.
Sign up for our free Global Warming Blog by clicking here. (In your email, you will receive critical news, research, and the warning signs for the next global warming disaster.)
To share this blog post: Go to the Share button to the left below.
---