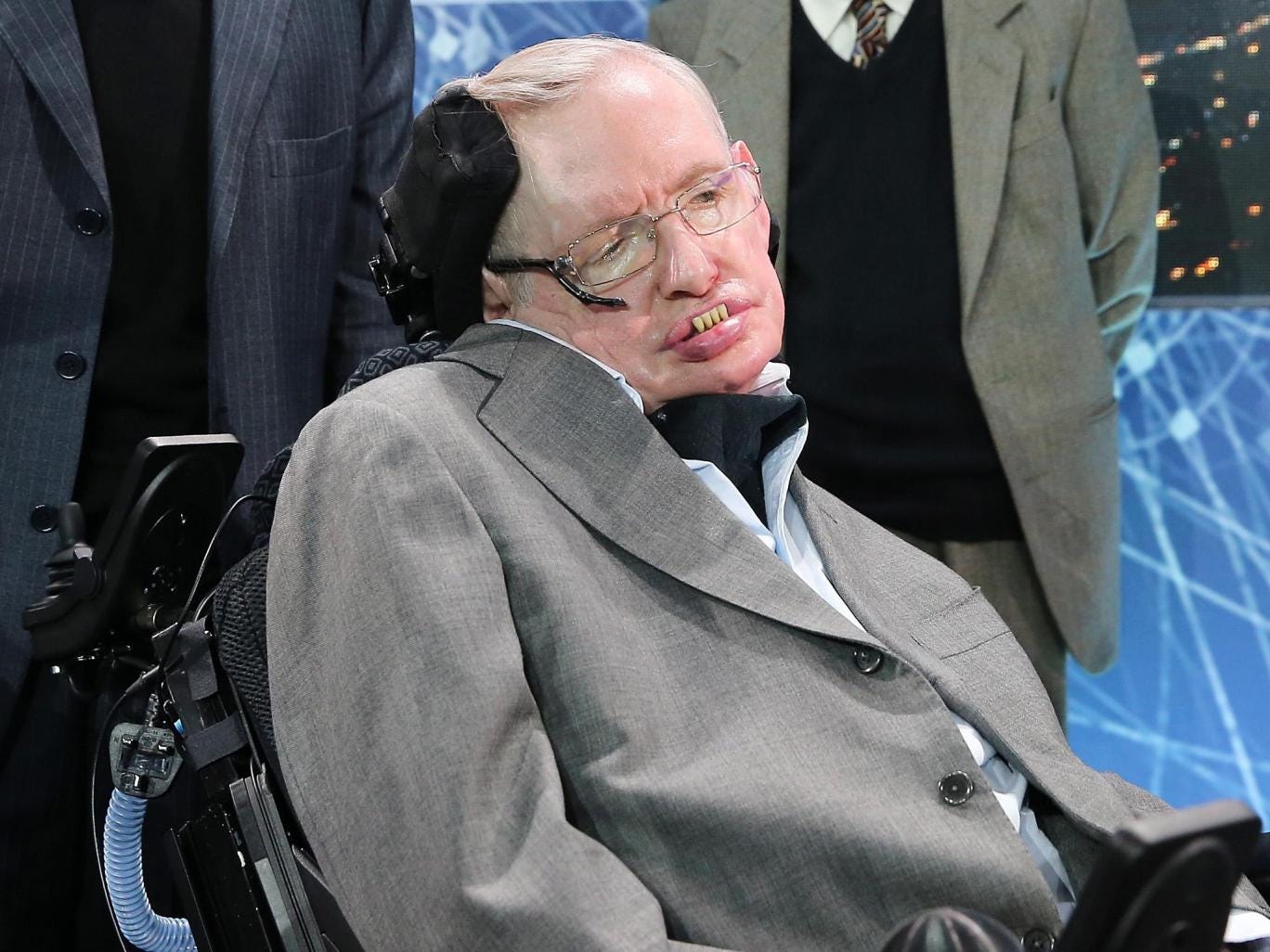 Stephen Hawking believes we must be vigilant to the dangers of artificial intelligence. credit: Getty Images
Leading physicist also worried about Artificial Intelligence in warfare, warning machines' goals may differ from ours...
Professor Stephen Hawking says he believes pollution and human "stupidity" remain the biggest threats to mankind, while also expressing his concerns over the use of artificial intelligence in warfare.
The world's leading theoretical physicist argued "we have certainly not become less greedy or less stupid" in our treatment of the environment over the past decade, during an interview on Larry King Now, which is hosted on Ora TV.
Professor Hawking said: "Six years ago, I was warning about pollution and overcrowding, they have gotten worse since then. The population has grown by half a billion since our last interview, with no end in sight. 
"At this rate, it will be eleven billion by 2100. Air pollution has increased by 8 percent over the past five years. More than 80 percent of inhabitants of urban areas are exposed to unsafe levels of air pollution. 
"The increase in air pollution and the emission of increasing levels of carbon dioxide. Will we be too late to avoid dangerous levels of global warming?"
The cosmologist was speaking at the Starmus science conference in Tenerife, themed this year as a tribute to his life's work.
We have certainly not become less greedy or less stupid
Professor Stephen Hawking
Professor Hawking went on to outline his concerns about the future of artificial intelligence technologies, and specifically their primary use in weaponry.
He said: "Governments seem to be engaged in an AI arms race, designing planes and weapons with intelligent technologies. The funding for projects directly beneficial to the human race, such as improved medical screening, seems a somewhat lower priority.
Earth Day: Pictures that show we are killing our planet
"I don't think that advances in artificial technology will necessarily be benign. Once machines reach the critical stage of being able to evolve themselves, we cannot predict whether their goals will be the same as ours."
The professor was also drawn on the nature of existence itself, saying the "deeper reason" of conceivable reality remains a "complete mystery" to him.
Professor Hawking was at the Starmus conference to reveal ambitious plans to map the entire known universe using radiation patterns.
It is hoped the cosmologists' work will reveal the nature of the dark energy which is causing the universe to expand more rapidly.
source: http://www.independent.co.uk/us
original story HERE
To see our most current positions, opinions, comments, agreement or disagreement with this article, and/or possible criticisms related to the subjects or facts raised in the above article, 
click here.
Then look for those subjects in the navigation links at the top the page.
To learn about more about global warming, climate change or greenhouse gases as well as the causes, consequences, solutions, definitions, facts and tipping points related to these subjects, 
click
 here
. 
To automatically be emailed a summary of the latest news on global warming, sign up for our Global Warming Blog by 
clicking here
. (Put your email address in the Global Warming Blog Subscribe box at the bottom right of the page.) 
To sign a critical petition for declaring a national and international global warming State of Emergency, click  
here
!
To help do something about the climate change and global warming emergency, click here.
Sign up for our free Global Warming Blog by clicking here. (In your email, you will receive critical news, research, and the warning signs for the next global warming disaster.)
To share this blog post: Go to the Share button to the left below.
---