Anchored in shallow, cloudy waters just a few hundred yards from the mangrove swamps that dominate this wild and empty coastline, the fishermen rolled in their nets. The three men had spent five days at sea and their catch glittered on the deck.
"It's good fishing," said Cleyton Celeiro, 26, who feeds his wife and two children with money earned on trips to the Amapá state coast, on the far north-eastern corner of the Amazon. "It's beautiful, I like it. I'm proud to be a fisherman."
But the bucolic peace is threatened by two of the world's biggest oil companies' plans to start drilling a hundred miles or so out to sea. This alarms Celeiro.

Not all fishermen share his concerns. As he manoeuvred his tiny boat to a waterside gas station in Oiapoque, the nearest town, Maxibreno de Nazaré, 20, said drilling would mean a ready supply of cheaper fuel, not realising that crude oil would be refined elsewhere.
"If you say money, nobody cares about a leak," he said.
This dishevelled and sleepy town of 25,000 on Brazil's border with French Guiana, 250 miles north of the Amazon's mouth, has become the latest frontline in a global battle between oil companies pushing for new reserves and environmentalists who argue the oil should be left in the ground.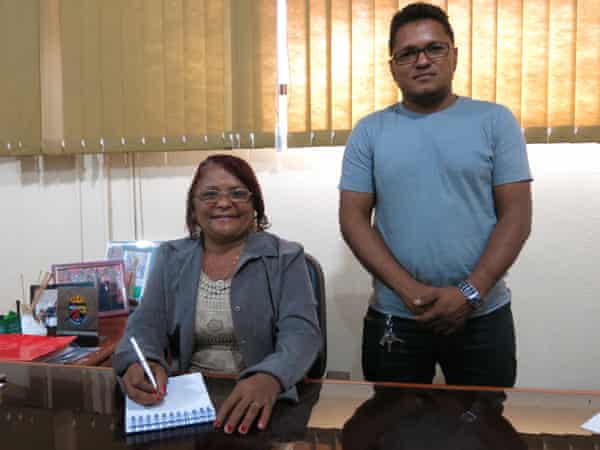 'It is beneficial for the municipality,' says Maria Garcia, mayor of Oiapoque, with her son and administration secretary, Igor. Photograph: Dom Phillips for the Guardian
While some countries are backing away from fossil fuels, Brazil is heading in the opposite direction. Its business-friendly government encourages international oil companies to invest here and advocates development in protected Amazon areas.
BP and Total are among several companies who bought exploration rights in the mouth of the Amazon basin in a 2013 tender. If environmental licences are approved, drilling could start as soon as next year.
But environmentalists say this area is too sensitive to risk.
The 2,500-sq mile (6,500 sq km) Cabo Orange national park where Celeiro was fishing is home to protected species such as the Amazon manatee and the small-tooth sawfish. An enormous coral reef system was only recently confirmed near drilling areas and filmed and photographed for the first time this year by a Greenpeace boat. Plankton in the seas the companies plan to drill in absorb huge quantities of carbon dioxide, helping reduce global warming.
The extensive reef system is almost 700 miles long...
Even BP admits that in the short-term "exploration phase", the benefits for Oiapoque will be minimal: they renovated the airport and will pay local taxes, but that's it.
"They will take our oil, take it far away and leave nothing for us," said Diva Almeida, 53, before a public hearing held by BP and the Brazilian government's environment agency, Ibama, in Oiapoque in November. "It is really bad."
But for oil companies, the lure of this basin and its estimated 15.6bn barrels of oil is powerful. Geologists and oil executives compare its geology to that found off the coasts of oil-producing nations such as Nigeria, directly across the Atlantic. Exxon has made major oil finds in Guyana, just up the coast. And as the global oil price slowly recovers from a three-year slump, Brazil has become a hotspot.

"We are an oil company," he said, speaking privately. "Maybe we have a new pre-salt here."
During a six-hour boat trip to the Cabo Orange park, warden Ricardo Motta Pires said an oil leak would be catastrophic for its mangrove swamps, which flood in daily tides and would be impossible to clean. He described how pieces of a rocket fired from French Guiana had ended up in the mangroves, showing how ocean waters reached them.
"This for me is very serious," he said. "There could be a combination of factors that bring it here. We don't know."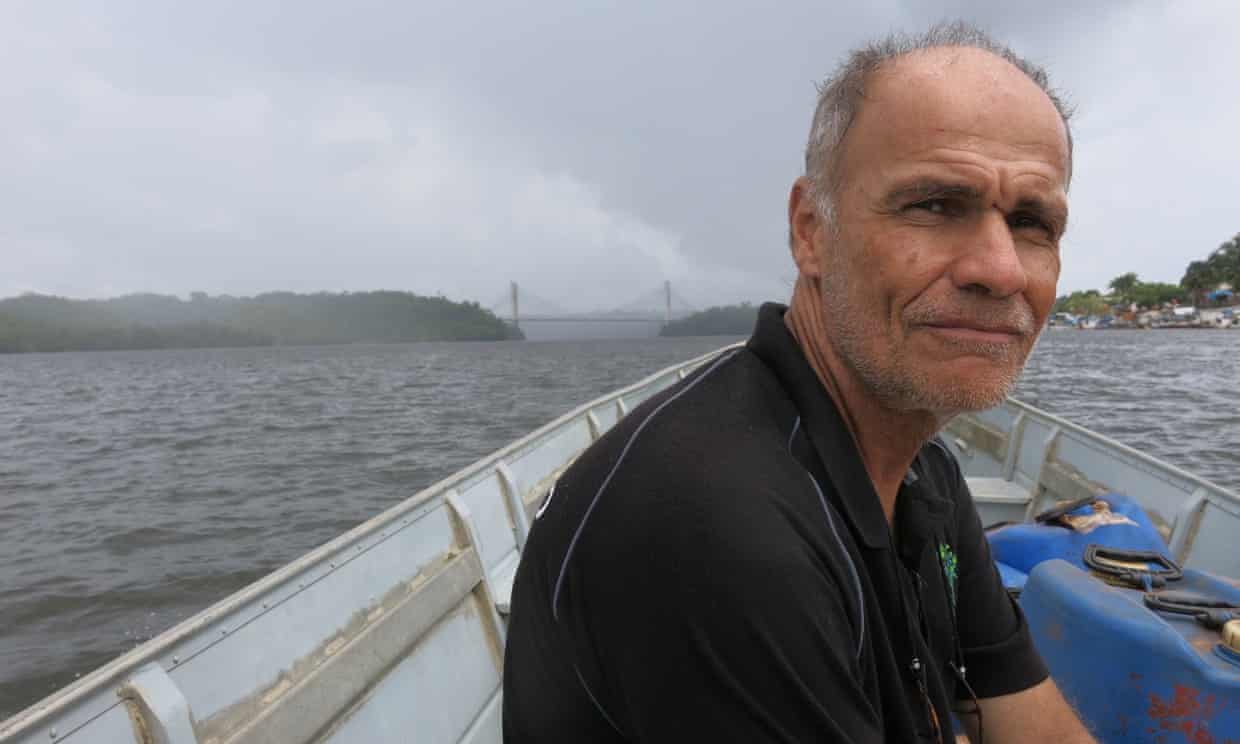 Ricardo Motta Pires, a warden at the Cabo Orange national park, worries about the impact of an oil leak on the park's mangroves. Photograph: Dom Phillips for the Guardian
At a public hearing the next day in Oiapoque, BP technicians said their computer modelling showed that in the event of a leak, oil would have a 0% chance of reaching the coast and an 8.3% chance of reaching the coral reefs – described by scientists as a whole new ecosystem, with 29 new species of sponge alone. Instead, they said, an oil slick would head north.
"The exploration activity generates negative impacts but they are small and do not last long," Décio Maia, operations manager of the Aecom environmental consulting outfit hired by BP, told the hearing.
Greenpeace disagrees, and has presented Ibama with a critical analysis of the modelling used. "The evaluation found some gaps and oversights in the way the models were implemented and validated," Greenpeace said.
"Oil executives compare the reef's geology to that found off the coasts of oil-producing nations such as Nigeria, directly across the Atlantic"
Greenpeace analysis of Total's environmental licence application found that the company calculated up to a 30% risk of oil reaching the reef in the event of a leak. One of Total's planned wells is just 28km from the reefs.
During hearings, BP officials explained they sought a licence for five months of exploration work involving one drill-ship. If the company did find oil, a whole new licensing procedure would be required before extraction.
When asked by the Guardian how they could ensure there would be no damage to the coral reef, which has barely been studied, technician Paula Castellões said the reef system was in shallower water than the planned oil well and was being monitored. "Care is being taken that direct operational impacts don't occur," she said.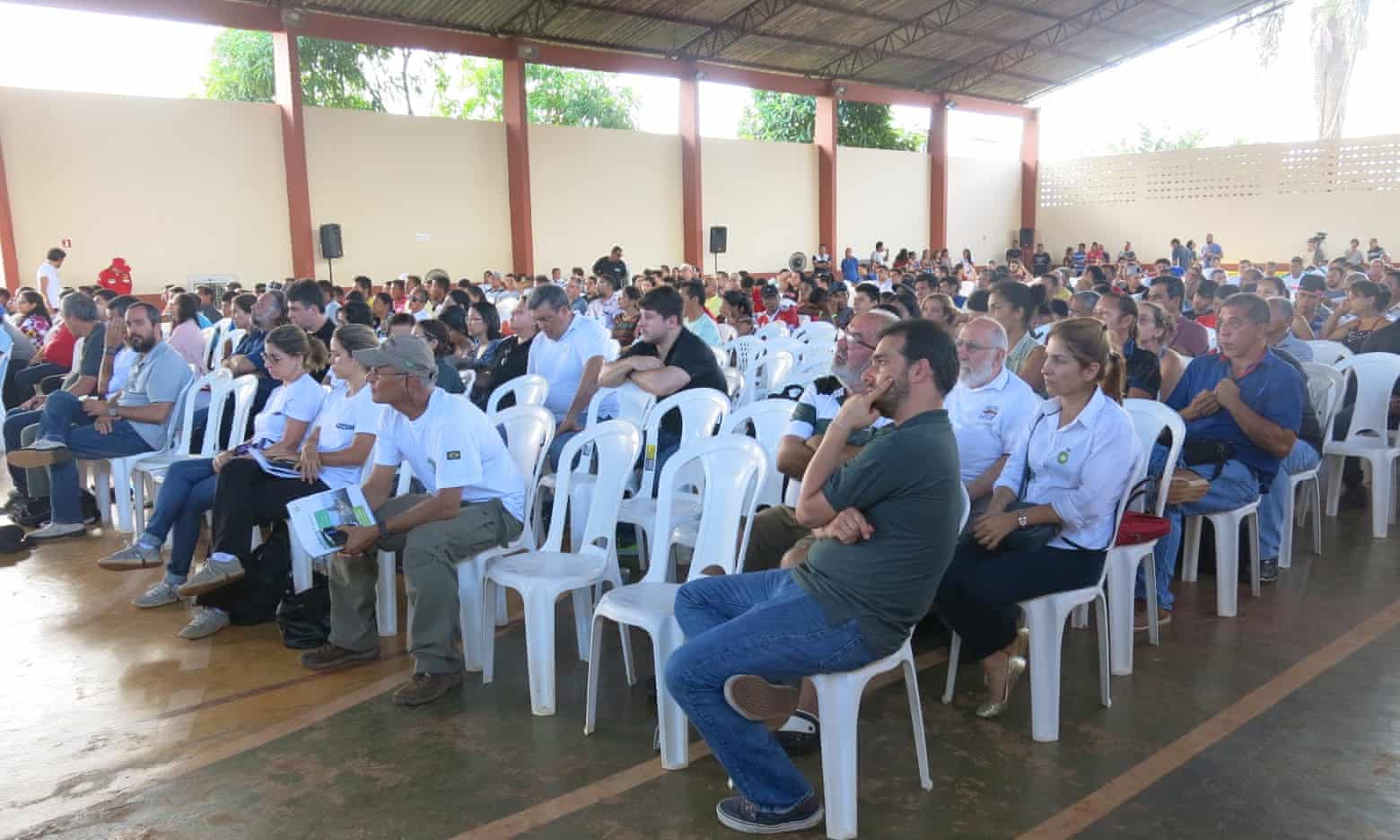 A public hearing in Oiapoque. BP technicians say computer modelling shows that in the event of a leak, oil has an 8.3% chance of reaching the coral reefs. Photograph: Dom Phillips for the Guardian
BP declined interview requests and did not reply to emailed questions.
"Safety will be BP's priority in any drilling, applying the best practices and technology to ensure safe operations and protect the environment," the company said in a statement. "As there is no certainty that any commercial quantity of oil or gas will be found by this proposed exploration, we could not speculate on the potential for future development."
In March, Britain's trade minister Greg Hands met Paulo Pedrosa, Brazil's deputy minister for mines and energy, and raised the concerns of UK-based oil firms Shell, BP and Premier Oil over "taxation and environmental licensing", according to a British diplomatic cable released by Greenpeace.
The environmental licensing applications Total and BP presented have run into problems. In August, Ibama sent Total's application back for more work, warning that this was the third and last chance the company had to get it right. In November Ibama also sent BP's application back and requested more analysis.
At another BP hearing in state capital Macapá, Elane Cunha, a researcher at the Amapá State Scientific and Technical Research Institute who contributed to BP's studies, criticised the firm's environmental impact report.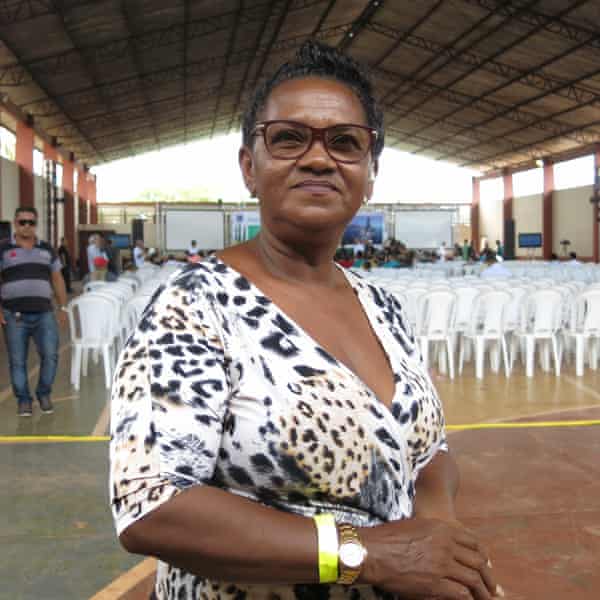 'They will take our oil, take it far away, and leave nothing for us': Diva Almeida at the public hearing in Oiapoque. Photograph: Dom Phillips for the Guardian
She said the report, which BP distributed at hearings, downplayed the impact an oil leak could have on plankton in the area which plays an important role in absorbing carbon dioxide. Studies have found the plankton is highly productive because it is fed by nutrients from the Amazon river plume.
For many residents in Oiapoque, information has become as clouded as the waters. Locals hope for jobs and improvements to the city's creaky infrastructure.
"It's a good idea; it will bring jobs for everyone," said Alenilson Maciel, 43, a labourer who lives beside a rickety wooden road bridge.
In fact, BP plans to use a base in Belém, 450 miles away, during exploration, using Oiapoque only as a stop-off for crew flights.
The mayor of Oiapoque, Maria Garcia, asked BP Brasil's CEO Adriano Bastos, who was in town for the hearing, for help improving sanitation, housing and roads.
"I want to see a model city," she said. Her planning secretary, Igor Garcia, who is also her son, said BP had turned down the town's demand for three pickups and two cars.
"The company does not want to give anything," he said. "We are trying to negotiate, but we won't hold things back because it is beneficial for the municipality."
For many years Oiapoque suffered from illegal gold mining and dredging from "garimpeiros", as the miners are called, until the gold ran out and they moved operations further into the forest, according to a former miner Ronilson da Silva, 58, who now runs a guest house.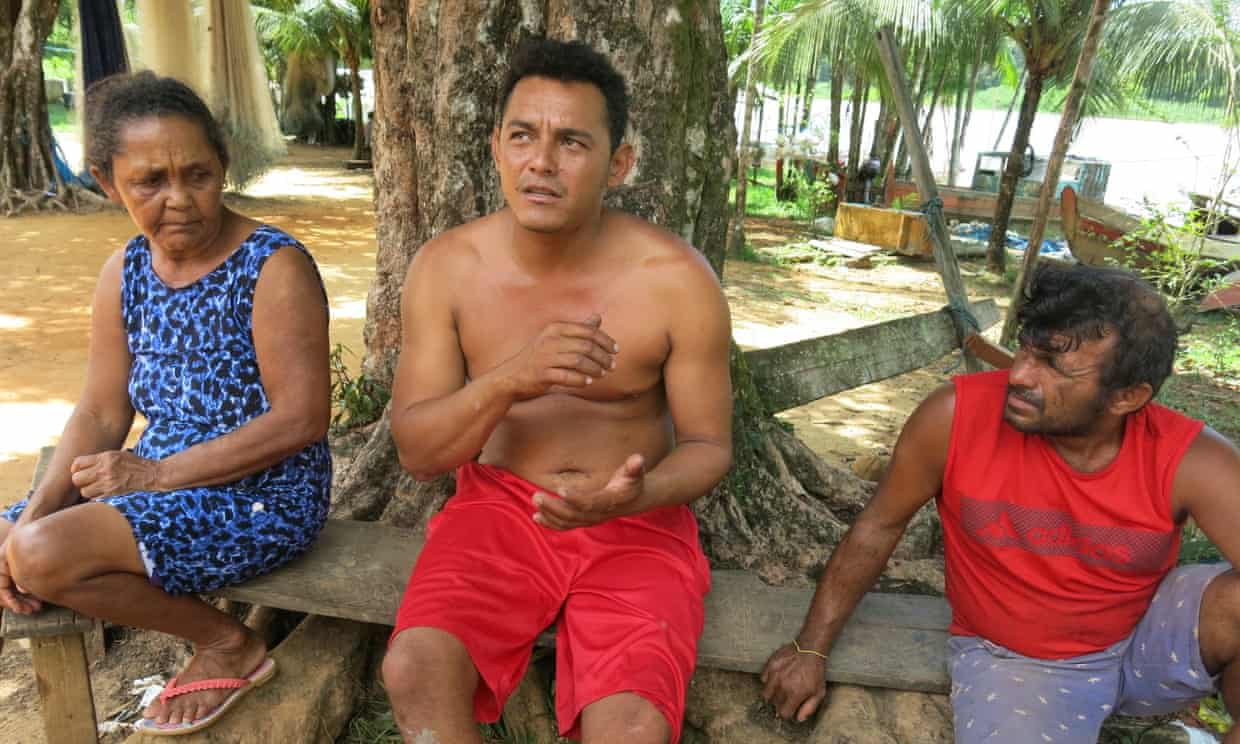 'If it doesn't damage the environment ... it's good,' says Jesiel da Cunha, centre, with Juraci Amaral and Daniel Sousa in the Taparabú fishing community, near Oiapoque. Photograph: Dom Phillips for the Guardian
"I am against any oil investment here," he said. "You can just see what it did in Rio."
Unlike Oiapoque, a 10-hour bus journey from Macapá, much on dirt roads through forests, Rio de Janeiro has an established oil industry. Its state government depended heavily on oil taxes and was hit hard when oil prices tumbled. While it struggles to pay salaries, its former governor Sérgio Cabral languishes in jail after being convicted of crimes including corruption and money laundering.
Others worry that even rumours of an oil boom will send people rushing into Oiapoque, causing rural slums to grow up and crime to soar, as has happened near other Amazon developments such as the Belo Monte hydroelectric plant.
"There will be a big problems with security," said Priscila Barbosa, 28, a teacher from the local Karipuna indigenous tribe.
Even so, Amapá state government officials said they supported plans to drill for oil and even floated the idea of building a refinery to process it.
"Everybody wants better education and a better quality of life," said communication secretary Gilberto Rodrigues, arguing that Amapá gets nothing for keeping most of its forest intact. "It can't be that someone today finds oil, and can't exploit it because of Greenpeace."
Wed 27 Dec '17 05.30 EST
source: https://www.theguardian.com/us
original story HERE