Map of sea level rise: North America (USA and Canada). By: Kees Veenenbos.
As Hurricane Irma, whose destructive power has been amplified by rising sea levels and warmer oceans associated with climate change, charged its way through the Florida peninsula this weekend, here's a reminder: The official voted into power not so long ago has gone to work undoing efforts by his predecessor to begin considering the consequences of a warming world...
I am not referring to President Trump, although he fits the above description. I am talking about Florida's GOP governor, Rick Scott, a Trump ally who since taking office in 2011 has -- along with the state's Republican-led legislature -- barely acknowledged the growing environmental issue of global warming that threatens the state's long and low-lying coastline.
The governor before Scott, Charlie Crist (who was then a Republican but is now a Democratic House member) convened a climate change summit in Miami and created a task force focused on the issue. 
By contrast, as The Washington Post's Brady Dennis and Darryl Fears wrote over the weekend, Scott reversed Crist's efforts, effectively dismantling the Florida Energy and Climate Commission established under the previous governor and going so far as to discourage state employees from using the terms "climate change" and "global warming," according to the Florida Center for Investigative Reporting. (The state has repeatedly insisted such a policy has never existed.)
The result: Cities and counties have been left to fend for themselves to figure out how to handle rising waters along Florida's coast, where sea levels are rising more quickly than almost anywhere else in the world.
In four South Florida counties, elected officials created a coalition to coordinate mitigation and adaptation activities. Similarly, Pinellas County, home to St. Petersburg, established a Climate Science Advisory Panel, an ad hoc group of scientists and planners to aid local governments in their mitigation efforts.
But planners say that may not be enough. Local efforts without the support of the governor are "like trying to have a team without a coach," Thomas Ruppert, a coastal planning specialist with the Florida Sea Grant program, told The Post. The state simply has more engineering and scientific resources to deploy than a city or county ever would.
Scott, however, did react quickly to Hurricane Irma's potentially devastating destruction -- asking Trump to declare a pre-landfall  state of emergency and ordering millions of people to evacuate in what could amount to the largest mandatory evacuation in U.S. history.
Florida elected officials have been "so far pleased" with the federal response to Irma, reports The Post's Robert Costa and Ashley Parker, and they are expecting lawmakers to soon consider emergency relief funds with the president's support.
"It's been very good, and there is cooperation between the federal level, the state and the locals," Sen. Bill Nelson (D-Fla.) said Sunday on CBS's "Face the Nation," adding that the coordination between agencies has been "seamless."
Which brings us to Trump: What Scott has done to undo climate mitigation and adaptation efforts in Florida during his six years in office, the president has begun to do — nationally — during his first year.
Just last month, for example, Trump signed an executive order set to revoke an earlier one by former president Barack Obama that would have required recipients of federal funds to strongly consider elevating new buildings from the reach of rising water.
Like Florida communities under Scott, states and cities nationwide under Trump must develop their own climate mitigation and adaptation strategies without much help from the federal government.
Without federal guidance, like that provided by the Obama administration's order on flooding, Houston will have to decide for itself how to update its building codes to make the next major flood in the city less tragic. Iowa, with its wind turbines, and North Carolina, with its solar panels, will have to decide how much they are willing to prop up alternative energy sectors without as much federal support. 
With Trump in office, every U.S. state and city must now answer the question the Miami and Tampa Bay regions needed to answer when Scott became governor: How do you guard against the ramifications of a warming atmosphere without a lot of help from above? 
(Much more on Irma and its fallout in "Thermometer" below)
-- Regrets?: President Trump signed a bill on Friday to deliver more than $15 billion in hurricane relief (aimed at the situation post-Harvey in Texas), increase the debt ceiling and fund the government until December. But some Florida Republicans -- Ted Yoho and Matt Gaetz -- opposed the measure, which they may be regretting about now as Irma rampages through their state.
"Snaking in a debt-ceiling increase with funding for victims and communities affected is immoral and reflective of broken leadership in Washington," Yoho said in a statement after the Friday vote, The Post's Kristine Phillips reported. "I do not think it wise to extend our borrowing limit without mandatory spending reforms . . . If this was a clean measure that focused on those affected by Hurricane Harvey, I would have proudly voted for it."
Gaetz called the spending package "generational theft. "
"I have a pretty strident view that I will only vote to raise the debt limit if that vote is accompanied with reductions in entitlement spending," Gaetz said, according to the Miami Herald. "If conservatives don't start voting no against debt-limit increases, all the FEMA in the world won't save us from our must unfortunate destiny."
-- Irma as "IT?" President Trump praised the efforts thus far in Florida as Irma continues to barrel through the state and vowed to travel to the state "very soon."
"I think it's been going really well," Trump told reporters on Sunday. "I mean the bad news is this is some big monster, but I think we're really well-coordinated."
-- A storm of fake news: There's been so much misinformation floating around about Irma that FEMA established a "rumor control page" to help people determine what's real:
The Post's Abby Ohlheiser has a full rundown of viral Irma hoaxes. For proof that the fakery can ensnare even the savviest of social media users, no need to look further than Dan Scavino. The president's social-media director tweeted out a video of wind and water at Miami International Airport that was actually not from Miami International Airport:
The airport corrected the record:
According to Avi Selk, "the video appeared on YouTube and other sites more than a week ago, when what is now called Hurricane Irma was still far out at sea, as rains from Hurricane Harvey pummeled the gulf region. The flooded runway in Scavino's tweet was not in Miami, but in Mexico City, according to the video titles — though The Washington Post has not verified that."
-- Trump vs. the GOP: The president's (likely temporary) chumminess with Democratic leaders in Congress last week has given Republican senators cover to defy the president on a host of issues — including climate change:
Susan Collins (Maine) and Lamar Alexander (Tenn.): Both members of the Senate Appropriations Committee voted to give $10 million to a United Nations' climate change body to which Trump wishes to cut off funding. With their votes, Democrats were able to pass the amendment by a 16-to-14 margin.
John McCain (Ariz.): In his first extended interview since his cancer diagnosis and returning to the Senate, and as Irma began to make landfall in the Florida Keys, McCain urged on CNN's "State of the Union": "We have to understand that the climate may be changing and we can take common sense measures which will not harm the American people and our economy." McCain suggested the United States should turn to nuclear and solar as energy sources.
Watching the watchdogs: Here are two developments over the weekend from watchdog agencies holding the execute branch accountable:
The Government Accountability Office will launch an inquiry into the Environmental Protection Agency over some of its hiring practices. A request from two Democrats, Sens. Thomas R. Carper (D-Del.) and Sheldon Whitehouse (D-R.I.), requested the investigation. The Democratic senators alleged to the GAO that, among other issues, the EPA hired certain political appointees under a provision of the Safe Drinking Water Act that authorizes the EPA to hire up to 30 people "without regard to civil service laws."
Why it matters: That loophole may have helped some appointees circumvent one of President Trump's executive orders on employee ethics. Under that order, executive-branch employees cannot "participate in any particular matter" on which they had lobbied in the two years before their appointment.
The Interior Department's inspector general has concluded an investigation that found the Bureau of Reclamation didn't fully disclose to Congress and others the $84 million cost of its Bay Delta Conservation Plan in California. It also said the bureau couldn't provide paperwork for why the water contractors didn't have to pay back $50 million in federal funding. 
Why it matters: One district part of the inspector general's analysis was once represented by David Bernhardt, the second highest-ranking official at Interior. An Interior Department spokeswoman said Bernhardt played no role in the matter.
-- Burying their heads in the storm surge: The news media has apparently heeded EPA chief Scott Pruitt's advice that now is not the time to talk about climate change following two major hurricanes. Trump administration officials haven't been asked a single question about climate change or global warming since Aug. 23 during on-the-record press briefings, according to The Daily Beast's Sam Stein. Furthermore, there was only one question about the subject during the major political shows on Sunday. (It was the aforementioned McCain interview.)
Of course, it's in part understandable. Reporters know what most administration officials will say about the subject. 
-- But Pruitt was recently asked to defend the administration's decision to rescind a chemical plant safety regulation following the explosions at the Arkema facility in Texas. "These chemical plants are terrorist opportunities as well," Pruitt said on the ABC News Powerhouse Politics podcast. "They present soft targets to terrorists who come in and do something pretty bad in those communities."
-- Speaking of the media and the EPA: The Associated Press is back on the Superfund beat. The news wire's Michael Biesecker and Jason Dearen report that there "was no apparent work going on" at six of the 54 toxic waste sites in Florida reporters visited last week.  The agency told the AP that it had safeguarded hazardous materials in anticipation of the storm, and that if there was no apparent activity on at a particular site, "a site should be considered secured."
Flashback: Taking a page from Trump's media playbook, the agency criticized the AP reporters for their reporting on Superfund sites in Texas following Hurricane Harvey.
There was this prediction from Florida officials on Sunday: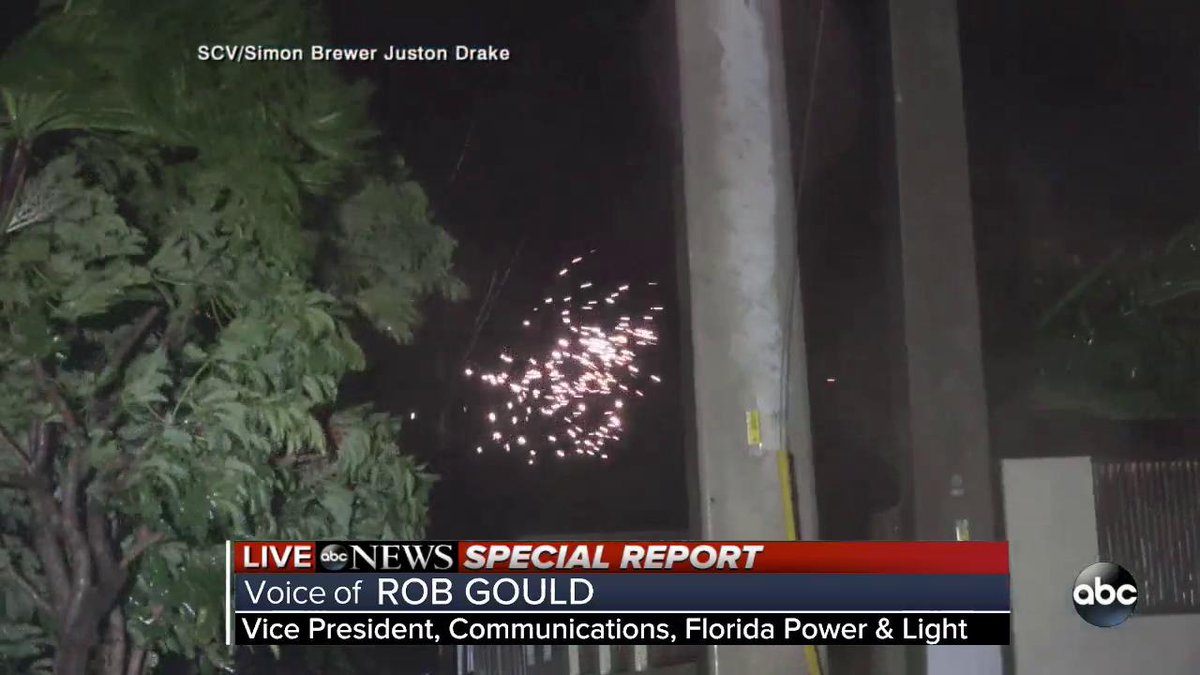 --The latest on Irma: The massive storm made landfall in Florida twice on Sunday before it was downgraded to a tropical storm early Monday. First, Irma hit the Florida Keys at 9:10 a.m. yesterday as a Category 4 hurricane with winds near 130 miles per hour, reports The Post's Scott Unger, Patricia Sullivan and David A. Fahrenthold. The Keys were left with no power, water or cell service. Then, Irma hit again at Marco Island at 3:35 p.m. as a Category 3 storm. But Unger, Sullivan and Fahrenthold note: "It was misleading to speak of this storm as 'hitting' one city. On Sunday, Irma was all of Florida's storm. Irma was everywhere."
Irma is currently headed for Atlanta, which was placed under its first-ever tropical-storm warning.
The Post's Jason Samenow and Greg Porter note:
At 5 a.m., the storm was centered 60 miles north of Tampa. Its eyewall — containing the storm's most violent winds — had passed northeast of Sarasota. The storm center was plowing north-northwest at 18 mph and expected to weaken as it moves along the northwestern coast of Florida.
Hurricane-force wind gusts were also quite possible on the east coast of parts of Florida into early Monday, the hurricane center said, thanks to Irma's large wind field.
Around Tampa, once the storm center passes early Monday morning, a storm surge is possible of several feet above normally dry land, potentially inundating low-lying coastal areas.
Irma's peak winds of 75 mph make it a Category 1 hurricane (down from a Category 4). The National Hurricane Center said Irma is expected to weaken to a tropical storm Monday morning and to a tropical depression by Tuesday afternoon.
A few key updates:
Scott urged residents not to return home until conditions improve:
-- Here's a glimpse of the weekend in some parts of Florida from The Post's Patricia Sullivan, Leonard Shapiro, Perry Stein and Joel Achenbach:
The storm's westward shift was good news for South Florida's Gold Coast but very bad news for Key West, as well as Naples, Fort Myers, Port Charlotte, Sarasota, St. Petersburg and Tampa — table-flat waterfront communities that have boomed in recent decades with millions of new residents but haven't gained more high ground.
In Estero, Dianne and Riley Abshire, who moved to Florida six years ago from Ottawa, Ohio, waited for Irma in a home darkened by hurricane shutters. Winds at the time gusted to 45 miles per hour. Hibiscus trees bent to the ground. Tornado watches and warnings flashed across their television screens. They chose to stay in their home because they worried about traffic getting out of the state and because Riley Abshire is recovering from surgery.
…
In Bonita Springs — between Naples and Fort Myers — on Sunday morning, streets that were empty but for a few emergency vehicles started filling with runoff that was not running off. Officials announced they would pull everyone off the roads at 11 a.m.
-- Here's a strange meteorological consequence of Irma: "Hurricane Irma's winds are so strong, it's pulling water away from the shoreline," writes Capital Weather Gang's Angela Fritz. "It happened in the Bahamas on Friday and Saturday, and now it's happening on the Gulf Coast of Florida on Sunday."
Fritz continues: "At the same time, some locations may be experiencing the effects of the hurricane "bulge." In the center of the storm, where the pressure is lowest and the winds are converging, water piles up. Low pressure is basically a sucking mechanism in the sense that it draws the air inward. When the pressure is exceptionally low and the winds are very strong, it can create a bulge of ocean water under the center of the storm.' 
Here are some social media shares of this phenomenon around Florida. 
From City of Clearwater spokesman Jason Beisel:
From a Tampa official: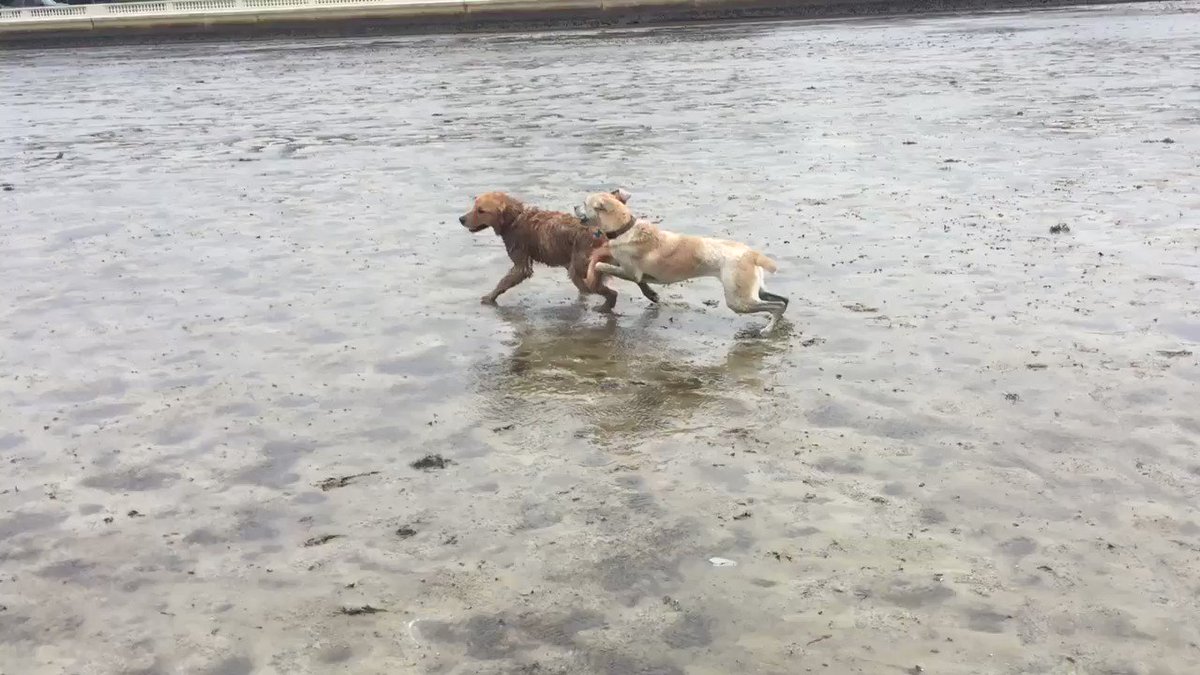 -- The Latest on Jose: Hurricane Jose is still traveling through the Atlantic on the heels of Irma. The Category 3 storm was a few hundred miles north of Puerto Rico as of Sunday afternoon, Greg Porter reports for the Capital Weather Gang, and the system is moving away from land. Porter writes "Jose may slam on the brakes hard, ceasing nearly all forward motion, probably setting up a roller-coaster-like path that will take the storm in a series of loops, circles, dips and dives over for all of next week. By Friday morning, despite a full six days of movement, the National Hurricane Center expects Jose to be just 300 miles away from its current position."
-- First responders began to to search through the "sprawling disaster zone" in the Caribbean Islands, on Sunday, and were starting to "navigate flooded streets" in Cuba The Post's Anthony Faiola writes.
He continues: 
In Cuba, where the government said it had evacuated 1 million residents, Hurricane Irma's driving winds and pelting rains sent roofs flying, knocked over trees, wrecked building and caused large-scale flooding along the northern coast. Officials in Havana warned of flooding that would last through Monday. In the city of Santa Clara, the Associated Press reported that 39 buildings had collapsed."
…
On St. John in the U.S. Virgin Islands, "people there are roaming like zombies," said Stacey Alvarado, a bar owner who managed to leave for the mainland. Her husband, who is still there, told her Sunday that residents and tourists are in shock. "They don't know what to do. The island was wiped out. It's like the walking dead down there."
Here's a roundup of images from throughout Florida this weekend:
Gave proof through the night that our flag was still there
From CNN's Meg Wagner: 
From BBC's Paul Adams: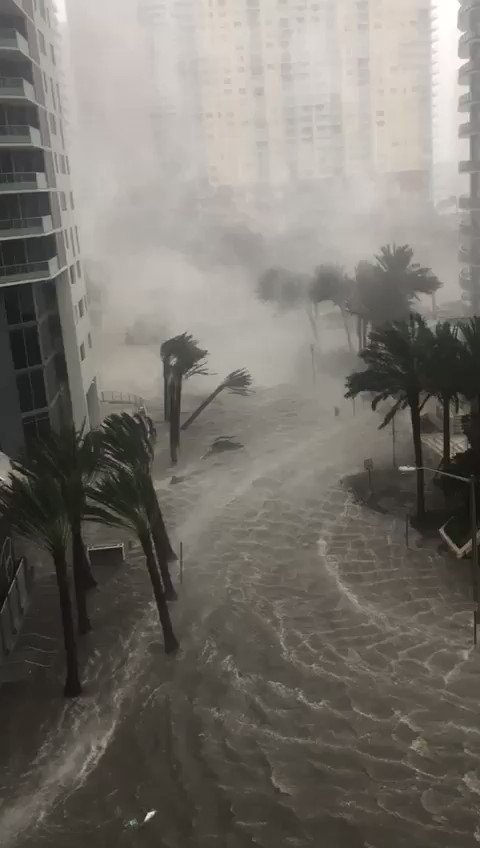 From the Miami Herald: 
Monday's @MiamiHerald front page.
From the Houston Chronicle's Matt Schwartz: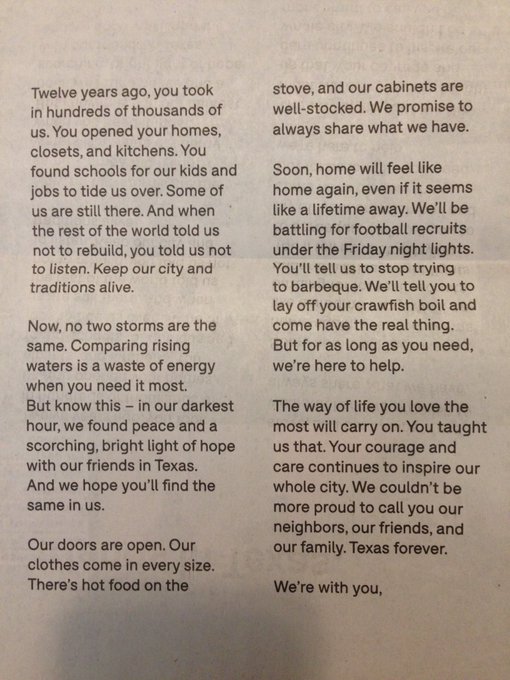 Both the wife and I got a little moist-eye reading this full-page ad in this morning's @HoustonChron. Cheers to you, NOLA.
- Three construction cranes have fallen in South Florida in Irma's heavy winds — two in Miami and another in Fort Lauderdale.
The city of Miami had warned residents before the weekend about the 20 to 25 cranes that posed a danger to surrounding buildings.
The Miami Herald noted that no injuries had been reported following the fall. It also reported that Miami Mayor Tomás Regalado said following Irma, the city would look into tougher regulations over the cranes.
"It's development in the future versus tropical storms or hurricanes," Regalado said. "We just cannot gamble on the wind."
The city of Miami had warned residents before the weekend about the 20 to 25 cranes that posed a danger to surrounding buildings.
The Miami Herald noted that no injuries had been reported following the fall. It also reported that Miami Mayor Tomás Regalado said following Irma, the city would look into tougher regulations over the cranes.
"It's development in the future versus tropical storms or hurricanes," Regalado said. "We just cannot gamble on the wind."
Coming Up
The Senate Energy and Natural Resources Subcommittee on Energy will hold a hearing on Tuesday on "Contributions of the Department of Energy's National Laboratories."
The House Natural Resources Subcommittee on Federal Lands holds a legislative hearing on the SHARE Act on Tuesday.
The House Energy and Commerce Subcommittee on Energy holds a hearing on "Defining Reliability in a Transforming Electricity Industry" on Tuesday.
The Atlantic Council holds a hearing on the geopolitics of natural gas on Tuesday.
The House Natural Resources Committee holds a markup on various legislation on Tuesday.
From The Post, Watch live from Florida as Hurricane Irma moves up the west coast:
Vice President Pence: Trump has 'great concern' after Irma briefing:
On Saturday, President Trump urged people to "get out" of Irma's path:
President Trump: 'We are prepared to the absolute max' for Irma:
Do you like this post?
---