President of the European Council Donald Tusk, Britain's Prime Minister Theresa May, President Trump, German Chancellor Angela Merkel, Japanese Prime Minister Shinzo Abe, Canadian Prime Minister Justin Trudeau, French President Emmanuel Macron, the President of the European Commission Jean-Claude Juncker and Italian Prime Minister Paolo Gentiloni pose after watching an Italian flying squadron during the Summit of the Heads of State and of Government of the G7, the group of most industrialized economies, plus the European Union, on May 26, 2017 in Taormina, Sicily. ( AFP PHOTO / POOL / STEPHANE DE SAKUTIN)
THE LIGHTBULB
It seems like a fool's errand to try to predict when exactly President Trump will make a decision, but momentum seems to be building toward a call on whether the United States will stay in the Paris climate accord. Trump knows that his predecessor's landmark deal will be a prime topic of conversation at this weekend's G-7 summit...
But with typical reality-show panache, Trump is keeping the content of his deliberations -- whether to stay or leave -- close to his chest. 
"He's interested to hear what the G-7 leaders have to say  about climate," Gary Cohn, director of the National Economic Council, told pool reporters on the president's overseas trip. He added: "He's heard arguments that are persuasive on both sides. They're both good arguments."
But contestants (i.e. other countries) have not been standing on the sidelines in this key debate, calculating that a decision may be imminent and that Trump often appears to be swayed by the last person with whom he spoke.
Here are four numbers that could make a difference in whether the president decides to stay in the Paris climate accord:
SIX: That's the number of other major economic powers -- Canada, France, Germany, Italy, Japan and the United Kingdom -- in attendance at the G-7 summit.
What are they saying to Trump? "I am very concerned that a U.S. withdrawal from the Paris Agreement would cause lasting damage to the long-standing mutual trust and close cooperation between our two countries and between the U.S. and other countries in Europe and elsewhere," Germany's environment minister, Barbara Hendricks, wrote in a May 5 letter to the administration.
Why it matters: The implicit threat from Europe is that withdrawing from Paris to fulfill one of Trump's domestic goals -- bolstering fossil-fuel production -- will get in the way of the U.S. government's other goals abroad, where nearly 200 other nations have signed on to the accord. Everything from cooperating to fight terrorism to renegotiating trade deals could become harder.
THIRTY-THREE: That's the number of Fortune 100 companies that support the Paris agreement, according to a head count by the investor advocacy group Ceres.
What are they saying to Trump? "By expanding markets for innovative clean technologies, the agreement generates jobs and economic growth. U.S. companies are well positioned to lead in these markets. Withdrawing from the agreement will limit our access to them and could expose us to retaliatory measures," a group of some of those firms, including Apple, Google and Morgan Stanley, wrote in a full-page newspaper ad earlier this month. The firms also note that reducing the effects of climate change mitigates business risk.
Why it matters: Many of the 33 Fortune firms supporting Paris are manufacturers (like General Motors) or energy companies (like Chevron) that need regulatory certainty in order to make business decisions and, ultimately, create jobs. These companies know there will be another Democratic president someday who most likely will push for a Paris-like international accord, just as President Obama did when he picked up the pieces of the Kyoto Protocol. They would rather stick to an agreement that sets only voluntary emissions targets.
TWENTY-TWO: That's the number of GOP senators who signed a letter asking Trump this week to withdraw from the agreement. 
What are they saying to Trump? The risk of litigation from environmental groups, should the United States stay in Paris but continue rolling back Obama-era greenhouse gas regulation is high on their list of concerns.
"Because of existing provisions within the Clean Air Act and others embedded in the Paris Agreement, remaining in it would subject the United States to significant litigation risk that could upend your Administration's ability to fulfill its goal of rescinding the Clean Power Plan.  Accordingly, we strongly encourage you to make a clean break from the Paris Agreement," wrote the GOP senators.
Why it matters: To have a chance of passing health care and tax rewrites, Trump will need the cooperation of every member of the narrow GOP majority in the Senate. The opinion of Republicans -- and those of Environmental Protection Agency Secretary Scott Pruitt and Energy Secretary Rick Perry, among others -- will outweigh that of the 40 Senate Democrats, who, in their own letter to the president this week, urged him to stay in Paris. Trump has to keep the rest of the GOP happy to enact his agenda.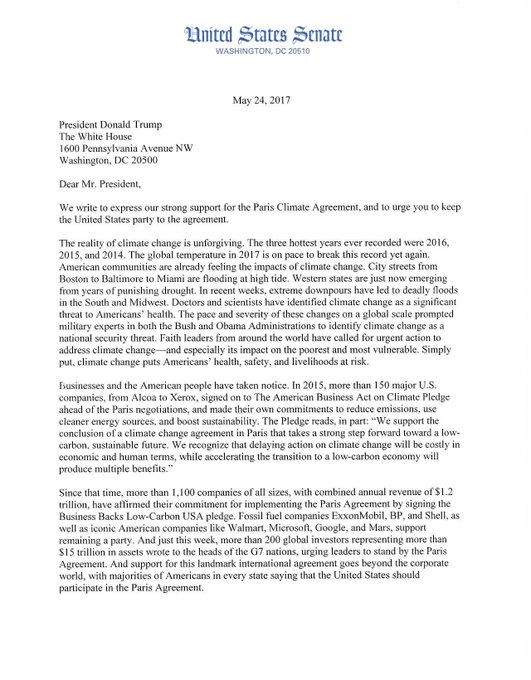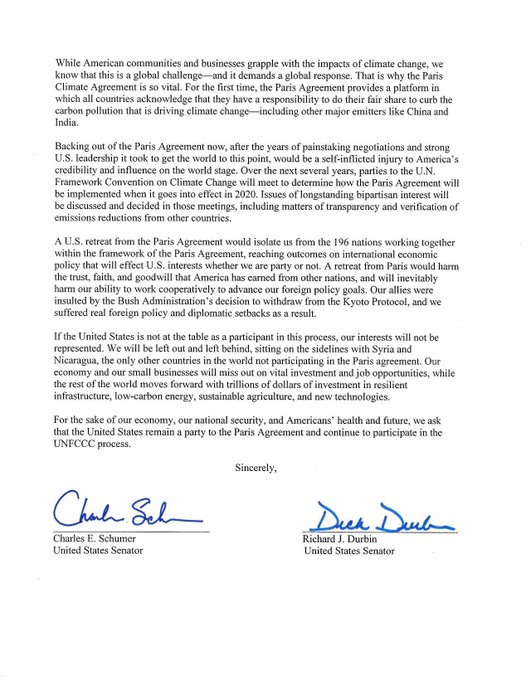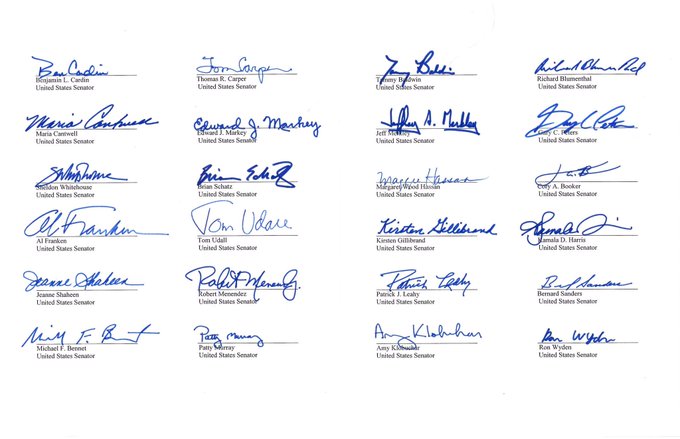 follow
I'm urging @POTUS to remain in the #ParisAgreement. Withdrawal would threaten our economy, our environment and our children's health.
EIGHTEEN: That's the percentage of Republican voters who said they were worried "a great deal" about global warming, according to a Gallup survey in March. Two-thirds of Democrats said they were also greatly worried in that poll.
What are they saying to Trump? Gallup wrote: "Republicans are more in agreement than Democrats about how the subject of global warming is treated in the news: 66% say it is generally exaggerated... Eighty-five percent of Republicans do not think global warming will pose a serious threat to them or their way of life in their lifetime."
Why it matters: This may be the most important number. Even though concern over global warming is at a three-decade high in the United States, the partisan divide on the issue is vast. Trump needs the continued support of his base, especially with the mounting cloud of controversy surrounding the Russia investigation swallowing up Washington. His core voters don't care about Paris except for perhaps wanting to withdraw from it.
Here's some fun pictures from on the ground in Taormina, Italy: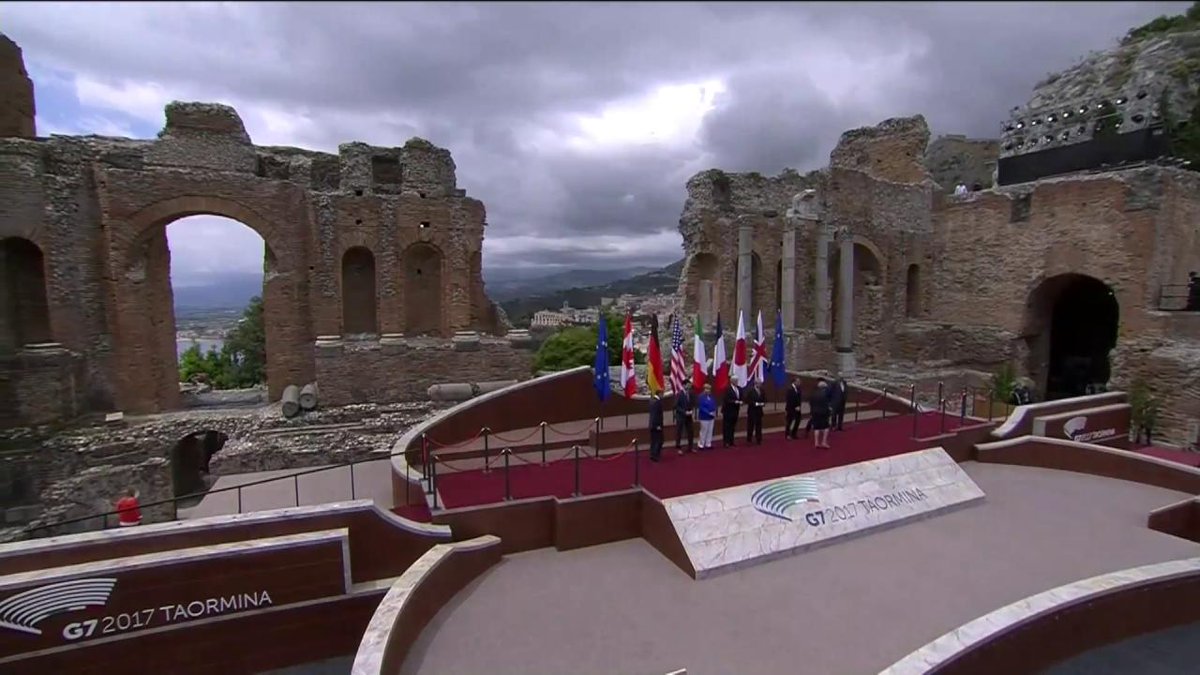 From Howard Mortman of C-Span:
G-7 photogs
May 26 at 9:24 AM
source: https://www.washingtonpost.com/
original story HERE
Get the new Climageddon book:
Click here for a new book about the global warming emergency and what you can do.
To View Our: current positions, opinions, agreement or disagreement with this blog article or its facts, click here.
Donate to help end Global Warming
Sign up for the Global Warming Blog for free by clicking here. In your email you will receive critical news, research and the warning signs for the next global warming disaster.
Click here to learn how global warming has become irreversible and what you can do to protect your family and assets.
To share this blog post: Go to the original shorter version of this post. Look to lower right for the large green Share button.
To view our current agreement or disagreement with this blog article, click here.
---