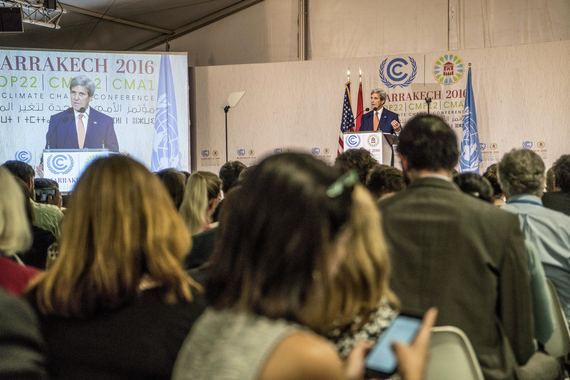 U.S. Secretary of State John Kerry delivers remarks at Cop22 (State Department)
As world leaders gathered earlier this week in Marrakech to figure out how to avoid the end of the world as we know it, a surprising plot twist upped the suspense. After this election, can we still save the planet? Or more precisely, will the U.S. choose to act in time?
On Wednesday, the Obama Administration released a blueprint for decarbonizing the U.S., which, for now, is still the world's largest economy. While the timing of the release is bittersweet, the Mid-Century Strategy for Deep Decarbonization is a 111-page affirmation that we can achieve essential carbon reductions, specifically 80% reductions below 2005 levels by 2050.
How? By not rushing to gas as our new fuel of choice, by not cutting down forests and reforesting, and instead doubling investment in clean energy infrastructure, and investing in research and development of new technologies that have the potential to remove carbon from the atmosphere.
Decarbonizing is a long-term project, but it has to start now if we want to preserve a livable planet. So, understandably, the mood at the climate talks in Marrakech, while resolute, was anxious. There is nothing hopeful about the President-elect's statements during the campaign or in his selection of climate skeptic Myron Ebell to head the transition at the Environmental Protection Agency. But even if Donald Trump genuinely believes that climate change is a "hoax," the rest of the world knows that climate change is real. And even if he follows through on his campaign promise to pull out of the Paris Accord or its underlying treaty framework, the agreement will stand, perhaps with even greater support from key players including China and the E.U.
Repeatedly over the last week, Chinese officials have affirmed that China is not abandoning its commitments in Paris, and European officials are suggesting that the E.U. may have to ratchet up its commitments to make up for a U.S. failure to deliver. This makes sense. Meeting and exceeding the Paris goals is a matter of profound self-interest for every nation given the inconceivably high costs of temperature rise on the one hand and on the other, the extraordinary opportunity to create new wealth with a transition to clean energy.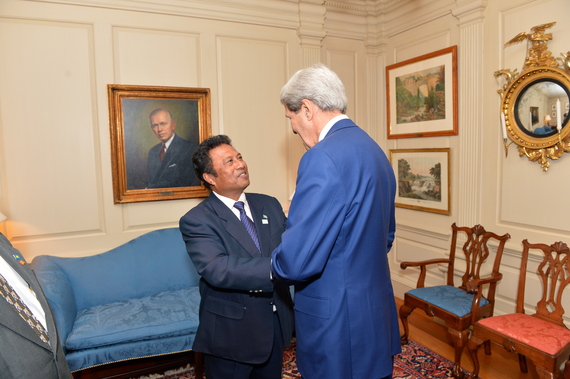 Earthjustice was privileged to participate in COP 22 as a legal advisor to the Republic of Palau, one of the Small Island Developing States whose vision and tenacity helped to secure the Paris agreement. Secretary of State John Kerry speaking with President of Palau Tommy Remengesau, Jr. (State Department)
That economic opportunity is not lost on the business community. Yesterday, more than 360 businesses and investors, including many Fortune 500 companies including General Mills, DuPont, Intel, and Hilton issued a joint statement warning that "Failure to build a low-carbon economy puts American prosperity at risk." Major players like Walmart and Microsoft are already making enormous investments in renewable energy to run their operations. Even Exxon has issued a statement supporting the Paris agreement as "an important step forward by world governments in addressing the serious risks of climate change."
Addressing a standing-room only crowd in Marrakech, John Kerry offered assurances for the future "regardless of what policy might be chosen, because of the marketplace." It's absolutely correct that clean energy resources have arrived and they can and should outcompete fossil fuels. But it's also essential to recognize that the market alone will not accomplish the imperative shift to clean energy in the U.S. It will be a fight to deploy clean energy on the scale and timeline that is required. Right now, low gas prices and a suite of overdue environmental standards are driving coal out of the power sector. With or without the Clean Power Plan, which Trump has promised to kill, that trend can continue. But forward progress will entail hard-fought battles in the courts and in Congress to preserve our strong environmental laws. Fortunately, public support for clean air and clean water is strong, and we have powerful legal tools to prevent the weakening of health and environmental protections.
It will also be a fight to fend off a rush to gas and ramp up clean energy instead. Even now, clean energy is under constant attack by fossil fuel interests and utilities that are resisting change. The good news is that these fights are playing out in the states, and there is limited federal influence on their outcomes. It has become possible to make the case that clean energy — not coal or gas — is the best economic choice for electricity customers, and clean energy advocates are winning that case even in red states and swing states.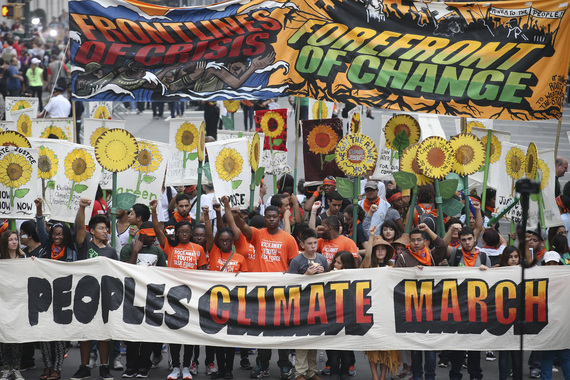 More than 100,000 people march through NYC as part of the People's Climate March (John Minchillo/AP Images for AVAAZ)
The federal system in the U.S. has proven to be essential at other moments in our history. If the new administration is as hostile to the environment as the Trump campaign would suggest, states can become the foil to the federal government. And cities can too, because climate solutions begin at the scale of the city. With or without the support of the President, the majority of people in the U.S. who care about climate change can force progress. It will be a fight, but it's winnable. As John Kerry implored climate leaders from around the world in a passionate invocation of Winston Churchill, this is the moment for us all not just to do our best but to do what is necessary.
This post is part of a series produced by The Huffington Post, in conjunction with the U.N.'s 22nd Conference of the Parties(COP22) in Morocco (Nov. 7-18), aka the climate-change conference. The series will put a spotlight on climate-change issues and the conference itself. To view the entire series, visit here.
source: http://www.huffingtonpost.com/
original story HERE
To learn about more about global warming, climate change or greenhouse gases as well as the causes, consequences, solutions, definitions, facts and tipping points related to these subjects, 
click here
. 
To see our most current positions, opinions, comments, agreement or disagreement with this article, and/or possible criticisms related to the subjects or facts raised in the above article, 
click here
.
 Then look for those subjects in the navigation links at the top the page.
To sign a critical petition for declaring an international global warming State of Emergency, click  
here
!
To help do something about the climate change and global warming emergency, click here.
Sign up for our free Global Warming Blog by clicking here. (In your email, you will receive critical news, research, and the warning signs for the next global warming disaster.)
To share this blog post: Go to the Share button to the left below.
---