'Cars have been blown the short distance from road to shoreline, sideways in the shallows in a rusty puddle of their own fluids.' Photograph: Chip Somodevilla/Getty Images
These complex, beautiful, fragile islands are a delicately balanced paradise. But their tipping point may have arrived...
Video: Aerial footage showing the destruction caused by Hurricane Irma
he Florida Keys are still closed until further notice. On the far side of the blockade that inhabitants of the lower Keys negotiate to return to their homes, the US One highway, a tarmac spine over the limestone vertebrae of the islands, makes its way 127 miles down to Key West, battered and torn. Key West, final south-easterly outpost of mainland North America and the self-styled "last resort", is, still, four days after Hurricane Irma hit, almost completely out of contact with the outside world.
Images have been surfacing all week. In Marathon, the sea draining away from an entire bay like dishwater off a dirty plate, leaving the ocean floor exposed to the daylight, while a woman films it from her balcony and screams: "My God! My God! The sea is gone!" In Key Largo, a stretch limousine banked crosswise across the highway. Big fridges stranded on plinths of trashed seagrass and mangrove leaves, their doors open, still full of food. Cars blown the short distance from road to shoreline, sideways in the shallows in a rusty puddle of their own fluids. Boats that have cracked the road with the force with which they've landed; in Islamorada, someone's house being thrown along a lagoon and landing crooked in a new spot.
I know and love these islands well. I'm wondering what they did with the dolphins in the sea aquarium; how the evacuation of the mental health facilities went; whether the drive-through bank where I used to cash my pay cheque got wrecked; what it's like in the Winn-Dixie supermarket right now, and in the Kmart, in the dark.
As the search-and-rescue operation moves further into the devastated Keys, I'm watching from England to see how this first-world humanitarian disaster unfolds. It's an extraordinary corner of America: sub-tropical, subaqueous, and not especially suited for habitation. I'm wondering if its 70,000 inhabitants may be the canaries in the coalmine for the realities of climate change as it hits the developed world.
The Keys are extreme. Curving away from the bottom tip of Florida, they nose out to sea in dribs and drabs towards the Caribbean. They've been fully inhabited for only 150 years. Drinking water has to be piped in from the mainland; the inhabitants used rainwater until 1940. The first Coca-Cola bottling plant arrived here in 1908 and they made the Coke with rainwater. Limestone, Miami oolite and white coral form what land there is; much of the territory consists of tracts of rich, eggy sea grass and webs of island-building mangrove. The boundaries between land and sea are porous: they call this terrain "the heavy dew".
Hurricane season lasts from May to November, during which time everyone is on evacuation alert. Inhabitants are below or only just above sea level. It's scorching nearly all the time. Humidity is high. Reliance on air-conditioning is total. Machines roam the streets misting inhabited areas with mosquito repellent. The sewage infrastructure is questionable.
These islands are a complex and fragile ecosystem. They are surrounded by the only living barrier reef in the continental United States, which forms a natural surf-break: their rigid structures absorb the shock of the impact of waves and wind and are essential in restraining high tides and hurricanes. Coral is a delicate creature; the reefs have, in recent years, been showing signs of stress.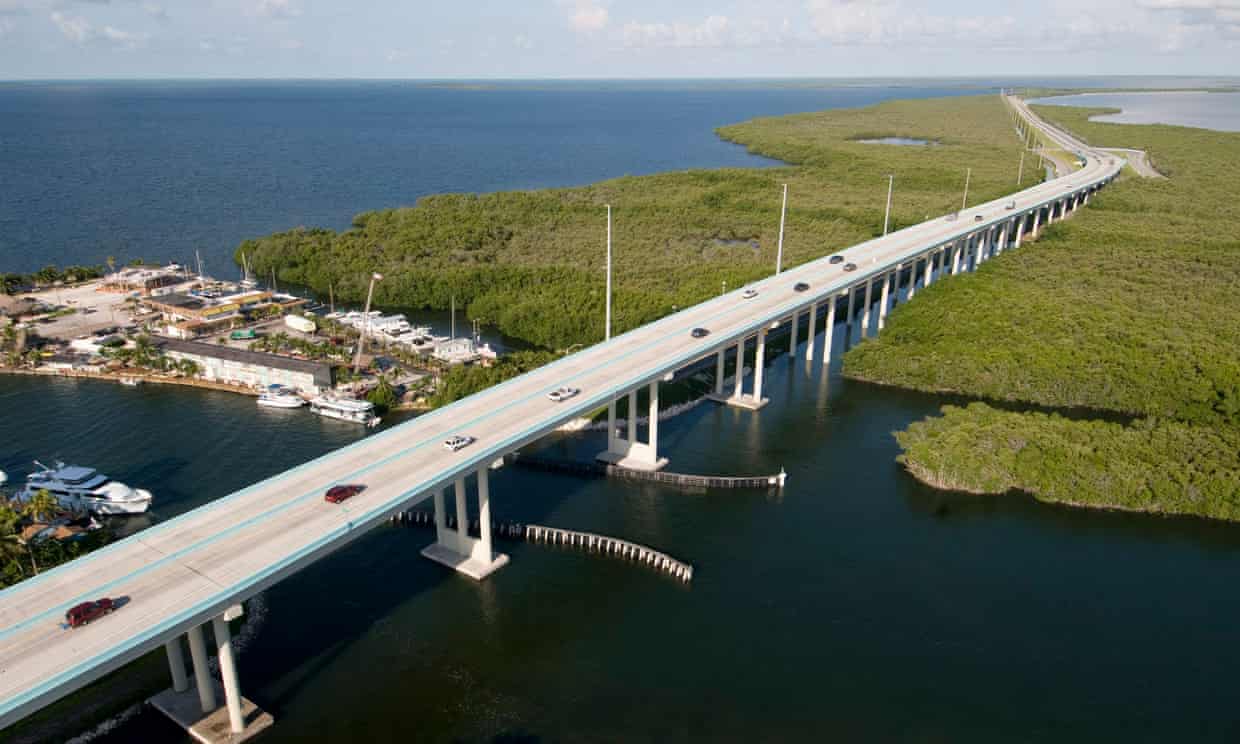 'Living there is a kind of conjuring trick, a process of mind over matter. Because actually you are on a stiflingly humid island in the middle of the sea.' Photograph: Handout/Getty Images
It is heartbreakingly beautiful. Jewel-blue sea stretches away to all horizons, replacing landscape. Everything oozes salt: the ground, the air, the leaves. At the edges, boardwalks lead through sparse, creaking pockets of resolutely inhospitable wilderness. On higher ground lie incredibly species-rich hammocks: homes for gumbo limbo trees, the giant Florida tree snail, and hundreds of other site-specific creatures. This is prime real estate, too: building continues apace on these swampy blobs of land.
Key West is a kind of ocean frontier town, with an eye-poppingly eccentric history. The major industry now is tourism. It brands itself relentlessly: it is the Conch Republic, Home of the Sunset, Margaritaville, and – because Route 1 runs out there – The End of the Rainbow. It's also Paradise, trademarked: its police cars have "Protecting Paradise" stencilled on them. The official town motto is One Human Family. Paradise? It sometimes feels like it. Protected? I'm not so sure.
Spending time there was, for me, both joyous and uneasy. I was preoccupied by how frightening it must be in hurricanes, finding yourself where you actually are: on a pitch-dark, stiflingly humid island; a tropical coral-drift that beneath its veneer is entirely wild.
Living there is a kind of conjuring trick, a process of mind over matter. It demands a hefty measure of denial in your margarita – eyes half-shut as another perfect sunset commences and the steel band strikes up beside the cruise liner.
Denial is also there in the recent news that the US Department of Agriculture is censoring the term "climate change". Call the weather what you want, the past few days have shown that the Americans in these outposts may find themselves living in a whole new kind of frontier: involuntary pioneers in the face of these new "weather extremes" and their unprecedented storms.
Friday 15 September 2017 10.35 EDT
by: Joanna Guthrie
• Joanna Guthrie is a poet and writer
source: https://www.theguardian.com/us
original story HERE
Sign Up for Our Free Global Warming Blog RSS feed by clicking here. About once a week you will automatically get all the best blog stories of the week. (The blog now has thousands of articles.)
Share This Blog Post: If you would like to share this blog post, go to the original shorter version of this post and look to lower right for the large green Share button. Ask them to sign up too for the Global Warming Blog.
Click here for information on the groundbreaking and disruptive new Climageddon book. It is about the global warming emergency and what you can do to help end it!
To View Our: current positions, opinions, agreement or disagreement with this blog article or its facts, click here.
Sign up for the Global Warming Blog for free by clicking here. In your email you will receive critical news, research and the warning signs for the next global warming disaster.
Click here to learn how global warming has become irreversible and what you can do to protect your family and assets.
To share this blog post: Go to the original shorter version of this post. Look to lower right for the large green Share button.
To view our current agreement or disagreement with this blog article, click here.
---