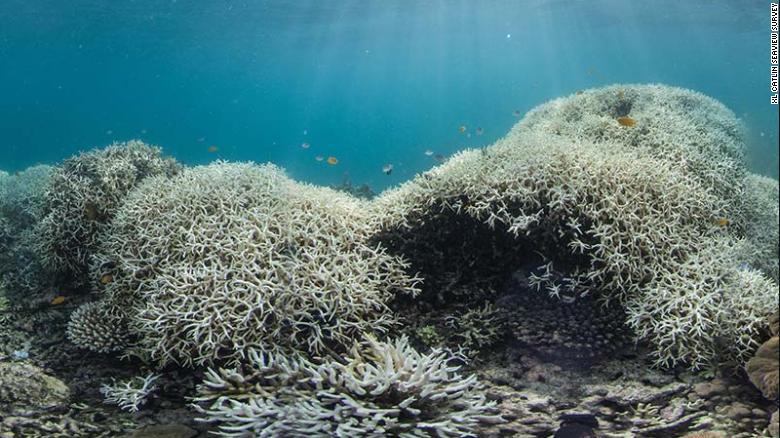 (CNN)There is a big difference between dead and dying...
Outside Magazine published a somewhat tongue-in-cheek
obituary
for the Great Barrier Reef earlier this week, citing its lifespan from 25 million BC-2016. The article detailed the life of the reef, its active membership in the ecological community, its worldwide fame and the coral bleaching that has led to its deteriorating health. "The Great Barrier Reef of Australia passed away in 2016 after a long illness. It was 25 million years old," read the article.
Immediate response on social media
The obituary was met with horror and disbelief, both by scientists and social media users alike.
Russell Brainard
, chief of the Coral Reef Ecosystem Program at NOAA's Pacific Islands Fisheries Science Center, told
HuffPost
that he believes the article was highlighting the urgency of the situation, but that those who don't have any context "are going to take it at face value that the Great Barrier Reef is dead."
Many people on social media are indeed taking it at face value. Twitter users have been grieving the loss of the reef and urging followers to pay serious attention to the consequences. Many are spreading false information entirely.
Rowan Jacobsen
, the writer of the obituary, is a food and environmental writer, not a scientist. But the article has led some outlets to claim that scientists have declared the reef officially dead, further spreading the exaggeration.
People have also taken to Twitter to try to get the truth out. Environmental reporter Tony Davis tweeted, "Reports of the Great Barrier Reef's death are greatly exaggerated, say scientists, booing Outside Magazine" and the Cornell Cooperative Extension at Rockland County, which
cites
ecological sustainability as one of its missions, tweeted "Great Barrier Reef is Dying NOT Dead! 'The message should be that it isn't too late... not we should all give up.'"
Reports of the Great Barrier Reef's death are greatly exaggerated, say scientists, booing Outside Magazine https://www.google.com/amp/m.huffpost.com/us/entry/us_57fff8f1e4b0162c043b068f/amp?client=safari …
Great Barrier Reef Obituary Goes Viral, To The Horror Of Scientists
"The message should be that it isn't too late ... not we should all give up."
huffingtonpost.com
The
Great Barrier Reef
is the world's largest coral reef ecosystem and a UNESCO World Heritage site. It covers more than 300,000 square kilometers and consists of more than 3,000 reefs, 600 islands, and 300 coral cays.
Recovery efforts
There's no denying that the Great Barrier Reef is in serious trouble. According to a report by the
ARC Centre of Excellence for Coral Reef Studies
, 93% of the reef is affected by
bleaching
, putting the reef in danger of extinction.
Bleaching
occurs when coral are put under extreme stress by changes in conditions like temperature, light, or nutrients. In these conditions, they expel symbiotic algae from their tissues, causing them to turn white.
Scientists are increasingly worried that over-exaggerating the state of the reef will promote the idea that it is past the point of recovery. Professor
John Pandolfi
from the ARC Centre at the University of Queensland has expressed hope. "It is critically important now to bolster the resilience of the reef, and to maximize its natural capacity to recover." But the effects are serious and possibly permanent. "The reef is no longer as resilient as it once was, and it's struggling to cope with three bleaching events in just 18 years," he said.
The obituary lays blame on the Australian government, noting that the government pressured the United Nations to remove the reef from a climate change report because it was concerned about its impact on tourism. But on September 28, the Australian and Queensland governments released the first
Reef 2050 Plan
annual report, showing the $2 billion investment toward improving the reef's health for future generations is paying off. The
plan
has accomplished 29 of its 151 intended actions, though it notes that the recovery process needs to be accelerated if they want to continue to be successful.
Coral bleaching, fishing, mining, and burning fossil fuels have all contributed to the
destruction
of the reef over several decades. More than 2 million people visit it each year, and governments, scientists, and
charities
are working so future generations can continue to appreciate its beauty.
It's not dead yet, folks.
Updated 3:07 PM ET, Fri October 14, 2016
To learn about more about global warming, climate change or greenhouse gases as well as the causes, consequences, solutions, definitions, facts and tipping points related to these subjects, 
click here
. 
To see our most current positions, opinions, comments, agreement or disagreement with this article, and/or possible criticisms related to the subjects or facts raised in the above article, 
click here
.
 Then look for those subjects in the navigation links at the top the page.
To sign a critical petition for declaring an international global warming State of Emergency, click  
here
!
Sign up for the Global Warming Blog for free by clicking here. In your email you will receive critical news, research and the warning signs for the next global warming disaster.
Click here to learn how global warming has become irreversible and what you can do to protect your family and assets.
To share this blog post: Go to the original shorter version of this post. Look to lower right for the large green Share button.
To view our current agreement or disagreement with this blog article, click here.
---