Unfortunately, CO2 is not the only human emission forcing global temperatures rapidly higher...
In addition, methane, nitrous oxide, and numerous other greenhouse gasses also make their way into the atmosphere each year through industrial sources. If we combine all these other greenhouse gasses, the total CO2 equivalent carbon emission is now at around 50 billion metric tons each year. A veritable mountain of greenhouse gasses dumped at a pace more than 150 times that of volcanic emissions each and every year.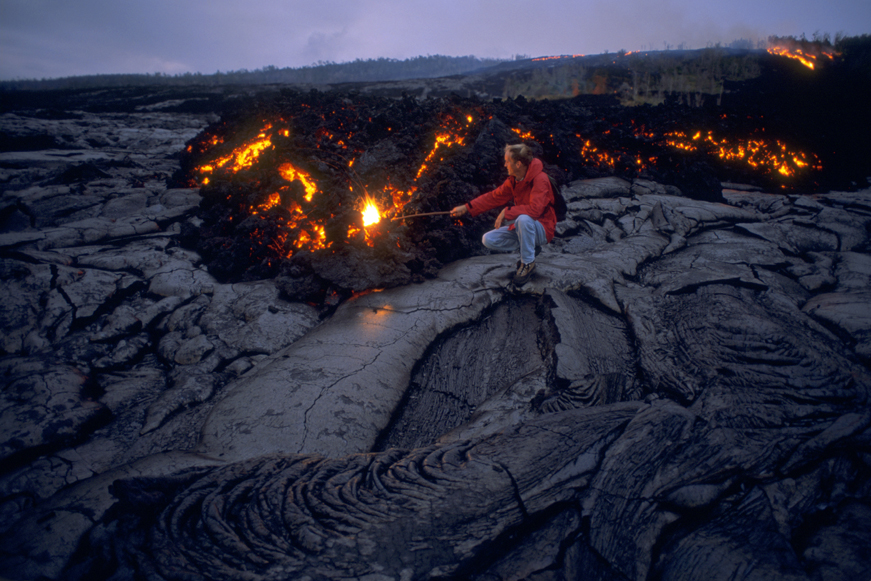 Lava Trekking at Hawaii's Kilauea Volcano--Hike into a methane gas death zone of exploding trees where molten flows sizzle and create a new landscape.
First Glimpses of the Methane Monster
The most potent and troubling of these additional greenhouse gasses is methane. Over the course of 20 years, methane is about 80 times as powerful a heat trapping gas as CO2 by volume. And though atmospheric methane levels are far less than comparable CO2 levels (at around 1.8 parts per million, or 1/3 the total atmospheric heat forcing of CO2), there is cause for serious concern.
Taking into account known emissions from permafrost and the East Siberian Arctic Shelf, and adding in expected emissions from the rest of the thawing Arctic, methane emissions for the entire region are likely around 40 teragrams per year, or about 7% of the global total. This emission is equivalent to that of a major industrial nation and initial indications are that it is growing.
(Atmospheric methane increase since 2007 as measured at the Mauna Loa Observatory. Note the more rapid pace of increase from 2013 through the first quarter of 2014. Image source:

NOAA/ESRL

.)
The result of combined increases in the human methane emission and in the Earth System emission has been enough to continue to push global levels higher with Mauna Loa readings breaching the 1840 part per billion average by early 2014. What is even more troubling is that the Earth System methane store, composed of both permafrost methane and methane hydrate at the bottom of the world ocean system, is immense.
In total, more than 3,000 gigatons of carbon in the form of methane may be at risk to eventually hit the atmosphere as the Earth continues to warm under the current human forcing. A very large store that could easily multiply the current rate of Earth System methane release many times over. One that represents a clear and present danger for a potentially very powerful amplifying heat feedback to an equally extraordinary initial human forcing.
To receive the latest breaking news on global warming issues, click here and go to our climate blog. Look to the bottom right of the page for the climate blog Subscribe box to automatically get our RSS news feed and each new story. 
To learn what you can do that is effective to help fix global warming caused climate destabilization, click here.
To learn why the term climate destabilization is replacing the terms climate change and global warming, click here.
To help do something about the climate change and global warming emergency, click here.
Sign up for our free Global Warming Blog by clicking here. (In your email, you will receive critical news, research, and the warning signs for the next global warming disaster.)
To share this blog post: Go to the Share button to the left below.
---