The Sentinel-2 satellite captured a wildfire burning in western Greenland. Credit: Pierre Markuse/flickr
It's not just the American West , Mediteranean and British Columbia burning up. A fire has sparked in western Greenland, an odd occurrence for an island known more for ice than fire...
A series of blazes is burning roughly in the vicinity of Kangerlussuaq, a small town that serves as a basecamp for researchers in the summer to access Greenland's ice sheet and western glaciers. The largest fire has burned roughly 3,000 acres and sent smoke spiraling a mile into the sky, prompting hunting and hiking closures in the area, according to local news reports.
There's no denying that it's weird to be talking about wildfires in Greenland because ice covers the majority of the island. Forests are basically nonexistent and this fire appears to be burning through grasses, willows and other low-slung vegetation on the tundra that makes up the majority of the land not covered by ice.
Data for Greenland fires is hard to come by, but there is some context for fires in other parts of the northern tier of the world. The boreal forest sprawls across Canada, Russia, Alaska and northern Europe, and provides a longer-term record for researchers to dig into. That record shows that the boreal forest is burning at a rate unprecedented in the past 10,000 years.
Stef Lhermitte, a remote sensing expert at Delft University of Technology in the Netherlands, said there is evidence of fires burning in Greenland over the past 17 years of MODIS satellite records kept by NASA. But because of how NASA's algorithms interpret the satellite data, there's low confidence that every fire on the map actually occurred.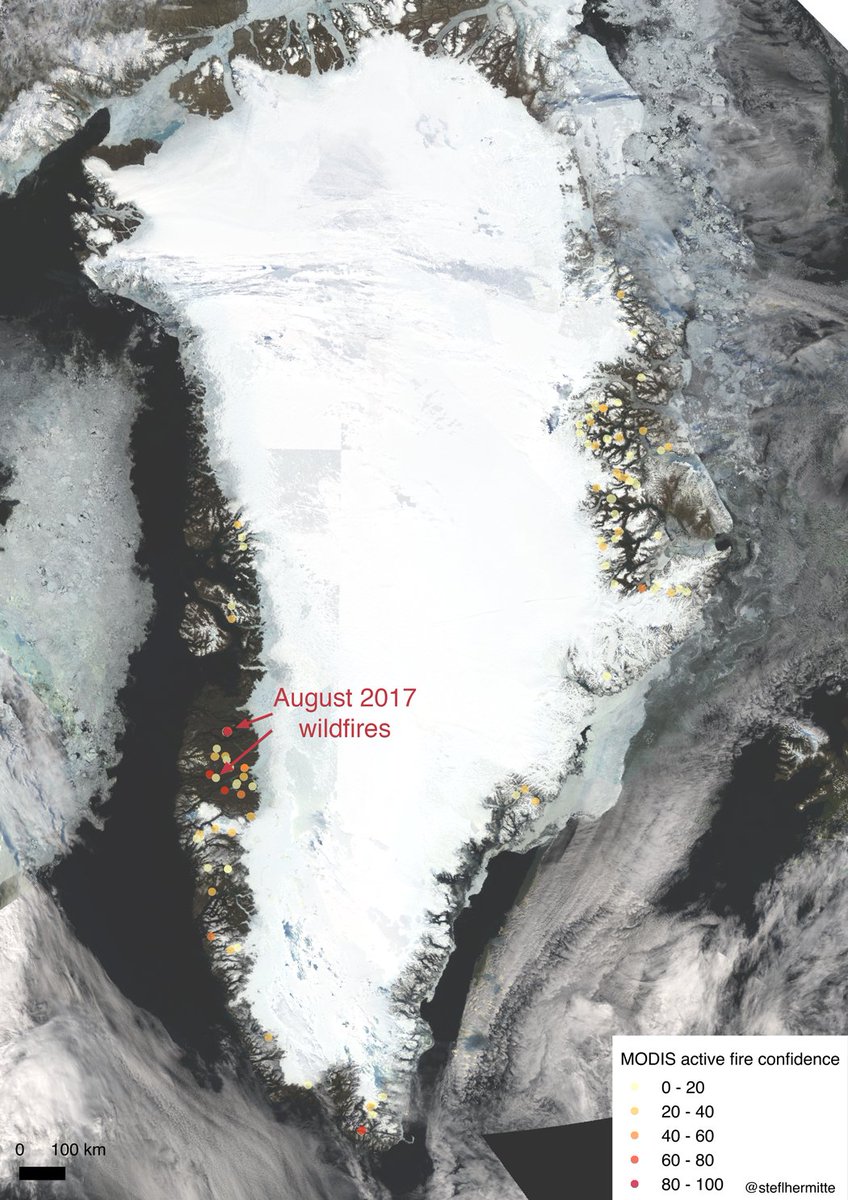 I quickly made an overview of the MODIS active fires since 2000 over Greenland ifo confidence level. Many low confidence fires in the past
Jason Box, an ice sheet researcher with the Geologic Survey of Denmark and Greenland, said he observed a lightning-sparked fire in the late 1990s, but that otherwise, fires are rare. Looking at the MODIS record, he said one of the only other high confidence fires was actually a trash burn in 2013, though other satellites show evidence of others fires. 
Box also noted that temperatures in the area rose in late July just before the fire was first observed, spiking to above 53°F (12°C) on July 27. While not exactly balmy, the temperature rise may have helped the blazes to spread.
To wrap up: wildfires have occurred in the past over Greenland but 2017 is exceptional in number of active fire detections by MODIS
According to La Croix, a French newspaper, there's no precedent for a fire this size in the European Union's forest fire system. Looking beyond the satellite record for context specific to Greenland is all but impossible as there are basically no records to refer to.
"There does not appear to be a reliable long-term record of observed wildfires in Greenland," researchers with the Danish Meteorological Institute's Greenland monitoring program tweeted.
Ultimately, it's not the burning of Greenland's tundra that's the biggest climate change concern. It's the island's massive store of ice that if melted, would be enough to raise sea levels 20 feet.
The ice has been melting at a quickening pace since 2000, partly due to wildfires in other parts of the world. The uptick in boreal forest fires has kicked up more ash in the atmosphere where prevailing winds have steered it toward the ice sheet.
The dark ash traps more energy from the sun, which has warmed the ice sheet and caused more widespread melting. Soot from massive wildfires in Siberia caused 95 percent of the Greenland ice sheet surface to melt in 2012, a phenomenon that could become a yearly occurrence by 2100 as the planet warms and northern forest fires become more common.
You May Also Like:
This is British Columbia's Second-Worst Wildfire Season. It's Far From Over
Global Warming Is Fueling Arizona's Monstrous Monsoons
Cities Are Already Suffering From Summer Heat. Climate Change Will Make It Worse
More Hot Days Are Coming With Climate Change. Our Choices Will Decide How Many
source: http://www.climatecentral.org/
original story HERE
Sign up for the Global Warming Blog for free by clicking here. In your email you will receive critical news, research and the warning signs for the next global warming disaster.
Click here to learn how global warming has become irreversible and what you can do to protect your family and assets.
To share this blog post: Go to the original shorter version of this post. Look to lower right for the large green Share button.
To view our current agreement or disagreement with this blog article, click here.
---