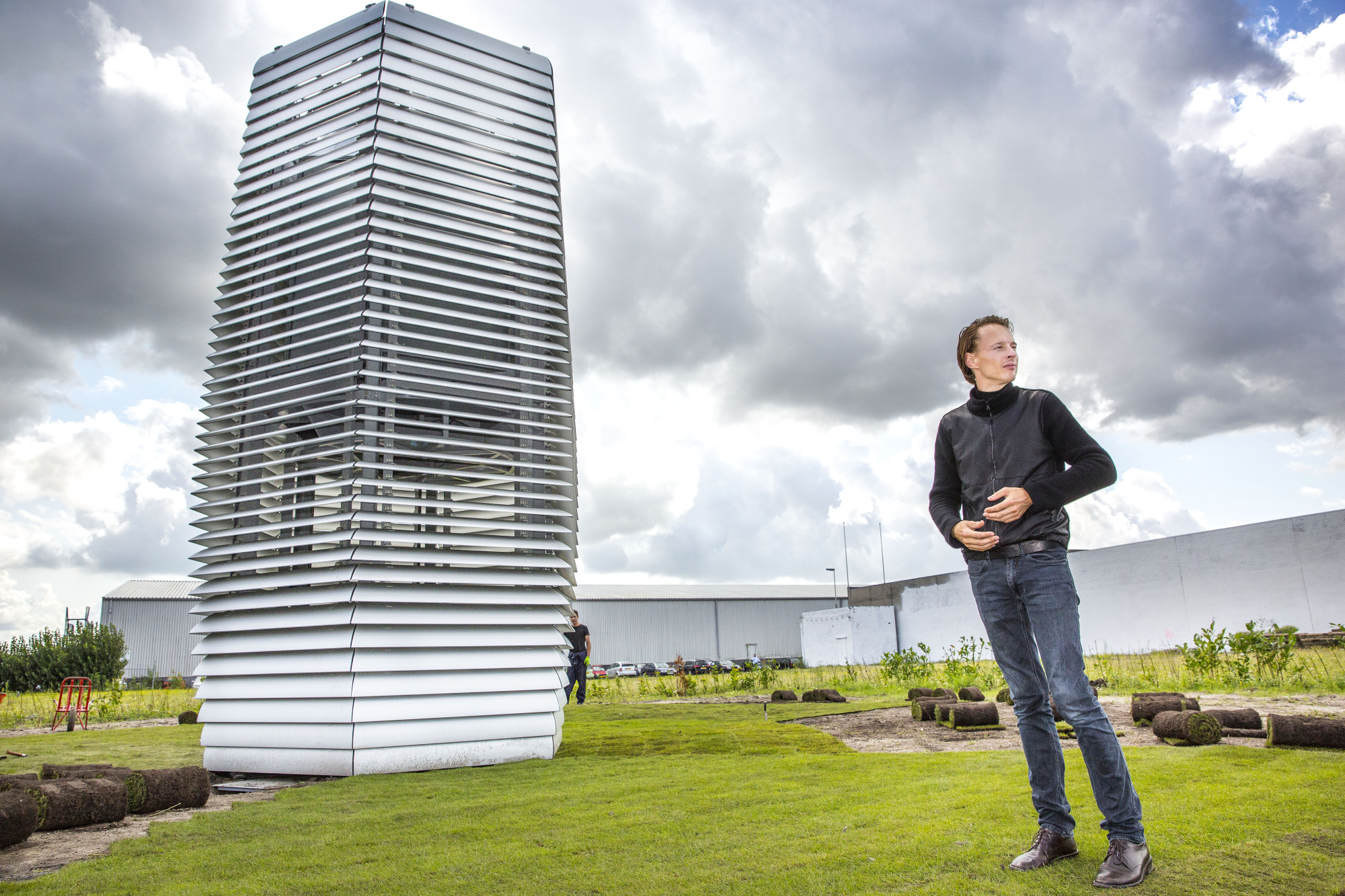 Its maker, U-Earth Biotechnologies, is one of a handful of companies worldwide seeking to combat smog by, essentially, digesting it. The 10-foot tall cylinder, part of a demonstration project in Turin, contains a strain of bacteria that can consume car exhaust, sulfur dioxide from coal plants and other airborne nasties. One of the units can create a bubble of clean air about the size of a basketball court, according to co-founder Betta Maggio.
"Rather than destroying the planet by throwing away filters from ventilation machines, we immobilize the pollution and transform it," Maggio said.
The project is an example of the hundreds of technologies scientists and businesses are experimenting with as a solution to reining in the pollution. None on their own can fix the problem, although each can make a contribution. The pioneers include: a social-design company in Rotterdam, which is running a demonstration project in China, and an environmental-research firm in Berlin that specializes in building facades that chemically neutralize harmful particles in the air.
The almost 200 countries that signed the landmark agreement in Paris last year focused on curbing the sources of pollution by limiting fossil-fuel emissions. Trump's environmental policies aren't yet clear, though he has vowed to revive the coal industry and strip away regulations that make U.S. industry less competitive. 
During the campaign, he called climate change a hoax and pledged to withdraw from the Paris deal. This week, he told the New York Times he was looking at the issue closely with an "open mind" and said clean air and water are "vitally important." That suggests the fight for a cleaner planet may need to shift toward tackling the pollution itself.
"The best way to get rid of air pollution is to avoid it in the first place," said Timur Guel, analyst at the International Energy Agency in Paris. "But you need to push both angles, both decarbonization and pollution control technologies. It's a very urgent and pressing problem."
Read more: How Trump Climate Denial Is Catalyzing the World
Eighty percent of cities around the world that monitor air quality failed to meet standards set by the World Health Organization last year. London surpassed the European Union's annual limits on air pollution just eight days into 2016.
There are plenty of technologies that filter indoor environments such as offices and shopping malls. Whether it will really be possible to engineer clean air on a large scale outdoors in urban areas is still in question, with answers only hinted at by early-stage demonstration projects.
"The danger is that these technologies offer people an option for avoiding dealing with the causes, as opposed to the symptoms of pollution," said Tom Burke, chairman of research institute E3G and former senior adviser to the U.K. foreign secretary's special representative on climate change. "Maybe you can suck up some of the smog, but what about the carbon? It's also about climate change."
Waste Disposal
If these ideas are commercialized and mass-produced, emissions from manufacturing the devices would also have to considered. And if they're actually able to work at scale, the disposal of airborne junk may be another hurdle in the future. Studio Roosegaarde in Rotterdam says the end product from its own device is too toxic to put into landfills, though the founder says he may have a solution.
The firm has created a giant air purifier, known as the Smog Free Tower, that cleans an area the size of a football stadium. The machine uses a method known as "ionization," with static electricity, sending out a positive charge to attract particles to its negatively-charge surface. Then it compresses airborne pollutants to a black dust.
"If you would stop polluting, stop all the cars and coal, it would still take years for it to be clean," said founder Daan Roosegaarde, an artist. By contrast, dealing with smog directly is both possible and paramount, he says: "You don't achieve a clean planet by doing less. I think that sucking up the pollution is the only solution, at least in the short term."
Pollution Ring
His studio stores the concentrated smog in plastic casings that's turned into jewelry. A ring topped by a tiny black cube was previously about 1,000 cubic meters of dirty air. He's working on a new design that would integrate his machine into a city's sewage pipes so the toxic dust would be processed with the waste water, easing the disposal problem.
"You would change the lid on the street with a filter," he said. "You would actually be able to clean air on a really large scale in a productive way and automatically dispose of it."
The company has partnered with the Chinese government, taking part in its $172-million war on smog. Roosegaarde is traveling through the Asian nation to present his machine in Chinese cities, beginning with Beijing. China, which has built thousands of coal plants to power its economic growth, accounts for about a quarter of the planet's pollution. A study from Berkeley Earth showed that air pollution kills 4,000 people per day across the country.
Read more: Choking China: QuickTake
Elegant Embellishments in Berlin is also looking to start working in China. The industrial design studio has created a material for building facades that reacts chemically with harmful particles in the air and neutralizes them.
The surface is made from titanium dioxide, a common ingredient in paint and paper for its white pigment. It turns pollutants such as nitrogen oxide and volatile organic compounds from vehicle exhaust pipes into calcium nitrate, a type of salt, and a little bit of carbon dioxide. The salt collects on the facade and gets washed away when it rains.
Elegant Embellishments' first project was a hospital in Mexico City in 2013. The facade neutralizes harmful particles equivalent to 1,000 cars driving in the city every day, according to co-founder Daniel Schwaag. The studio is currently setting up a new company that will be working in the Chinese market.
"We're first going to be focusing on private neighborhoods," Schwaag said. "We've had a bit of resistance because it benefits the public, not just the people paying for it. I literally had one client ask me 'How do I justify to my superiors that this product is doing something good for someone else?"'
November 24, 2016 — 6:01 PM CST
source: http://www.bloomberg.com/
original story HERE
Trump's Mysterious Feelings on Global Warming...
To learn about more about global warming, climate change or greenhouse gases as well as the causes, consequences, solutions, definitions, facts and tipping points related to these subjects, 
click here
. 
To see our most current positions, opinions, comments, agreement or disagreement with this article, and/or possible criticisms related to the subjects or facts raised in the above article, 
click here
.
 Then look for those subjects in the navigation links at the top the page.
To sign a critical petition for declaring an international global warming State of Emergency, click  
here
!
To help do something about the climate change and global warming emergency, click here.
Sign up for our free Global Warming Blog by clicking here. (In your email, you will receive critical news, research, and the warning signs for the next global warming disaster.)
To share this blog post: Go to the Share button to the left below.
---