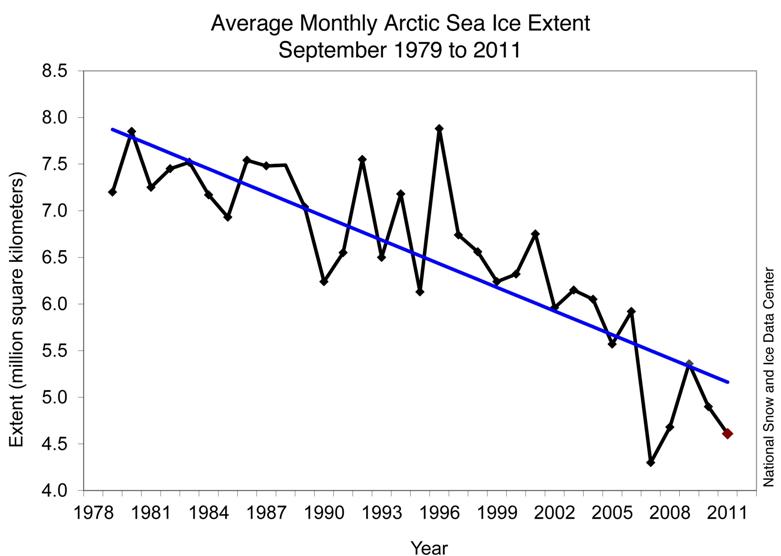 Monthly September ice extent for 1979 to 2011 shows a decline of 12.0% per decade...
Today's view of the North Pole (#MODIS, Terra) is also really showing the sea ice rubble...
This is what near-record-low arctic sea ice looks like...
Curdled milk. An exploded down pillow. The beat-up cover of one of those composition books you used in elementary school. Whatever you see in recent satellite images of Arctic sea ice, it's not the unbroken ice of the good old days (blank sheet of paper, smoothed satin sheets).
2016 is on track to see the second-lowest Arctic sea ice extent, and that ice is looking pretty cruddy. This grainy, styrofoam-peanut ice is "the new normal," according to NASA officials. As temperatures in the Arctic soar, not only is the total amount of sea ice shrinking, but it's also thinning out and breaking up.
While 2012 may still hold the record for lowest sea ice extent, all things considered, it's hard to say 2016 is really doing any better.
Arctic ice, which in recent years remained rock hard year round, is melting at an alarming rate. CCTV America's Sean Callebs explains what's at risk. Video Published on Aug 22, 2016
source: http://grist.org/
original story HERE
To learn about more about global warming, climate change or greenhouse gases as well as the causes, consequences, solutions, definitions, facts and tipping points related to these subjects, 
click here
. 
To see our most current positions, opinions, comments, agreement or disagreement with this article, and/or possible criticisms related to the subjects or facts raised in the above article, 
click here
.
 Then look for those subjects in the navigation links at the top the page.
To sign a critical petition for declaring an international global warming State of Emergency, click  
here
!
Sign up for the Global Warming Blog for free by clicking here. In your email you will receive critical news, research and the warning signs for the next global warming disaster.
Click here to learn how global warming has become irreversible and what you can do to protect your family and assets.
To share this blog post: Go to the original shorter version of this post. Look to lower right for the large green Share button.
To view our current agreement or disagreement with this blog article, click here.
---