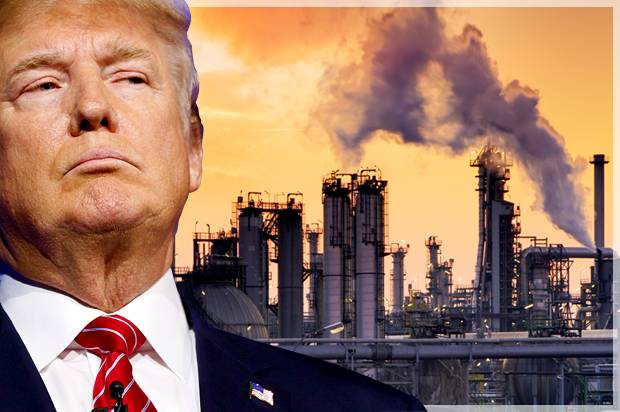 Donald Trump has just given the extinction of humanity a big push down the wrong side of the hill. By foolishly rejecting the Paris climate agreement and proposing re-opening negotiations as political cover, Trump and his administration have chosen irreversible global warming as the future for all humanity...
If he and his big donors from the fossil fuel industry are able to get away with this, it will lead to economic devastation in the United States by tying us to the dead-end fossil fuel energy generation of the 19th century, rather than the profitable future of the green energy generation revolution of the 21st century.
 As the US is the second-largest emitter of fossil fuel atmospheric carbon pollution, rejecting the Paris climate agreement leaves humanity with no chance of preventing the worst outcomes of global warming. This is in part because the current reduction goals in the Paris climate agreement are, if anything, not nearly strong enough to save us in time!
 If that sounds alarmist, it is because alarms need to be sounded. Now—and loudly.
 To learn what is in store for your personal future, I urge you in the strongest possible terms to read, Climageddon, The Global Warming Emergency And How To Survive It. It describes the horrible and painful future Donald Trump and his administration have guaranteed for you, your children, and the future of all life on earth.
 If we fail to reverse this suicidal move, we will be guilty co-conspirators as Donald Trump and his administration blatantly destroy the safety, security and economy of the US and betray the future of humanity—and the world.
 Yesterday, it appeared we still had about 10 years before crossing the final global warming tipping point of extreme risk and irreversible global warming. Today, that time frame has narrowed drastically.
 To understand exactly what Trump has done to your future and what is coming, you owe it to yourself to read Climageddon as soon as possible!
 Yours for humanity and the earth,
 Lawrence Wollersheim
Director Job One for Humanity
Manage@JobOneforHumanity.org
Our mission: End Global Warming
Get the new Climageddon book:
Click here for a new book about the global warming emergency and what you can do.
To View Our: current positions, opinions, agreement or disagreement with this blog article or its facts, click here.
Donate to help end Global Warming
Sign up for the Global Warming Blog for free by clicking here. In your email you will receive critical news, research and the warning signs for the next global warming disaster.
Click here to learn how global warming has become irreversible and what you can do to protect your family and assets.
To share this blog post: Go to the original shorter version of this post. Look to lower right for the large green Share button.
To view our current agreement or disagreement with this blog article, click here.
---