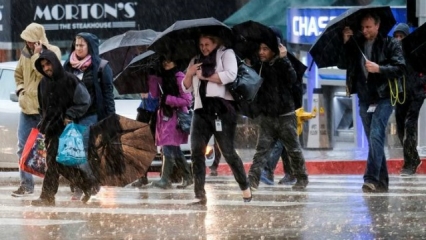 A U.S. government weather forecaster said on Thursday that La Niña conditions had disappeared and projected the possibility of El Niño developing later this year, returning after the weather phenomenon wreaked havoc on global crops last year...
The National Weather Service's Climate Prediction Center said in a monthly forecast that neutral conditions were present in February and were likely to continue through at least the spring.
However, the forecaster said it saw increasing chances of El Niño developing later this year and cited some possibility that it could arrive as soon as this spring.
The last El Niño, a warming of ocean surface temperatures in the eastern and central Pacific that typically occurs every few years, faded in 2016 and was linked to crop damage, fires and flash floods.
(Reporting by Chris Prentice; Editing by Lisa Von Ahn)
source: http://www.reuters.com/
original story HERE
Get New Climageddon book:
 Click here for a new book about the global warming emergency and what you can do.
To View Our: current positions, opinions, agreement or disagreement with this blog article or its facts, click here.
Sign up for the Global Warming Blog for free by clicking here. In your email you will receive critical news, research and the warning signs for the next global warming disaster.
Click here to learn how global warming has become irreversible and what you can do to protect your family and assets.
To share this blog post: Go to the original shorter version of this post. Look to lower right for the large green Share button.
To view our current agreement or disagreement with this blog article, click here.
---