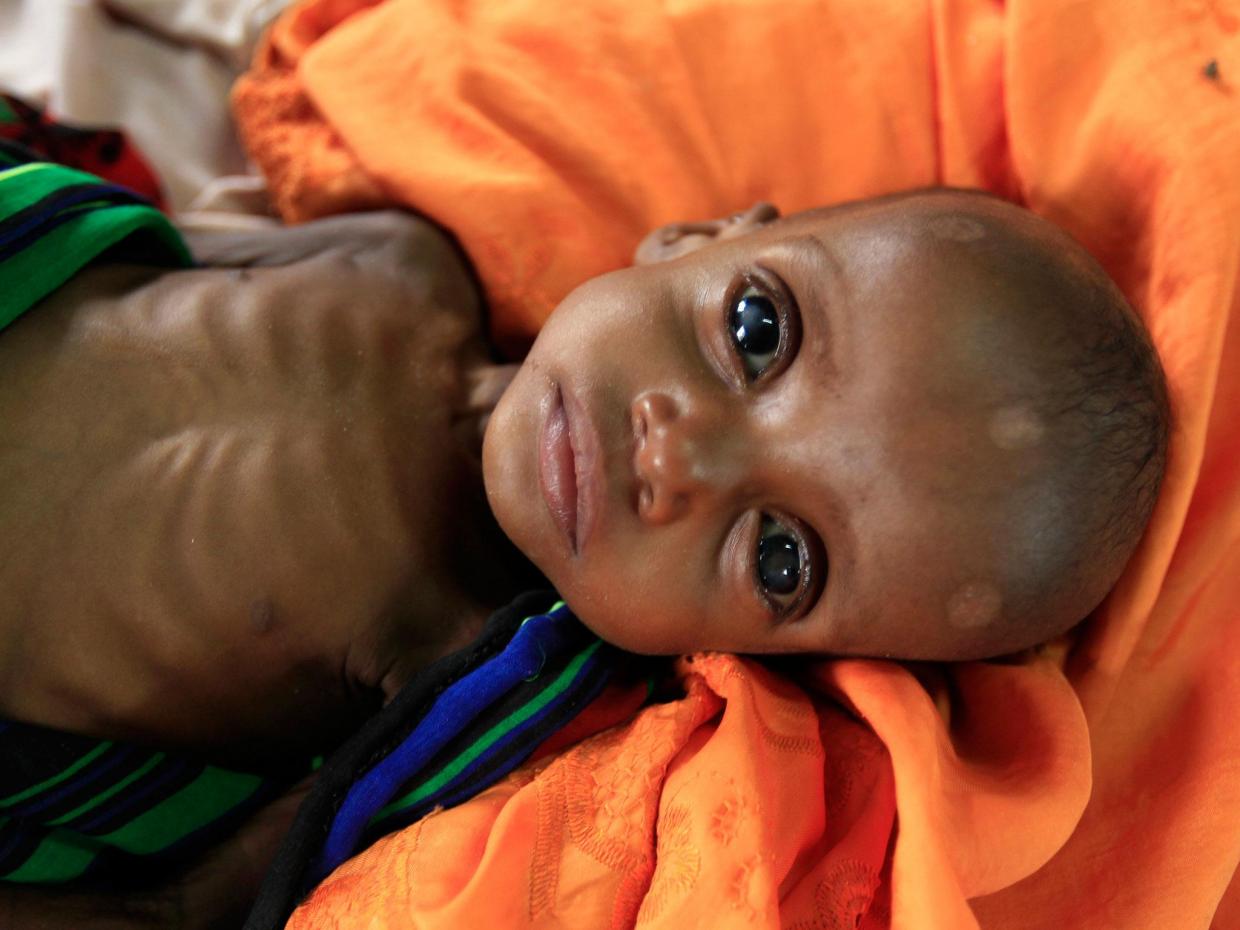 Continued global warming will have catastrophic effects on global food supplies. Reuters
'We will grieve over the avoidable human tragedy; the growing numbers of climate refugees hit by hunger, poverty, illness and conflict will be a constant reminder of our failure to deliver'
The world will "grieve over the avoidable human tragedy" of climate change, as refugees flee "hunger, poverty, illness and conflict" unless urgent action is taken to reduce emissions from fossil fuels, the United Nations has warned.
Despite the Paris climate agreement being hailed as a the "moment we decided to save our planet" by US President Barack Obama among others, the UN Environment Programme (UNEP) said the commitments made by countries so far were "not nearly enough" to prevent disastrous global warming.
In a report, which UNEP said it hoped would be a "wake-up call to the world", the world body estimated the Earth's average temperature was set to increase by up to 3.4 degrees Celsius above pre-industrial levels by 2100 – the kind of change that would take at least tens of thousands of years to occur naturally, accomplished by humans in little over two centuries. It called for further measures to reduce greenhouse gases by a quarter by 2030.
Despite an overwhelming scientific consensus that climate change is real, the total amount of greenhouse gases produced by humans has continued to rise as countries have focused on short-term economic growth.
Next week world leaders will meet in Morocco for the first major climate summit after Paris, which organisers have pledged will be a "conference of concrete action".
The UNEP report was unequivocal about the need for the countries to co-operate with that aim in mind.
"Everybody willing to look can see the impact of our changing climate. People already face rising seas, expanding desertification and coastal erosion. They take little comfort from agreements to adopt mitigation measures and finance adaptation in the future. They need action today," wrote Erik Solheim, head of UNEP, and Jacqueline McGlade, UNEP's chief scientist, in the report's foreword.
But the reductions in greenhouse gases promised at Paris were "not nearly enough".
"This report estimates we are actually on track for global warming of up to 3.4 degrees Celsius," the foreword said. "Current commitments will reduce emissions by no more than a third of the levels required by 2030 to avert disaster. We must take urgent action. If we don't, we will mourn the loss of biodiversity and natural resources. We will regret the economic fallout.
"Most of all, we will grieve over the avoidable human tragedy; the growing numbers of climate refugees hit by hunger, poverty, illness and conflict will be a constant reminder of our failure to deliver. None of this will be the result of bad weather. It will be the result of bad choices by governments, private sector and individual citizens."
Under the Paris treaty, the world committed to trying to restrict global warming to as close to 1.5C as possible, a target that looks increasingly unlikely to be met given it is already at 1C.
A leading climate researcher, Professor Niklas Höhne, of the NewClimate Institute in Cologne, previously told The Independent that three degrees of warming would be "completely catastrophic", resulting in a world that was "not very pleasant" for its human population with increasingly severe droughts, floods and storms.
It is also could trigger a number of 'tipping points' such as the melting of permafrost in the northern tundra, releasing vast amounts of methane, a potent greenhouse gas, that would send the temperature spiralling upwards.
Friends of the Earth's international climate campaigner Asad Rehman said the UNEP report was "a stark warning that cannot be ignored".
"Tougher action on climate change is urgently needed to prevent the world speeding towards catastrophe," he said. "Governments are drinking in the last chance saloon if the lofty goals of the Paris Climate Agreement are to be met. Failure to act will not only result in more killer droughts, storms and misery – it will also hurtle us towards a future where food, water and a safe home will be a luxury for the few.
"Governments, including our own, must stop the suicidal dash for more climate-wrecking developments, such as fracking and airport expansion."
Richard Black, director of the Energy and Climate Intelligence Unit (ECIU) in the UK, pointed to signs of hope in the UNEP's report, such as the "remarkable acceleration towards a global low-carbon economy over the past year".
"But considerably more action is required if governments are to meet the target they set under the Paris agreement," he added. "Current plans to cut greenhouse gas emissions are not enough to meet the Paris target of keeping global warming 'well below' two Celsius.
"But as UNEP makes clear, that picture can be changed through efficiency improvements across the transport, building and industry sectors, as well as channelling funds towards projects that help with reducing emissions and adapting to climate change."
Mr Black stressed it was not a choice between climate and the economy.
"The old canard that growth requires high levels of carbon emissions is now irrevocably slain. In fact, this year the opposite has been confirmed by both the International Energy Agency and [financial giant] PwC, with the global economy growing and carbon emissions staying static," he said.
The transition to a low-carbon economy was "an economic opportunity, not a threat, and that foot-dragging in aligning policy with the Paris targets risks much greater costs in the future", he added.
Speaking last month, Professor Lord Nicholas Stern – who published a landmark report by the financial dangers of climate change 10 years ago – warned the world's economy could "self-destruct" if fossil fuels continued to be burned.
Environment Correspondent
source: http://www.independent.co.uk/us
original story HERE
To learn about more about global warming, climate change or greenhouse gases as well as the causes, consequences, solutions, definitions, facts and tipping points related to these subjects, 
click here
. 
To see our most current positions, opinions, comments, agreement or disagreement with this article, and/or possible criticisms related to the subjects or facts raised in the above article, 
click here
.
 Then look for those subjects in the navigation links at the top the page.
To sign a critical petition for declaring an international global warming State of Emergency, click  
here
!
To help do something about the climate change and global warming emergency, click here.
Sign up for our free Global Warming Blog by clicking here. (In your email, you will receive critical news, research, and the warning signs for the next global warming disaster.)
To share this blog post: Go to the Share button to the left below.
---