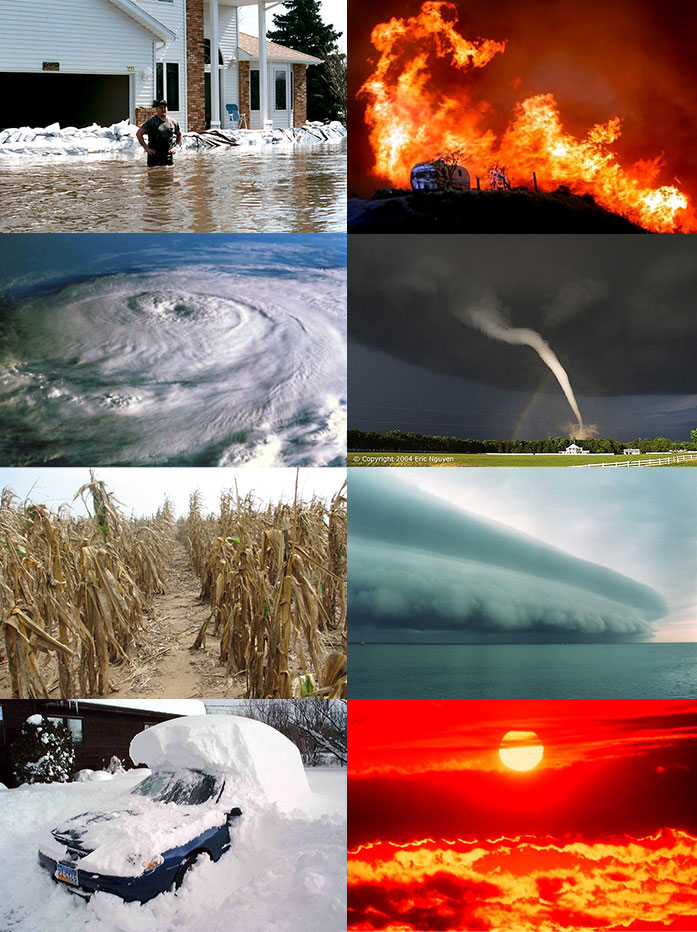 www.standeyo.com/NEWS/08_Pics_of_Day/080620.pic.of.day.html
The U.S. Department of Agriculture, which is in charge of the Forest Service as well as several agricultural and food-related research agencies, recently told its staffers to avoid using the term "climate change." The business-as-usual term "weather extremes" was recommended instead...
(Job One Editor's note: I personally prefer to use the phrase "climate destabilization" myself...)
While dropping the word "climate" may seem like a defeat for those of us who remain convinced that human influences are harming the global environment, this federal directive made in the spirit of changing the narrative might be good advice. Could it be that the term itself has failed us?
Suppose for a moment you are in a restaurant and someone yells, "Help, she's having a heart attack!" Being a good person, you would no doubt spring into action, call 911, look for aspirin or a defibrillator, and so on.
Suppose that same person had instead yelled, "Help, she's having a myocardial infarction!" You would probably react the same way, but wouldn't you perhaps pause for just a second? Unless you're a medical professional, wouldn't you first have to engage in some type of internal translation? I would. The ailing woman might get better care at a hospital with such detailed wording, but the immediate danger she faces in the restaurant hides behind the wrong language.
The location and type of the 15 weather and climate disasters in 2016 with losses exceeding $1 billion dollars. THe majority of events occurred in the middle of the country form the Central Plains to Texas and Louisiana. Map by NOAA NCEI, adapted by Climate.gov.
Here's the problem: Although most Americans today say that climate change is a real and serious issue, most probably don't understand what the term climate means. The difference between climate and weather, the moving target of climate averages, and the intangibility of climate experience all make climate a problematic word to rally around. I know the northwest has a rainy climate, and because I experience getting wet frequently, I know in my bones that this is true. But alas, the word "climate" can become jargon.
Yes, the climate is changing, but it is an acute global environmental crisis—global warming—that is touching the realities of daily life for millions of people around the world.
Houston just turned into a gigantic and growing lake. Furnace Creek, California, the hottest place on earth, posted its hottest July on record. Unprecedented peat fires burn in Greenland. Extreme weather events across the globe abound, and they are tied not just to generalized climate change but directly to heat. The term "global warming" comes with the baggage of 30 years of politics, but for now it is the best we have.
Both global warming and climate change have been used to describe what's happening to the planet since the 1970s. Conventionally, global warming refers specifically to the rise of average global temperatures, and climate change refers more broadly to shifts in prevailing environmental conditions, including the odd spot that is getting colder.
As the 1990s and 2000s saw popular culture build concern for global warming, the issue got entangled in bitter politics. Because global warming was accused of sounding alarmist, some researchers hoped that the term climate change would sound more scientific.
But climate change has been the wrong phrase for the job because it is too scientific. It has failed to provoke urgency and been easy to pooh-pooh. (It's probably not a coincidence that a Republican political strategist recommended using the term "climate change" because he said "it is less frightening than 'global warming.'")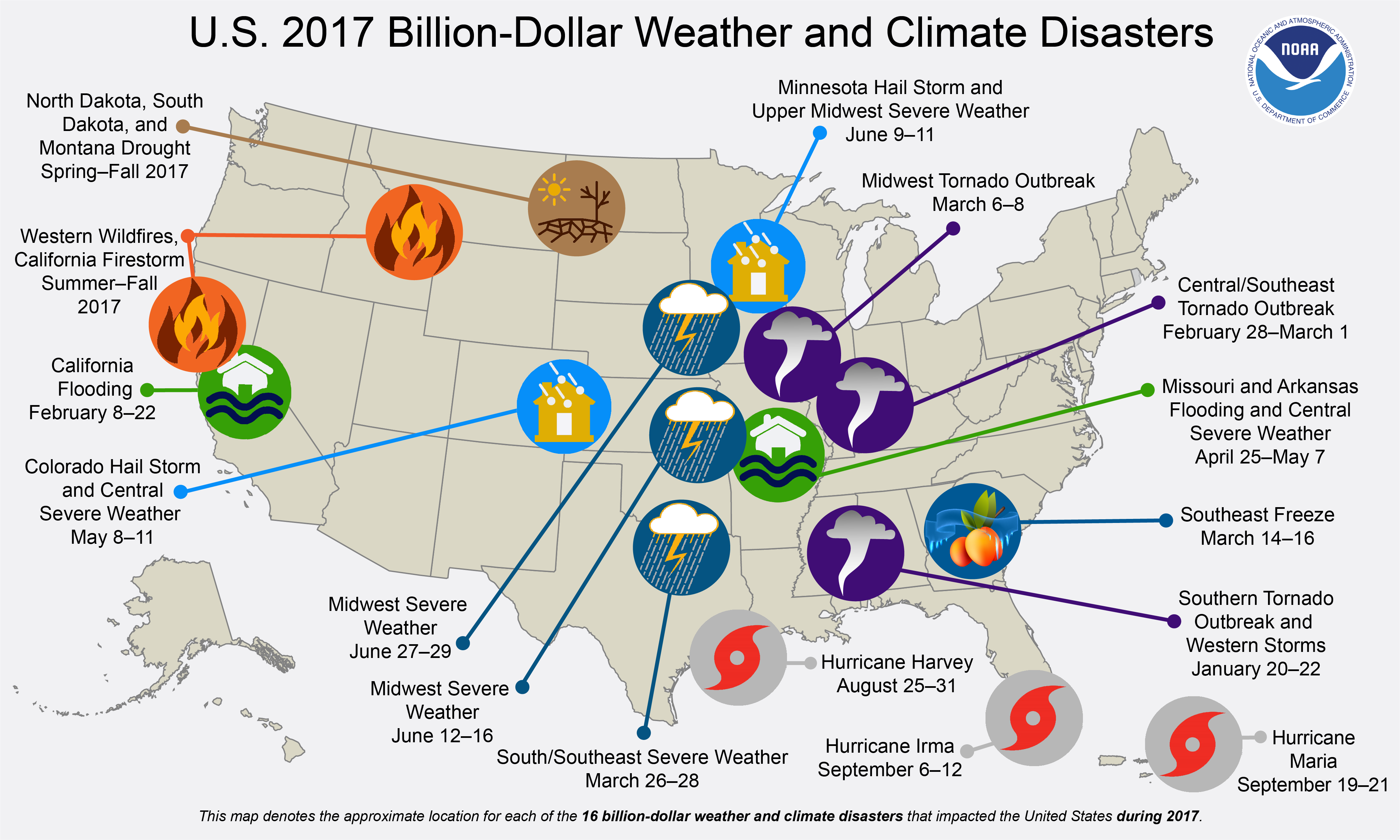 From January to June, the U.S. experienced 9 billion-dollar weather and climate disasters, only trailing 2011 and 2016 that had 10 events. The 2017 events included two floods, a freeze, and six severe storms, collectively causing 57 fatalities.(Job One Editor's note: this does not even include Hurricane Harvey or Irma!)

"Change" is a neutral term that does not convey that humanity is the culprit behind what's happening. After all, it is entirely correct that the climate is always changing—a frequent retort from climate-change deniers. Furthermore, many shifts caused by global warming are not climatic—think sea-level rise, ocean acidification and glacial melting. This further confuses the terminology.
Al Gore has recently taken to talking instead about the "climate crisis." While I find this a laudable step, there is still a challenge with the word climate—we just can't touch the climate. "Global weirding" and "global environmental change" both offer alternatives, but both have failed to catch on.
If I look south outside my window, I can see a small patch of dirty blue ice on a mountain in Denali National Park. Just eight years ago when I first came here, this patch was significantly larger and snow-white all summer long. Now there is a tan bathtub ring around what used to be a glacier. This change is personal, precise and experiential.
Words matter. Words invoke, connote and direct attention as we move through the world. Discouraging use of the term climate change might just turn out to be a good thing, as long as we continue to talk about the subject: Let's stick with global warming.
By Alex Lee
Alex Lee is a contributor to Writers on the Range, the opinion service of High Country News (hcn.org). He is an assistant professor of philosophy at Alaska Pacific University in Anchorage.
source: https://missoulanews.bigskypress.com/
original story HERE
Sign Up for Our Free Global Warming Blog RSS feed by clicking here. About once a week you will automatically get all the best blog stories of the week. (The blog now has thousands of articles.)
Share This Blog Post: If you would like to share this blog post, go to the original shorter version of this post and look to lower right for the large green Share button. Ask them to sign up too for the Global Warming Blog.
Click here for information on the groundbreaking and disruptive new Climageddon book. It is about the global warming emergency and what you can do to help end it!
To View Our: current positions, opinions, agreement or disagreement with this blog article or its facts, click here.
Sign up for the Global Warming Blog for free by clicking here. In your email you will receive critical news, research and the warning signs for the next global warming disaster.
Click here to learn how global warming has become irreversible and what you can do to protect your family and assets.
Click here to learn about the most disruptive new book on global warming facts and research. Climageddon, The Global warming Emergency and How to Survive it.
To share this blog post: Go to the original shorter version of this post. Look to lower right for the large green Share button.
To view our current agreement or disagreement with this blog article, click here.
---