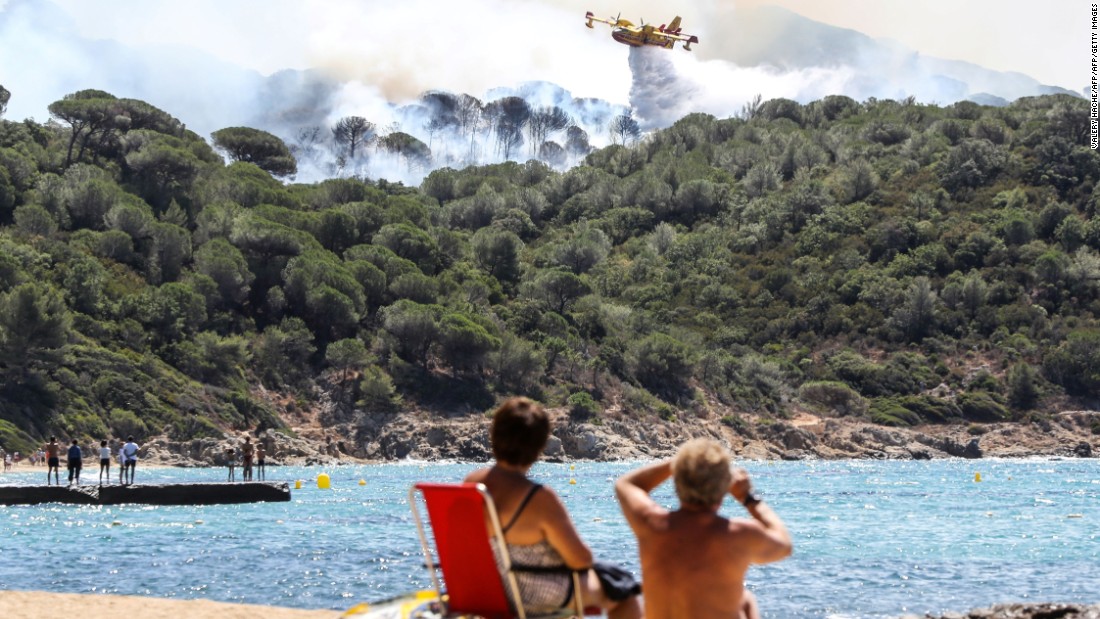 Beachgoers in La Croix-Valmer, near Saint-Tropez, watch as the fire spreads.
(CNN)Parts of the French Riviera were evacuated late Tuesday and into Wednesday as forest fires burned swathes of land and threatened thousands of people, according to local police...
More than 10,000 residents and tourists were moved after a forest fire started near the coastal commune of Bormes-les-Mimosas, around 40 km (nearly 25 miles) from Toulon, one of the country's southernmost towns.
Sunbathers lounging on a beach near Saint-Tropez looked on as a wildfire raged nearby. Children played in the sand, while others snapped pictures on their phones, as flames engulfed pine trees and sent plumes of black smoke billowing overhead.
A combination of strong winds, high temperatures, and a lack of rain have fueled the fires, which took hold in the French Riviera and on the island of Corsica, off the southern French coast. Similar conditions have sparked blazes in Portugal and Italy.
Paul Adriaansens, a tourist visiting from Antwerp, said he was having lunch with his family on the beach in La Croix-Valmer on Wednesday when the wind changed. They rushed back to their rental house to beat the blaze.
"We are fully packed and ready to go the minute we need to," Adriaansens told CNN in a phone interview. "As soon as we see flames we'll get out." The conversation was cut short as police and firefighters arrived to evacuate Adriaansens' family.
Travel pictures shared by tourists on social media captured firefighting planes circling over sandy beaches and pink sunsets punctuated by smoke clouds.
Over 100 firefighting operations have been launched since the blazes broke out, with planes flying over the Bormes area since early Wednesday morning, dropping water bombs on the wildfires.
Matthieu Dany, a 23-year-old French designer who has been coming to the area for vacations since he was a child, says he's never seen fires like this.
"From our villa in the mountains we can see smoke everywhere. We can see homes burning," Dany told CNN. "I was on the beach earlier, but came back because the fires were getting worse."
"Almost everyone on the beach was looking to the hills, taking photos and videos of the fires," he added.
Late July and August are when many French residents head out "on holiday," and visit the Riviera (or the Côte d'Azur, as the Riviera is known in French).
In Londes-les-Maures, fires began to burn just before 11 p.m. local time and, despite the dispatch of 540 firefighters, have not yet been brought under control.
The areas of Croix-Valmer, south of the famed resort of Saint-Tropez, and Artigues, east of the regional hub of Aix-en-Provence, saw hundreds of hectares -- around 12 square miles -- of land burned but those blazes are under control, the statement says. A total of nine firefighters working on those two fires were injured.
President Emmanuel Macron shared his support for the firefighters battling blazes on Wednesday.
To help do something about the climate change and global warming emergency, click here.
Sign up for our free Global Warming Blog by clicking here. (In your email, you will receive critical news, research, and the warning signs for the next global warming disaster.)
To share this blog post: Go to the Share button to the left below.
---