NASA satellite image obtained Monday showing smoke from the Pacific Northwest to the Great Lakes. (NASA)
Countless numbers of out of control wildfires are creating apocalypse-like conditions in numerous Western states, blotting out the noonday sun behind thick blankets of smoke and depositing ash like freshly fallen snow...
So much smoke has been generated that images from space showed it spreading over large parts of the Lower 48.
One of the hardest-hit states, Montana, has had almost 1 million acres burned since the beginning of summer. Officials there have said this is one of the top five worst fire seasons in state history.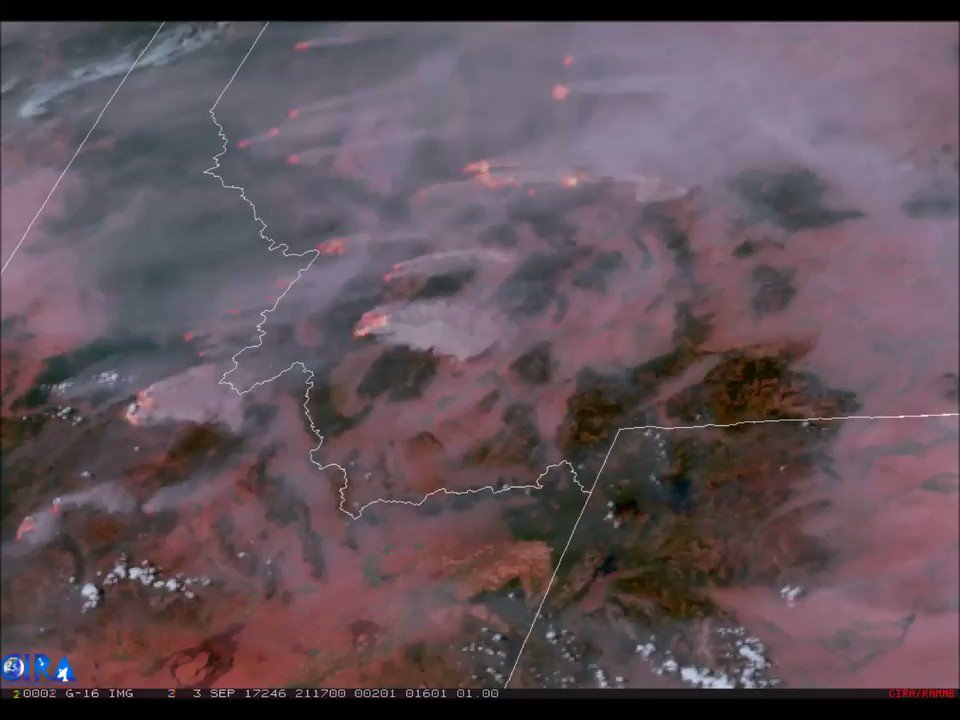 The largest fire in Montana is the Rice Ridge fire, which as of Tuesday had burned 108,126 acres and was only 2 percent contained. In Seeley Lake, the massive blaze has burned numerous homes and buildings and has turned the vibrant vacation spot into a virtual ghost town. The smoke has been so thick at times that you could barely see across the street, according to Neal Blossom, a resident of Helena. Air quality monitors in Seeley Lake as well as many other communities have detected "very unhealthy" levels, preventing people from leaving their homes.
To the south near the town of Lincoln, the Park Creek fire has been belching out flames and smoke since the middle of July. Levi Brinegar, who is a lookout for the Forest Service at Stonewall Mountain fire tower, captured the bolt that sparked the fire on camera. The flames were a mile and half away from the tower when he was told to evacuate and to "tell anyone headed up the mountain to turn around."
Parts of Glacier National Park have been consumed, including the century-old Sperry Lake backcountry lodge. Access to McDonald Lake and other parts of the park has been closed.
Sprague Fire, 8-30-2017, 5:00pm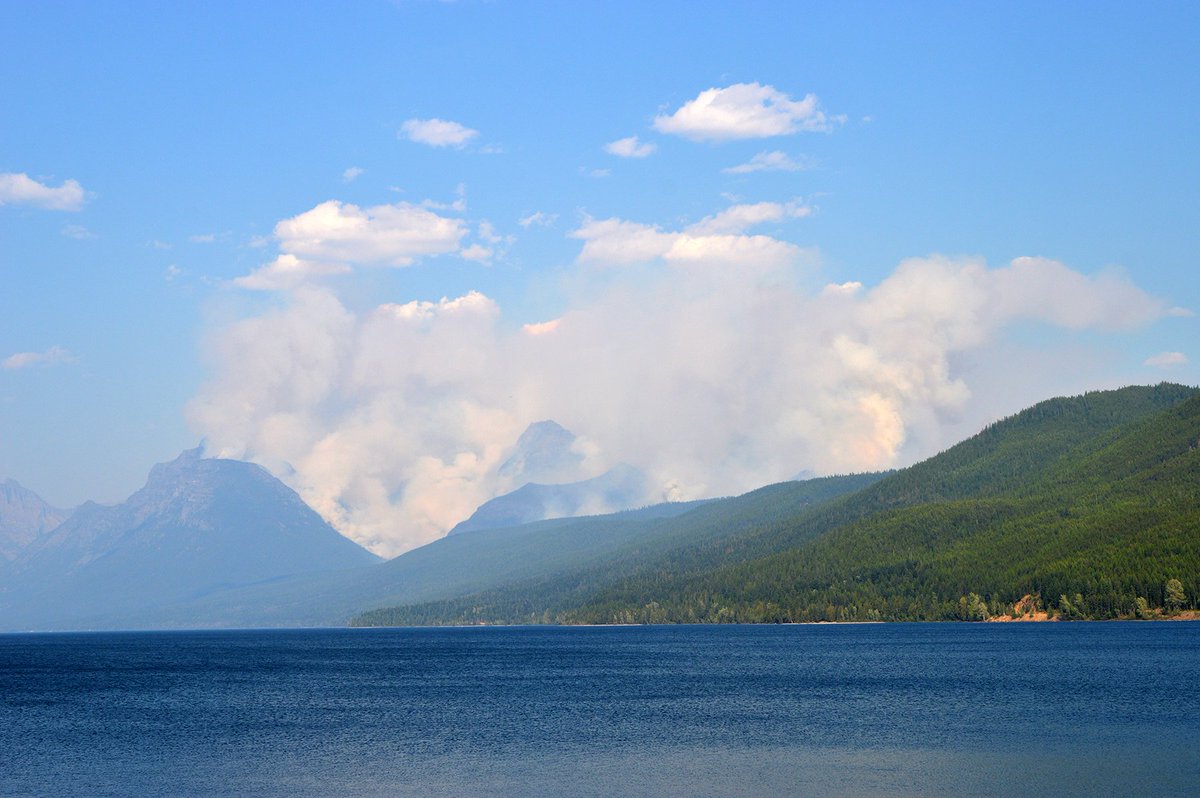 Thursday afternoon at approximately 6:00 pm, the main building at the Sperry Chalet was lost to the Sprague Fire. (bh)
In Montana, two firefighters have been killed while battling the blazes; Trenton Johnson, 19, who died fighting the Florence Fire near Seeley Lake in July, and Brent Whitham, 29, who was killed in August fighting the Lolo Peak Fire.
"I think we're going to be in the top three [worst fire seasons] when it's all said and done," Helena-Lewis and Clark National Forest Supervisor Bill Avey told the Great Falls Tribune. "It's a long ways from being over."
Further west in Washington and Oregon, where states of emergency have been declared, dozens of fires and gusty winds have been dumping ash on communities. For those who were around during the 1980 Mount St. Helens eruption, the scene was familiar; pedestrians covering their faces with rags, and cars driving with their headlights on in the middle of the day, the Associated Press said.
Shipping traffic on the Columbia River, which forms the border between Washington and Oregon, was halted Tuesday because of poor visibility.
In California, Los Angeles County experienced its largest wildfire in recorded history. Spawned by a sweltering heat wave, the La Tuna fire burned more than 7,000 acres, placing it above the 1961 Bel Air fire. The fire is now almost completely contained; only 5 out of potentially 1,400 homes were destroyed, according to Firehouse.com.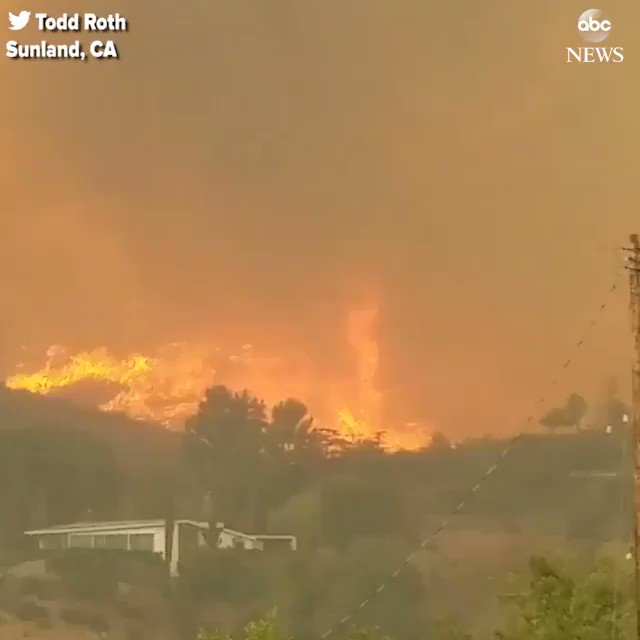 After above-average winter rain and snowfall, the Western U.S. has been relatively dry this summer, but extremely hot. A large ridge of high pressure has been parked over the West for months, causing the area to bake.
The average daytime high in Bozeman, Mont., in July exceeded 89 degrees, the third-hottest since records began in 1892. An record high of 106 degrees was set in San Francisco last week; Salem, Ore., missed an record high of 108 by just one degree; Quillayute, Wash., on the cool Pacific Coast of the Olympic Peninsula, recorded its second-highest temperature of all time at 98 degrees.
Social Media Photos:
View image on Twitter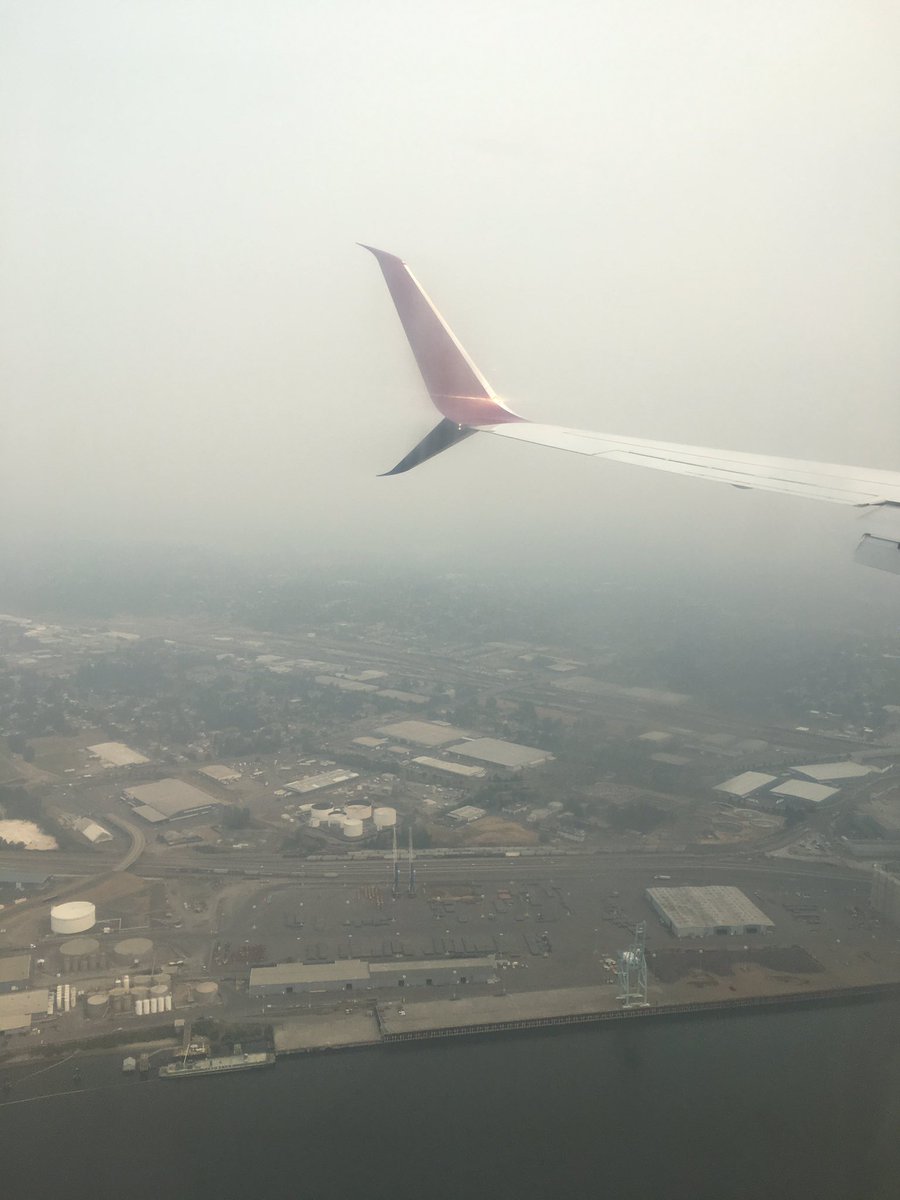 Unreal flying into this -- smoke-filled #Portland ...couldn't see a thing in the gorge. Thinking of all impacted. #LiveOnK2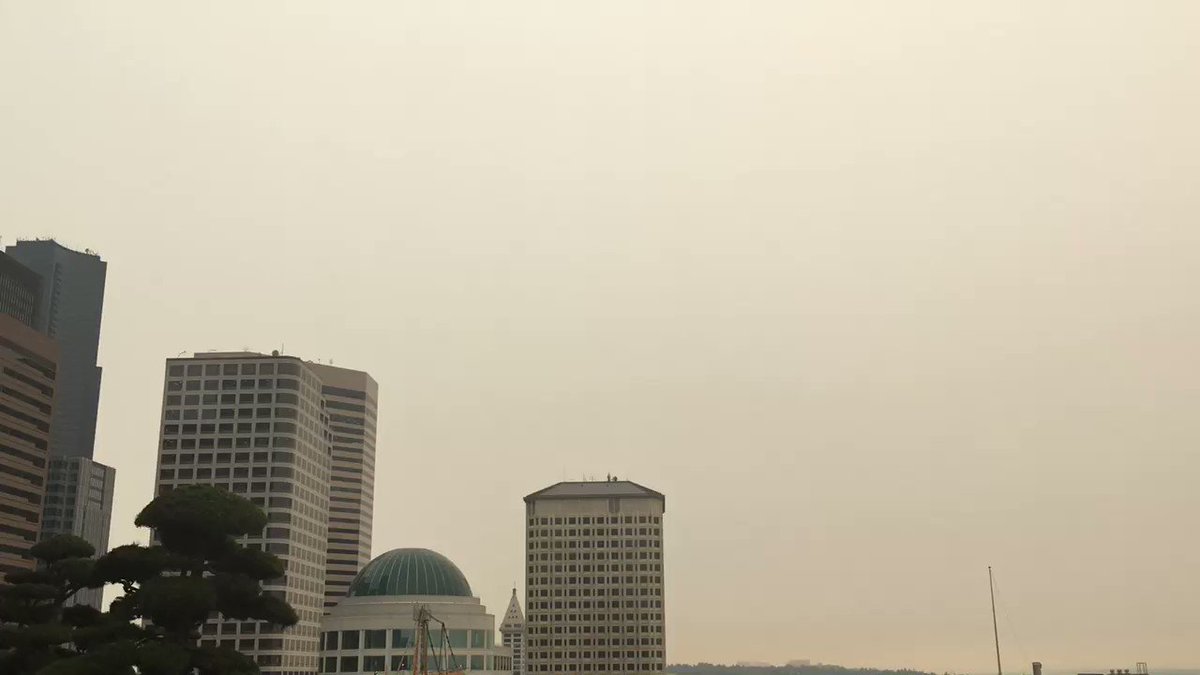 3 pm and the #Seattle sun has completely disappeared in a thick layer of smoke
The fire coming home from our road trip. This was by Bonneville dam ,looking across the river #oregonfires#wildfires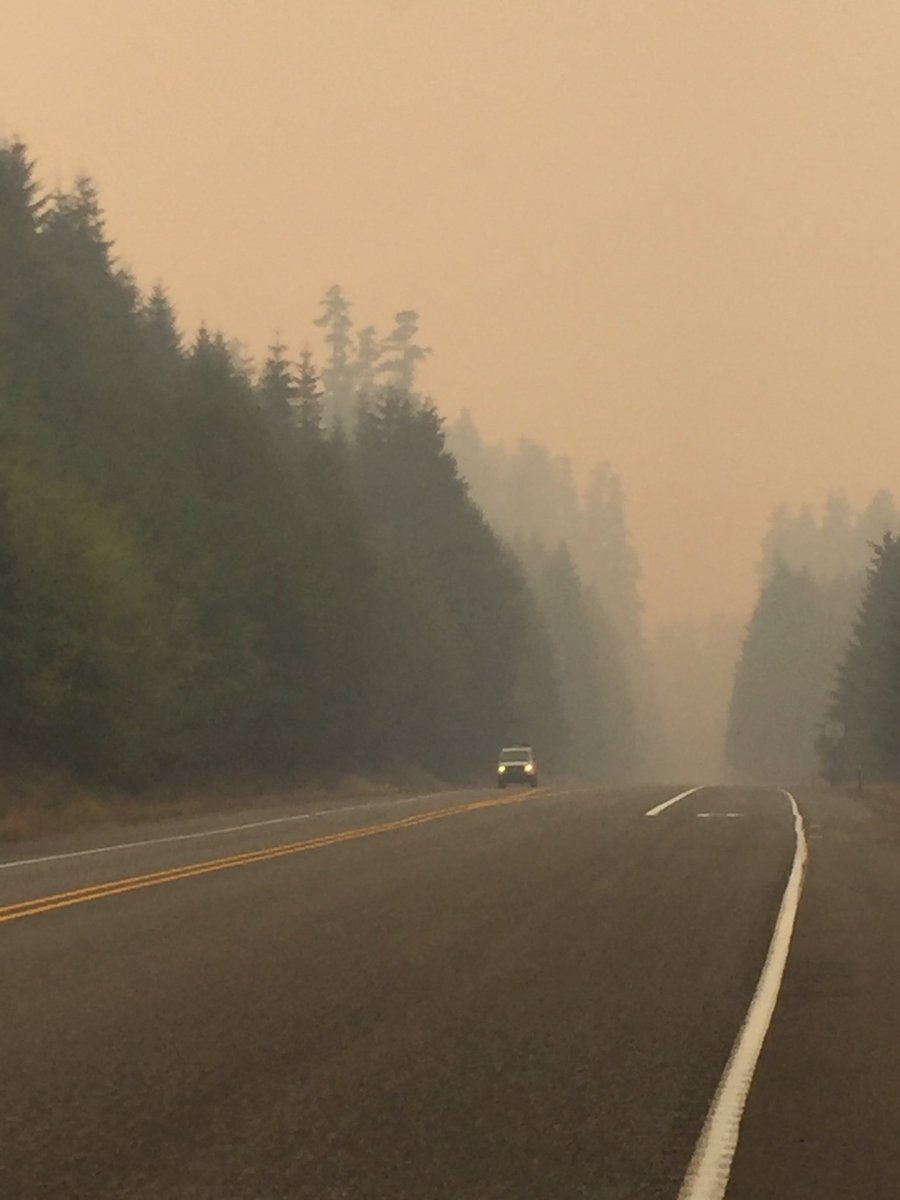 This is noon today on SR 410 just below @CrystalMt as #WAFires continue to burn nearby. Smoke and ash blanket Western Wa. @KIRO7Seattle 5/6
By John Hopewell
September 6
To help do something about the climate change and global warming emergency, click here.
Sign up for our free Global Warming Blog by clicking here. (In your email, you will receive critical news, research, and the warning signs for the next global warming disaster.)
To share this blog post: Go to the Share button to the left below.
---