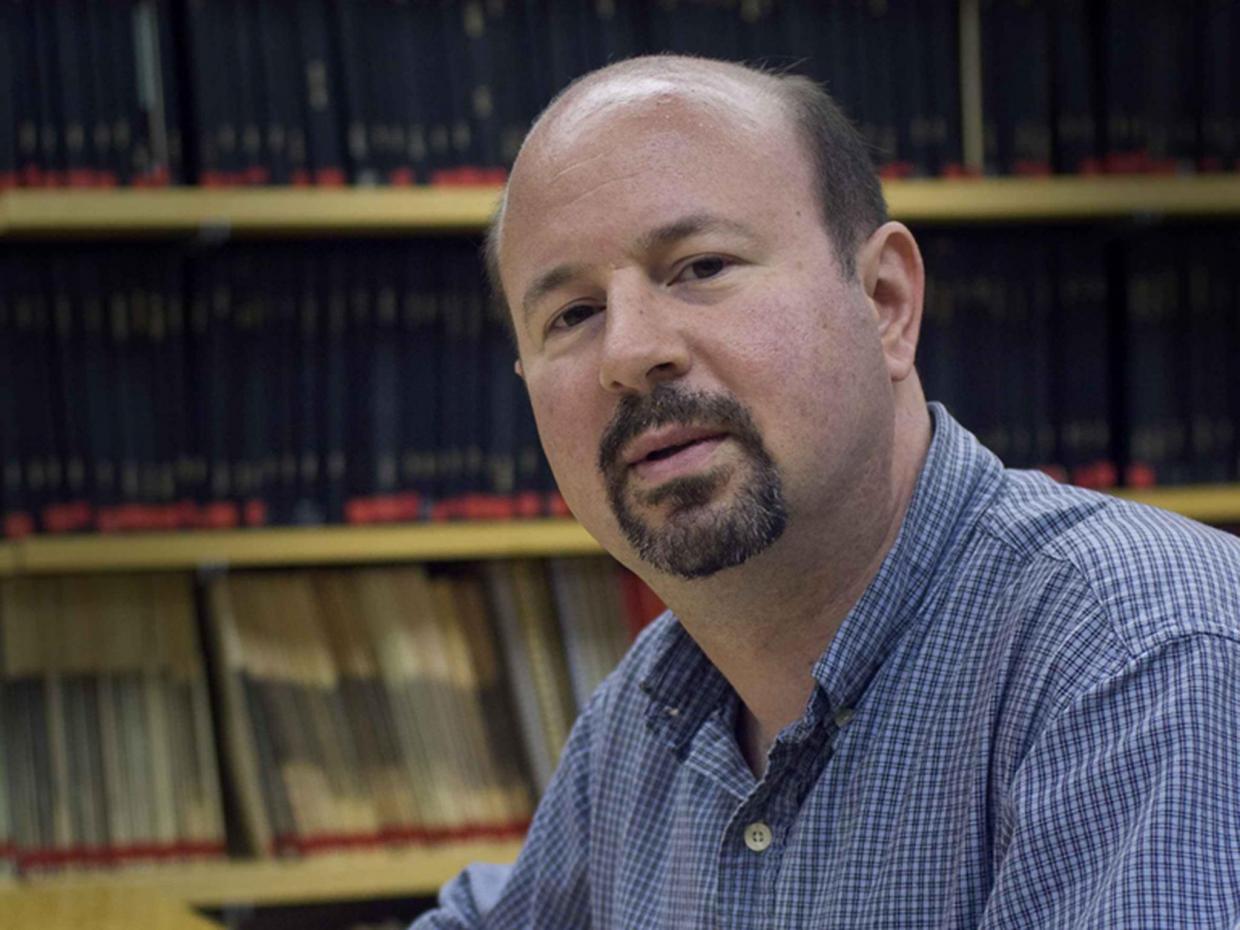 Professor Michael Mann says the US is 'back in the madhouse' over climate science denial AP
Professor Michael Mann says the US is 'firmly back in the madhouse' as new president launches 'dizzying, ongoing assault on science'...
One of the world's leading climatologists is calling for a "rebellion" by scientists against Donald Trump.
Professor Michael Mann, whose work was key in demonstrating that global temperatures had risen dramatically because of human activity, said academics and researchers were usually reluctant to take to the streets in protests.
But Mr Trump's "assault on science" meant the US was "firmly back in the madhouse" of climate science denial, he said, and required a response from the community.
The new US President dismissed climate change as a Chinese hoax before the US election and since then has appointed a string of people with links to the fossil fuel industry and a track record of global warming scepticism to senior positions in his administration.
And, as Professor Mann, of Pennsylvania State University, wrote in an article for The Hill website, Mr Trump has also "barred the Environmental Protection Agency from publishing studies or data prior to review by political appointees and has told them to remove mention of climate change from their website". 
"The White House's own climate webpage has been disappeared for good measure," he added.
"It is difficult to keep up with this dizzying ongoing assault on science." 
Following the anti-Trump Women's Marches around the world, there are now plans for a March for Science in Washington and other places next month.
"We scientists are, in general, a reticent lot who would much rather spend our time in the lab, out in the field, teaching and doing research," Professor Mann wrote.
"It is only the most unusual of circumstances that gets us marching in the streets. 
"Trump's assault on science is just such a circumstance. And we are seeing a rebellion continue to mount."
Professor Mann recently published a book called The Madhouse Effect: How Climate Change Denial Is Threatening Our Planet, Destroying Our Politics, and Driving Us Crazy.
He said at the time he was criticised by other "well-meaning fellow climate scientists" for dignifying denial by writing about it.
But he said the book "couldn't seem any more prophetic" following Mr Trump's election.
It meant that someone with views largely dismissed by politicians and scientists all over the world is now one of the most powerful people on the planet.
"The era of climate change denial is over. Rejection of the unequivocal scientific evidence that carbon emissions from the burning of fossil fuels are warming the planet and changing our climate is no longer socially acceptable," Professor Mann said.
"Only the most fringe of politicians now disputes the overwhelming scientific consensus that climate change is real and human-caused, and they are largely ignored."
Ian Johnston Environment Correspondent
Wednesday 1 February 2017 10:55 GMT
source: http://www.independent.co.uk/us
original story HERE
 Get New Climageddon book:
 Click here for a new book about the global warming emergency and what you can do.
To View Our: current positions, opinions, agreement or disagreement with this blog article or its facts, click here.
Sign up for the Global Warming Blog for free by clicking here. In your email you will receive critical news, research and the warning signs for the next global warming disaster.
Click here to learn how global warming has become irreversible and what you can do to protect your family and assets.
To share this blog post: Go to the original shorter version of this post. Look to lower right for the large green Share button.
To view our current agreement or disagreement with this blog article, click here.
---