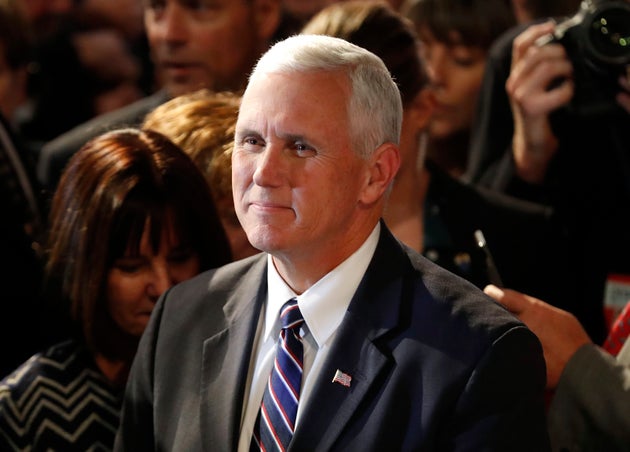 Mike Pence tried to explain around Donald Trump's climate change denial in an appearance on CNN Tuesday. Mike Segar / Reuters
"Climate change isn't a hoax! It's just that we can't and shouldn't do anything about it..."
WASHINGTON ― Republican presidential nominee Donald Trump tried to deny his denial of climate change in Monday night's debate. And on Tuesday morning Trump's campaign manager, Kellyanne Conway, tried to walk that back, saying he does believe in climate change but thinks it's "occurring naturally."
Trump's running mate, Indiana Gov. Mike Pence, is trying a different tack. Pence told CNN's Chris Cuomo that Trump's tweets about climate change being a hoax were meant to be "humorous," and that Trump doesn't actually deny climate change.
"What Donald Trump said was a hoax is that bureaucrats in Washington, D.C., can control the climate of the earth," said Pence. "And the reality is that this climate change agenda that Barack Obama and Hillary Clinton want to continue to expand is killing jobs in this country."
He continued: "Look, we can develop all the resources of this county, we can end the war on coal, and continue to develop clean coal technology."
Pence wavered between two slightly different forms of climate-change denial here ― first arguing that even if it is real, there are no policies that can be enacted to affect it, and then arguing that we can still burn all the fossil fuels we want anyway. But at least he doesn't say it's not real! That seems to make him only slightly more reality-based than Trump.
Pressed further on the question of human influence, Pence was at least clear there: "Well, look, there's no question that the activities that take place in this country and in countries around the world have some impact on the environment and some impact on climate."
Even this admission is news for Pence though, who has previously argued that "global warming is a myth" or just "a theory."
Sign Up for Our Free Global Warming Blog RSS feed by clicking here. About once a week you will automatically get all the best blog stories of the week. (The blog now has thousands of articles.)
Share This Blog Post: If you would like to share this blog post, go to the original shorter version of this post and look to lower right for the large green Share button. Ask them to sign up too for the Global Warming Blog.
Click here
for information on
the groundbreaking and disruptive new Climageddon
book. It is about the global warming emergency and what you can do to help end it!
To View Our:
current positions, opinions, agreement or disagreement with this blog article or its facts,
click here
.
Do you like this post?
---