The world's first international treaty that bans or phases out fossil fuels is being considered by leaders of developing Pacific islands nations after a summit in the Solomon Islands this week.
The leaders of 14 countries agreed to consider a proposed Pacific climate treaty, which would bind signatories to targets for renewable energy and ban new or the expansion of coalmines, at the annual leaders' summit of the Pacific Islands Development Forum (PIDF).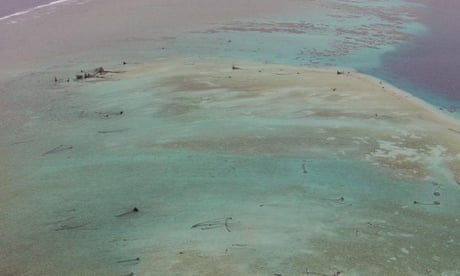 The remains of one of six partially eroded islands in the Solomons. Photograph: HANDOUT/Reuters
Six more islands have large swaths of land, and villages, washed into sea as a result of 'dramatic impact of climate change' on the Solomon Islands
Mahendra Kumar, climate change advisor to PIDF, told the Guardian the treaty proposal was received very positively by the national leaders. "They seemed convinced that this is an avenue where the Pacific could again show or build on the moral and political leadership that they've shown earlier in their efforts to tackle climate change," he said.
The PIDF was formed in 2013, spearheaded by Fiji, and excludes Australia and New Zealand, which are members of the older Pacific Islands Forum. There were claims at the time that Australia and New Zealand attempted to sabotage the group's first meeting.
Then in 2015 Australia and New Zealand foiled an attempt by the developing countries in the older forum to take a 1.5C target to last year's Paris climate change conference.
But the treaty being considered by the ne