The "historic" decision comes as thousands of protesters gather on the Standing Rock Sioux reservation...
OCETI SAKOWIN CAMPGROUND, N.D. ― Federal authorities have halted construction of the controversial Dakota Access Pipeline amid growing protests that were expected to draw some 2,000 U.S. military veterans.
The Department of the Army has denied the final easement required for the $3.8 billion project to cross under Lake Oahe in North Dakota, it announced Sunday. Instead, it will conduct an Environmental Impact Statement to examine the impacts and explore alternative routes, it said. 
"Although we have had continuing discussion and exchanges of new information with Standing Rock Sioux and Dakota Access, it's clear that there's more work to do," Jo-Ellen Darcy, the Army's assistant secretary for civil works, said in a statement. "The best way to complete that work responsibly and expeditiously is to explore alternative routes for the pipeline crossing."
The 1,172-mile pipeline is being built to carry Bakken oil from North Dakota to an existing oil terminal in Illinois. Most of it is completed, except for a 20-mile section near the Standing Rock Sioux reservation. The tribe and demonstrators have raised concerns about the threat the pipeline poses to water and sacred Native American sites. The tribe has also argued, in a lawsuit to stop the pipeline's completion, that the project violates federal laws and its environmental impact has not been fully studied.
In a statement, Standing Rock Tribal Chairman Dave Archambault II applauded the news.
"We wholeheartedly support the decision of the administration and commend with the utmost gratitude the courage it took on the part of President Obama, the Army Corps, the Department of Justice and the Department of the Interior to take steps to correct the course of history and to do the right thing," he said.
The Standing Rock Sioux Tribe and all of Indian Country "will be forever grateful to the Obama Administration for this historic decision," Archambault added. He noted his hope that the incoming Trump administration would respect the decision.
"My hands go up to all the water protectors who have stood up to protect tribal treaty rights and to protect Mother Earth," National Congress of American Indians President Brian Cladoosby said in an emailed statement. "Thank you for Standing For Standing Rock."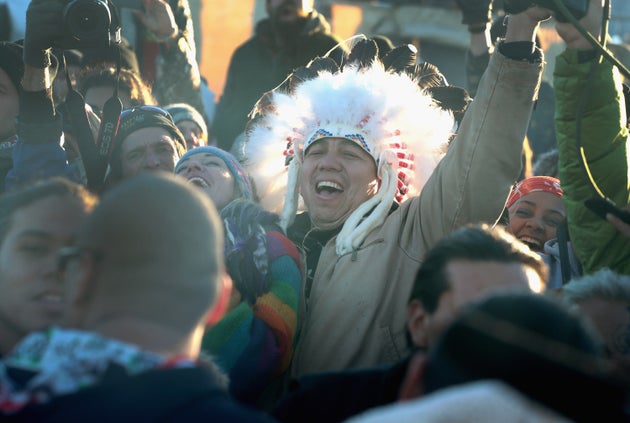 Scott Olson via Getty Images
Native American and other activists celebrate after learning an easement had been denied for the Dakota Access Pipeline at Oceti Sakowin Camp on the edge of the Standing Rock Sioux Reservation on December 4, 2016 outside Cannon Ball, North Dakota. The US Army Corps of Engineers announced today that it will not grant an easement to the Dakota Access Pipeline to cross under a lake on the Sioux Tribes Standing Rock reservation, ending a months-long standoff.
Within hours of the announcement, Jack Gerard, president and CEO of the American Petroleum Institute, a trade association for America's oil and natural gas industry, called on Trump to "reject the Obama administration's shameful actions to deny this vital energy project, restore the rule of law in the regulatory process, and make this project's approval a top priority as he takes office in January."
In a joint statement release late Sunday, project developers Energy Transfer Partners LP and Sunoco Logistics Partners LP said the pipeline has "done nothing but play by the rules" for more than three years, and that the action by the Obama administration is "purely political." 
"The White House's directive today to the [Army Corps of Engineers] for further delay is just the latest in a series of overt and transparent political actions by an administration which has abandoned the rule of law in favor of currying favor with a narrow and extreme political constituency," the companies said. 
They added that they remain "fully committed" to completing the pipeline, without rerouting around Lake Oahe. "Nothing this Administration has done today changes that in any way," they said. 
Philip George, 37, from the Six Nations of the Grand River reserve in Ontario, Canada, was among the demonstrators gathered Sunday at Standing Rock. He described the victory as "bittersweet," something "due to our people for the hundreds of years of genocide and oppression."
"This fight is part of what's going on here for centuries," he told The Huffington Post. "I'm glad they denied the easement, but I don't know how long this victory will last with Donald Trump being elected president. I'm not sure if he will respect our people and respect our culture. Money can corrupt a man's heart."
George added that he sees this as a small victory in the grand scheme of things and believes there is much more work to do regarding indigenous representation and nation-to-nation relations. "The federal government needs to respect our ability to govern ourselves, our land and who we are," he said.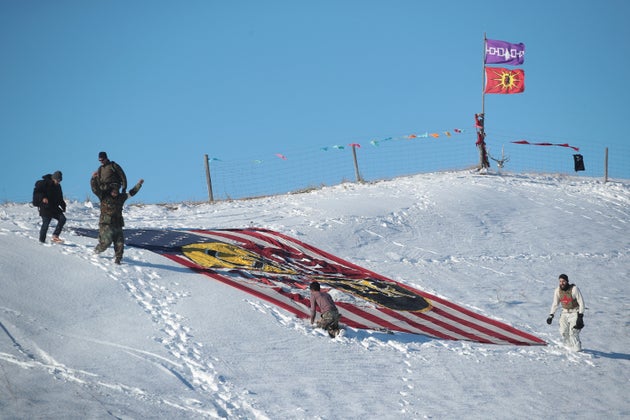 Scott Olson via Getty Images
Military veterans place a flag that says 'one water' on a hillside above Oceti Sakowin Camp on the edge of the Standing Rock Sioux Reservation on December 4, 2016 outside Cannon Ball, North Dakota.
Lance King, 44, of Kyle, South Dakota, located on the Pine Ridge Indian Reservation, has traveled to Standing Rock twice to join in the demonstrations. His most recent visit has lasted two weeks.
King said he was "excited" and "happy" about the Army's decision, which he sees as a "victory for the American people."
"Everything was up in the air. I don't think anyone saw this coming," he told HuffPost. "There was a high rate of excitement and worry, so we didn't see this ― but we stuck with our prayers."
Attorney General Loretta E. Lynch said that in light of Sunday's decision, the Department of Justice would continue to monitor the situation.
"The department remains committed to supporting local law enforcement, defending protestors' constitutional right to free speech and fostering thoughtful dialogue on the matter," she said. "We recognize the strong feelings that exist in connection with this issue, but it is imperative that all parties express their views peacefully and join us in support of a deliberate and reasonable process for de-escalation and healing."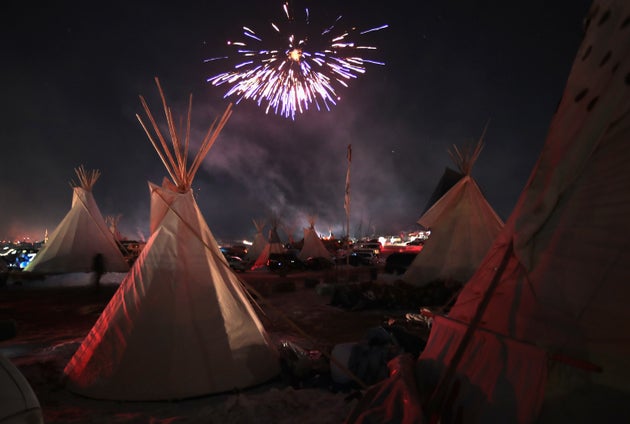 Scott Olson/Getty Images
Fireworks fill the night sky above Oceti Sakowin Camp as activists celebrate after learning an easement had been denied for the Dakota Access Pipeline near the edge of the Standing Rock Sioux Reservation.
Conservation groups quickly celebrated the news.
"Today, the voices of an indigenous people were heard," Natural Resources Defense Council president Rhea Suh said. "The rights of a sovereign nation were respected."
Greenpeace spokeswoman Lilian Molina praised the decision, but noted that the incoming Trump administration "must respect today's decision and recognize the will of the people to stop this disastrous pipeline. The fight doesn't end today."
Sierra Club executive director Michael Brune said he looked forward to further environmental review of the pipeline.
"History has taught us that it is never a question whether a pipeline will spill, but rather a question of when," he said. "A comprehensive environmental review will show that this dirty and dangerous project will threaten the safety of every community it cuts through."
Photographer Josh Morgan contributed reporting from North Dakota.
This story has been updated to include statements from the American Petroleum Institute and Energy Transfer Partners.
12/04/2016 05:05 pm ET
source: http://www.huffingtonpost.com/
original story HERE
To learn about more about global warming, climate change or greenhouse gases as well as the causes, consequences, solutions, definitions, facts and tipping points related to these subjects, 
click here
. 
To see our most current positions, opinions, comments, agreement or disagreement with this article, and/or possible criticisms related to the subjects or facts raised in the above article, 
click here
.
 Then look for those subjects in the navigation links at the top the page.
To sign a critical petition for declaring an international global warming State of Emergency, click  
here
!
Do you like this post?
---