The fossil fuel industry is spending millions to salvage its reputation...
Fossil fuel ads are drowning out news reports about climate change on CNN.
During one week in January, just after NASA announced that 2015 was the hottest year on record, CNN viewers saw over 10 times more advertising from the oil and gas industry than reporting about the world's climate, according to a new study from the nonprofit Media Matters. While the cable news network devoted less than a minute to stories about the warming planet that week, it sold over 13 minutes of air time to the American Petroleum Institute, the country's largest oil and gas trade group.
CNN beefed up its climate change coverage in March, but the issue still didn't receive a whole lot of love from the network. In the third week of March, after it was announced that February had been the hottest month on record, CNN aired four minutes of climate change stories. It broadcast 10 minutes of ads from API.
During that same time, the study noted that CNN also aired dozens of ads from Koch Industries, a major player in the fossil fuel industry owned by billionaires Charles and David Koch.
Though disturbing, the disparity in air time devoted to fossil fuel ads and climate change coverage shouldn't come as a shock. 
"It doesn't surprise me that earned media is dwarfed by bought media," said Robert Brulle, a professor of sociology and environmental science at Drexel University. The Media Matters study might even understate the disparity since it doesn't include advertising from individual fossil fuel companies, he said.
"API is a big deal," Brulle noted, "but I would say in my estimation it's a conservative study, because they don't include Exxon, Chevron and Shell."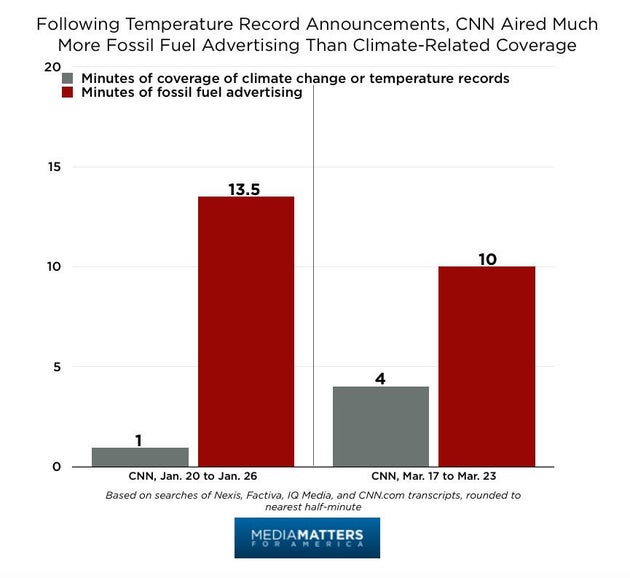 Media Matters
As the scientific data on climate change have been building in recent years, the fossil fuel industry has invested heavily in advertising. In the run-up to the 2012 presidential election, television ads worth over $153 million were broadcast to promote fossil fuels or criticize clean energy sources. A full $37 million of that spending came from API. 
In total, between 2008 and 2012, API paid public relations firm Edelman a whopping $327.4 million for advertising and public relations services, Time reported. API spent considerably less money lobbying lawmakers over the same period, according to Time, suggesting that fossil fuel companies may be reducing direct lobbying efforts in favor of campaigns to change the public's perception of the oil and gas industry. 
That strategy makes sense, according to Brulle. As Americans become more concerned about climate change and the role that fossil fuels play in it, the oil and gas industry's image is taking a hit. That tarnished reputation not only hurts sales, Brulle said, but can also make it easier for legislators to impose stricter regulations on oil and gas companies.
"If you have a bad brand — your product is dirty or that you're corrupt — odds are there will be calls for actions to regulate you and control your behavior," he said. 
In response, companies often unleash a flood of advertising designed to burnish their image, according to Ken Goldstein, president of Kantar Media's Campaign Media Analysis Group. "When companies and industries with resources feel threatened, they air advertisements," he told The New York Times in 2012, referring to API's election-season spending.
The more recent onslaught of advertising on CNN is likely meant to convince the public that fossil fuels remain a necessary part of the American economy. "This is a very, very sophisticated operation to try to manipulate public opinion regarding fossil fuels," Brulle said. "I suspect API is going to spend more and more as fall elections continue to build."
One minute of [climate change] news is now brought to you by 10 minutes of Steyer and 10 minutes of API.

Robert Brulle, Drexel University
That money likely wouldn't be ill-spent. Research shows that television ads remain an effective way to build brands and communicate messages to a wide audience.
"You create an appealing message and run it over and over and over and over again to convince people," Brulle said, "and it becomes kind of this subconscious messaging."
Climate change activists, however, are trying to counter that message. In April, billionaire environmentalist Tom Steyer announced that his organization NextGen Climate would be launching an aggressive media and lobbying campaign against candidates who deny the science of climate change. On Monday, Steyer pledged to spend $25 million to encourage young people to support policies that would cut greenhouse gas emissions. 
While such efforts could help to balance the industry's push, Brulle argued they don't alter the fact that climate change doesn't receive enough news coverage.
"One minute of news is now brought to you by 10 minutes of Steyer and 10 minutes of API," he said.

04/26/2016 06:24 pm ET
To help do something about the climate change and global warming emergency, click here.
Sign up for our free Global Warming Blog by clicking here. (In your email, you will receive critical news, research, and the warning signs for the next global warming disaster.)
To share this blog post: Go to the Share button to the left below.
---