Crates with pieces of artworks from the collections of the Louvre Museum are seen near statues after it was closed to the public due to the rising Seine River in Paris. REUTERS/John Schults
Paris (CNN)Parisians let out a cautious sigh of relief Saturday as they watched water levels in the Seine River finally begin to drop following days of miserable flooding. But the rest of the country was not so lucky, with three new deaths reported...
The Seine, which runs through the city, burst it banks after days of heavy rains, causing chaos in the city. Some public transportation services and riverside businesses were shut down, while the world-famous Louvre museum scrambled to move 150,000 pieces of art to higher ground in a painstaking operation, closing its doors for a second day Saturday.
The Seine in Paris crested at 6.1 meters (20 feet) above its usual levels early Saturday, the environment ministry reported, and the floods are slowly receding.
Prime Minister Manuel Valls said Saturday that France's death toll had risen from one to four. At least 10 people in Germany have died in floods there.
Environment Minister Ségolène Royal said the country was "still on alert."
"And we are also concerned about some areas in France, the Eure and Seine-Maritime regions that may have floods as well," she said, referring to regions in the east.
Valls said around 270 military personnel would be sent to affected areas Saturday and that three helicopters would be deployed for rescues. He said the region of Normandy and the town of Poissy near Paris are also still at risk.
The Interior Ministry earlier said more than 3,000 firefighters were mobilized and more than 200 national civil security personnel were helping in rescues, as the country declared a state of natural disaster.
For days, images of people using their own inflatable dinghies and kayaks to rescue their neighbors have been broadcast around the country.
The mop-up begins
More than 19,000 residents living in the areas surrounding the City of Lights have been left in darkness, as floods wiped out power services Friday.
Thousands who were evacuated from towns like Nemours, south of Paris, are starting to return home, only to find many of their possessions destroyed. Some have lost everything.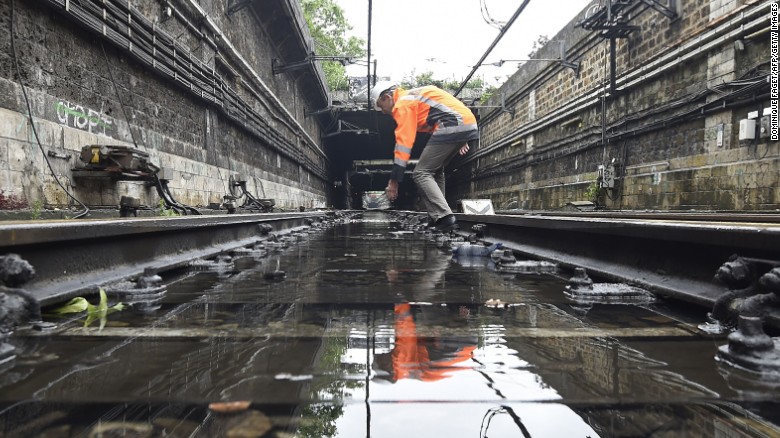 Enry de Brolles, 78, found his Nemours bookshop inundated and most of his books damaged beyond repair.
"It's the loss of a lifetime of work that disappears," he told CNN affiliate BFMTV. He said he does not know if he'll be able to reopen his business.
The TV station showed images of another woman who returned to a flooded basement, throwing out items from her courtyard that were claimed by the storm waters.
Floods and strikes
The floods have come at a bad time for the French government. It has been scrambling to keep gas stations from running dry and cities powered after workers at oil refineries and nuclear plants walked off the job weeks ago over proposed changes to labor laws.
Transportation workers joined the strike, and only a third of the country's trains are running.
The floods and strikes also come ahead of the month-long Euro 2016 soccer championship, which kicks off next week and is expected to attract some 2.5 million people.
Some flights were grounded this week when air traffic controllers went on strike, and chaos is expected next week if pilots join the action as planned starting June 11, the day after the soccer event begins.
'Like Noah's Ark'
American journalist Mort Rosenblum, author of "The Secret Life of the Seine River," has lived by the river for 30 years, and told CNN on Friday that he had never seen the river rise so high.
"This is June; one night we're sitting on the deck having wine and it's perfectly normal, expecting the little ducks to float by in the morning, you know, calmly, and the next morning you wake up and it's like Noah's Ark," he said.
Parts of Germany are also expected to experience downpours Saturday, meaning rivers and tributaries there will be cresting over coming days as water works its way down the river systems, according to CNN's Weather Unit.
At least 42 people attending a music festival in Mendig, Germany, 80 miles southwest of Cologne, were taken to hospitals Friday after lightning strikes. Rock am Ring attendees were injured after a heavy thunderstorm with lightning hit the area where the festival was being held. Eight of them suffered serious injuries, and one of the attendees had to be resuscitated by medics.
Rock am Ring officials resumed the festival after a temporary interruption.
Rescuers in the German state of Bavaria evacuated 150 people in Simbach am Inn, a police spokesman told CNN, after a normally tiny creek suddenly flooded Friday.
A house where asylum seekers are living was also suddenly flooded, but everyone was able to run upstairs to safety.
Updated 8:19 AM ET, Sat June 4, 2016
To see our most current positions, opinions, comments, agreement or disagreement with this article, and/or possible criticisms related to the subjects or facts raised in the above article, 
click here.
Then look for those subjects in the navigation links at the top the page.
To learn about more about global warming, climate change or greenhouse gases as well as the causes, consequences, solutions, definitions, facts and tipping points related to these subjects, 
click
 here
. 
To automatically be emailed a summary of the latest news on global warming, sign up for our Global Warming Blog by 
clicking here
. (Put your email address in the Global Warming Blog Subscribe box at the bottom right of the page.) 
To sign a critical petition for declaring a national and international global warming State of Emergency, click  
here
!
To help do something about the climate change and global warming emergency, click here.
Sign up for our free Global Warming Blog by clicking here. (In your email, you will receive critical news, research, and the warning signs for the next global warming disaster.)
To share this blog post: Go to the Share button to the left below.
---