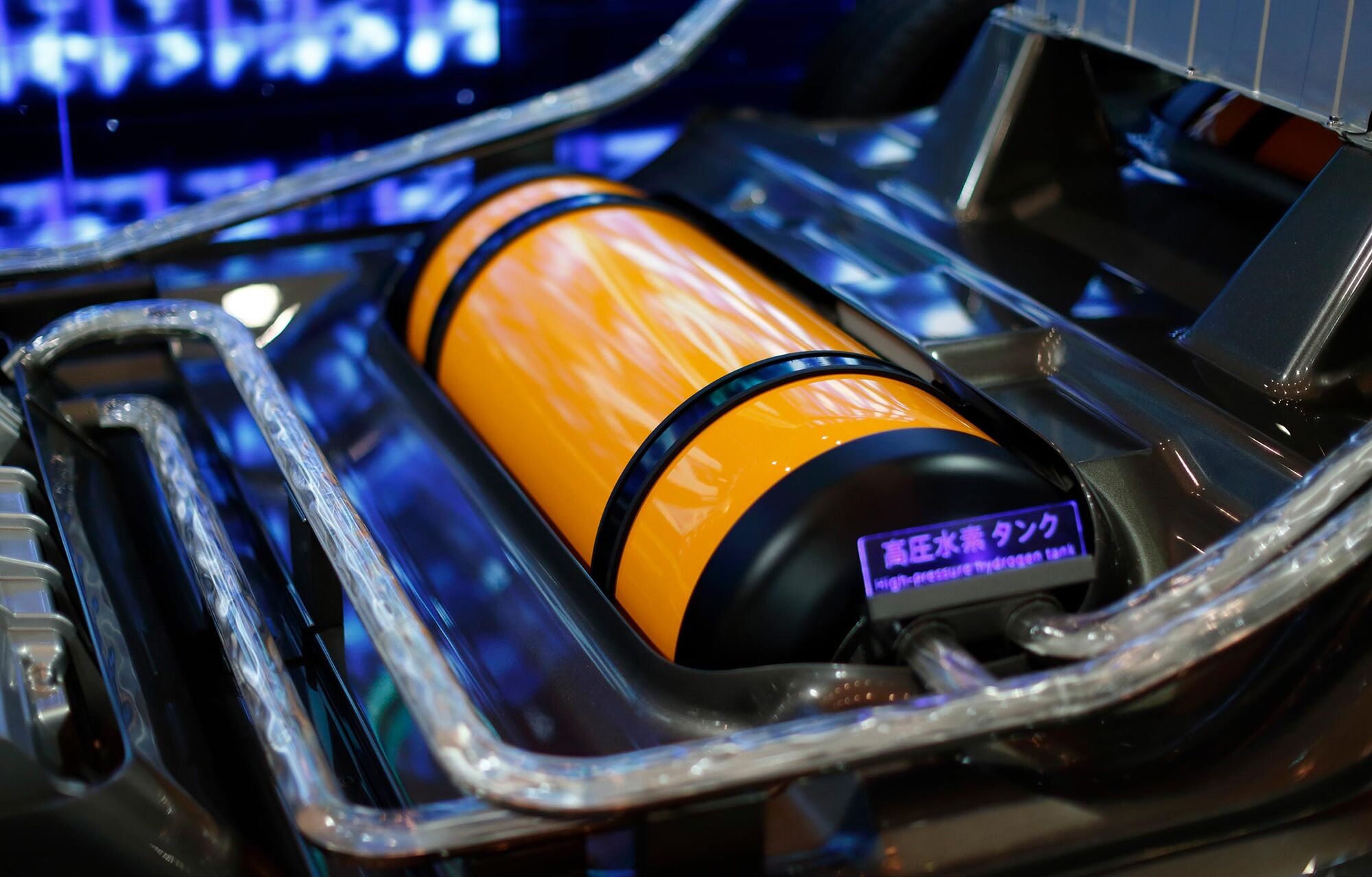 Photographer: Tomohiro Ohsumi/Bloomberg
Toyota Motor Corp. and four of its biggest car-making peers are joining oil and gas giants including Royal Dutch Shell Plc and Total SA with plans to invest a combined 10 billion euros ($10.7 billion) in hydrogen-related products within five years...
In all, 13 energy, transport and industrial companies are forming a hydrogen council to consult with policy makers and highlight its benefits to the public as the world seeks to switch from dirtier energy sources, according to a joint statement issued from Davos, Switzerland. The wager demonstrates that batteries aren't the only way to reduce pollution from cars, homes and utilities that are contributing to climate change.
"The world of energy is transforming very, very fast," Shell CEO Ben Van Beurden said on the sidelines of the World Economic Forum in Davos. "Hydrogen has massive potential."
Fuel cell vehicles are a cornerstone of Toyota's plan to rid 90 percent of carbon dioxide emissions from its vehicles by 2050. The automaker has long contended it's more likely to convince consumers to use gasoline-electric hybrids and fuel cell vehicles rather than battery-electric autos, which tend to have less driving range and take longer to recharge than filling up with gasoline or hydrogen.
"In addition to transportation, hydrogen has the potential to support our transition to a low-carbon society across multiple industries and the entire value chain," Takeshi Uchiyamada, Toyota's chairman and a council co-chair, said in the statement Tuesday.
BMW AG, Daimler AG, Honda Motor Co., and Hyundai Motor Co. will each join Toyota on the council. The other members are gas companies Air Liquide SA and Linde AG, miner Anglo American Plc, electric utility Engie SA, rail company Alstom SA and motorcycle and heavy equipment manufacturer Kawasaki Heavy Industries Ltd.
by: John Lippert
January 17, 2017, 3:00 PM CST
source: https://www.bloomberg.com/
original story HERE
If you would like to share this blog story on Facebook with one easy click, scroll down to the 
very
 bottom of this page and look for the SHARE button along with the 
Facebook LIKE button under the
"Sign up to Learn About & Help End Global Warming"
 boxed 
area where people
enter their email address. You do not need to enter any email address to use the one click Facebook SHARE button.
To learn about more about global warming, climate change or greenhouse gases as well as the causes, consequences, solutions, definitions, facts and tipping points related to these subjects, click here.
To see our most current positions, opinions, comments, agreement or disagreement with this article, and/or possible criticisms related to the subjects or facts raised in the above article, 
click here
.
 Then look for those subjects in the navigation links at the top the page.
To sign a critical petition for declaring an international global warming State of Emergency, click  
here
!
To help do something about the climate change and global warming emergency, click here.
Sign up for our free Global Warming Blog by clicking here. (In your email, you will receive critical news, research, and the warning signs for the next global warming disaster.)
To share this blog post: Go to the Share button to the left below.
---