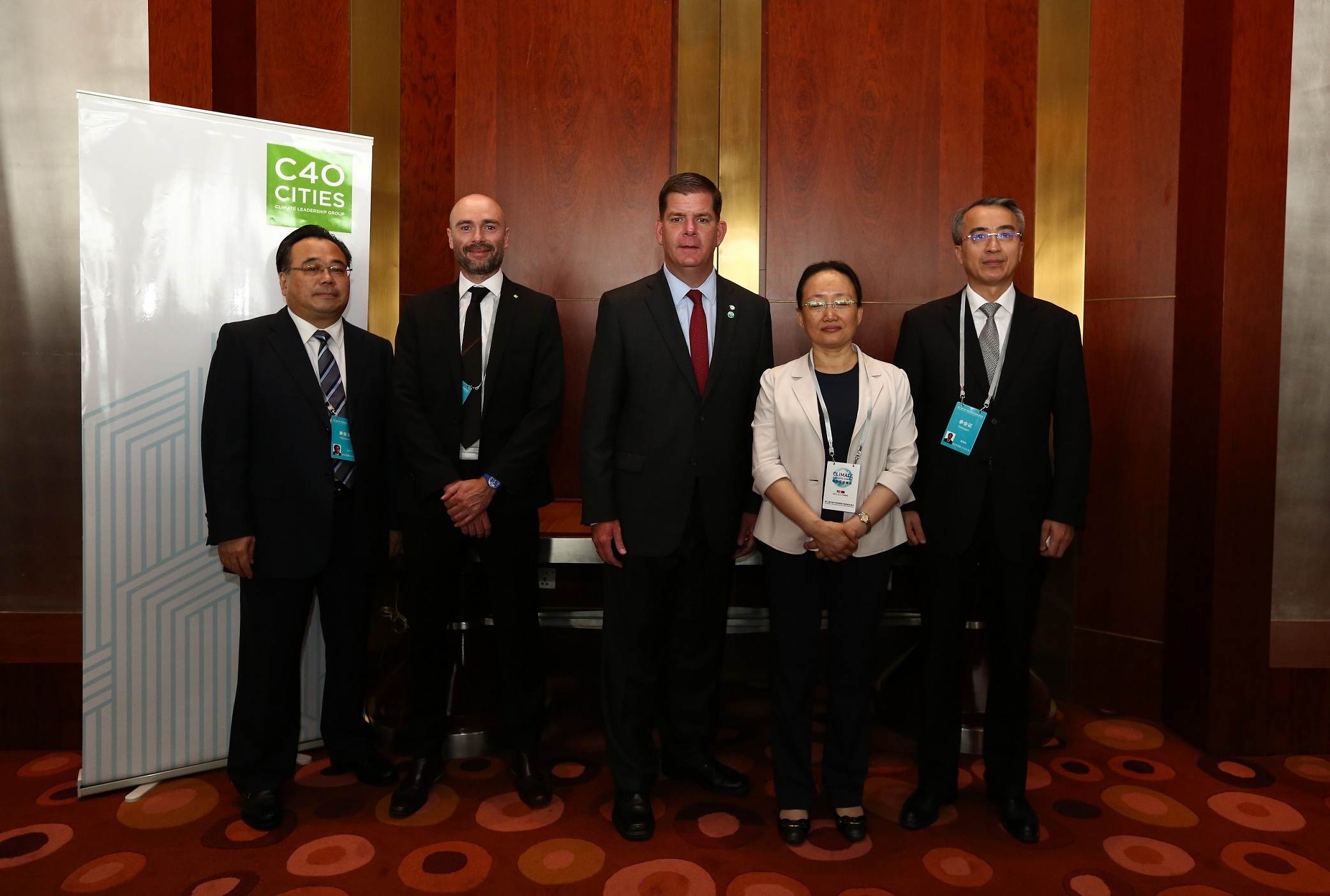 Representatives from Wuhan, C40, Boston, Zhenjiang, Guangzhou
Seventy percent of global energy-related carbon dioxide emissions originate in cities. Moreover, by 2050, more than one billion people will live in cities that are highly vulnerable to the impacts of climate change, including flooding and extreme weather events...
Fortunately, mayors of the world's great cities are already providing the leadership to pursue low carbon development, increase resiliency, and improve the health and economic wellbeing of urban citizens. Cities within the global C40 network have already committed to reducing their emissions by 1 gigaton of CO2e by 2020, equivalent to more than the total greenhouse gas emissions of Germany each year.
Through key institutions such as the Compact of Mayors and the Alliance of Peaking Pioneer Cities, U.S. and Chinese cities are committing to ambitious targets on cuts their greenhouse gas emissions.
As Vice Chair of the C40 Cities Climate Leadership Group, I was pleased to announce that two new Chinese cities, Dalian and Chengdu, have today joined C40. Their membership affirms the commitment of these key Chinese cities and their mayors to creating a sustainable, low carbon future for their citizens.
For the second time in a row, Boston is ranked the most energy efficient city in the U.S. and intends to lead the country in preparing for the impacts of climate change through Climate Ready Boston, an innovative, data-driven approach to identify climate resiliency strategies. Yet it's the work in neighborhoods that really drives progress. After being recognized for the groundbreaking Greenovate Boston initiative at the Paris climate talks last year, Boston continues to bring together and support community-driven climate action to achieve our citywide goals.
That is why I'm also pleased to announce that Boston will host next year's Summit. The Climate-Smart Low-Carbon Cities Summit offers a great opportunity for mayors from the United States and China to share ideas and develop solutions. With Boston in the lead, I'm excited to help ensure our cities contribute to the global effort to cut greenhouse gas emissions and tackle the threat posed by climate change.
To help do something about the climate change and global warming emergency, click here.
Sign up for our free Global Warming Blog by clicking here. (In your email, you will receive critical news, research, and the warning signs for the next global warming disaster.)
To share this blog post: Go to the Share button to the left below.
---