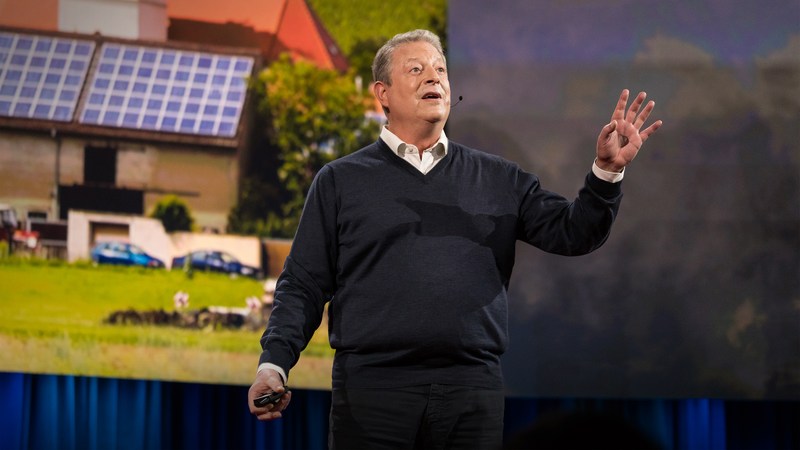 At last year's major international TED conference, former U.S. Vice-President Al Gore offered up some positive thoughts about the fight against global warming in which we are all engaged. Some of what he said I found extremely encouraging. But it's important to keep in mind that his talk predates two events of potentially monumental import:
the election of Donald J. Trump, an avowed climate change skeptic who is utterly uninformed on the subject, as President of the United States; and,

the forthcoming book, Climageddon, by our esteemed Executive Director Lawrence Wollersheim, including his new modeling strategy.
With those caveats in mind, here are some of the highlights from that talk (video here; the positive starts just before the 13:00 mark, though it's all worth listening to):
In 2000, scientists projected that we would be capable of producing 30 GW of wind power by 2010. We beat that projection 14.5 times over.

In 2002, it was projected that the planet could add 1 GW of solar power per year by 2010. Instead, 2010's solar production was 17 times that projection. By 2016, we were at 68 times the projection.

The cost of storage batteries has been declining rapidly, offering a solution to the "intermittency problem".

In 2014, $390 billion was invested in green energy sources, two thirds of that by private enterprise, in what Gore called, "the biggest business opportunity in world history."
Here are a couple of my favorite quotations from this talk.
"We are solving this crisis. The only question is: how long will it take to get there?"
"The will to act is itself a renewable resource.
Part of the optimism I derive from Gore's comments arises because of the extent to which his and other studies indicate that it is private enterprise that is leading the way in solving the global warming problem. That means they are motivated more by profit than by any intangible moral requirement, and it also means they can operate largely with legal impunity and without involving notoriously lumbering governments. I have for some time believed that it will be faster and more reliable to count on business to fully engage the problem that threatens their livelihoods then to try to persuade politicians with mixed constituencies to do something. Governments will follow because businesses are their source of funding.
Watch entire talk here...
However, as Wollersheim tells us, the question Gore opposes about how long it will take us to get there is the crux of the matter. The new projections and models described in the book Climageddon tell us that we have less than a decade to at least get a handle on the global warming problem to avoid a sixth Great Extinction event.
Still, it's greatly encouraging to hear the kinds of progress that are being made on the many important fronts involving alternative energy sources. As Gore also points out in this talk, the vast majority of carbon fuels that have yet to be extracted from the ground must be left in place and treated as unusable.
Needless to say, I highly recommend you take the 25 minutes it will take you to watch this video. I promise you will come away both recharged and excited.
Get New Climageddon book: Click here for a new book about the global warming emergency and what you can do.
To View Our: current positions, opinions, agreement or disagreement with this blog article or its facts, click here.
To help do something about the climate change and global warming emergency, click here.
Sign up for our free Global Warming Blog by clicking here. (In your email, you will receive critical news, research, and the warning signs for the next global warming disaster.)
To share this blog post: Go to the Share button to the left below.
---